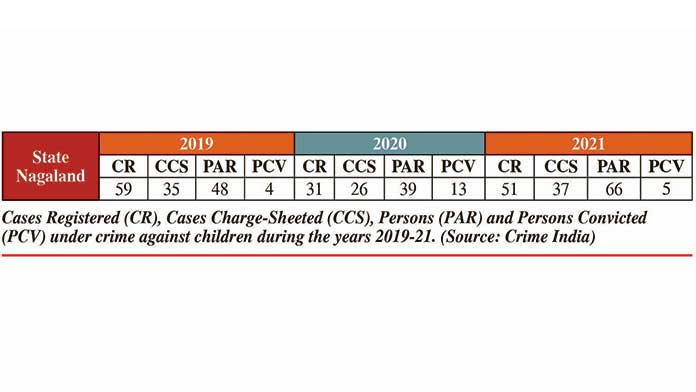 Nagaland has witnessed a significant rise in crime against children, some unreported, between 2019-21 where a total of 140 cases were registered and 22 persons convicted during the period. As per the National Crime Records Bureau (NCRB), which compiles and publishes statistical data on crimes "Crime in India", 59 cases were registered in 2019, chargesheets were filed in 35 cases, 48 persons were arrested and 31 were convicted.
In 2020, out of the 31 cases that were registered, chargesheets were filed in 26, 39 persons were arrested and 13 persons convicted. In 2021, out of the 51 cases registered, chargesheets were filed in 37, 66 persons were arrested and five were convicted.
According to Union Ministry of Home Affairs, 'police' and 'public order' are State subjects under the 7th Schedule of the Constitution of India. "The responsibility of maintaining law and order, protection of life and property of the citizens including investigation and prosecution of crime against citizens including children rest with the respective State governments," it stated.
The State governments are competent to deal with such offences under the extant provisions of laws.
The ministry said it had been issuing advisories to States and Union Territories to effectively deal with crime against children.
As per available information, the Ministry of Women and Child Development is implementing a Centrally-sponsored scheme "Child Protection Services" (CPS) – formerly Integrated Child Protection Scheme – with the objective to create a safe and secure environment for overall development of children in need of care and protection and children in conflict with law.
Under this scheme, support is provided to State governments for delivering services for children in need of care and protection in difficult circumstances.
The Child Care Institutions (CCIs) established under the CPS scheme support, among others, age-appropriate education, access to vocational training, recreation, health care, counselling etc. The State governments are entrusted with the primary responsibility for implementation of the CPS scheme.