As the state gears up for the general election to the 14th Nagaland Legislative Assembly (NLA), trainings of various offices and government employees deputed for the election has been underway in full swing in all the districts and sub-divisions. Election observers have also been conducting meetings while demonstrations on EVM and VVPAT were carried out to ensure smooth conduct of the election.
The elections to 14th Nagaland Legislative Assembly will be held on February 27.
PEREN
The second round of training for second and third Polling Officers was held at All Saint's Higher Secondary School, Women Welfare Organisation Building and Town Hall, Peren Town on February 17.
Resource persons of the training programme, gave a presentation on the various roles and responsibilities of the polling officers for the smooth conduct of the forthcoming election.
Further, the trainees were also given a demonstration on EVM & VVPAT and sealing as well as group wise hands-on training on EVM & VVPAT.
Earlier, a training programme held for Sector Magistrates was held at Old DC's Office, Peren Town on February 16.
DC & DEO Peren apprised the officials present on the Dispatch and Receive plan of EVMs, Voter Information Slip (VIS), Dispatch and Receive plan of cameras, etc. He also appealed to them to carry out their assigned job diligently and sincerely.
At the training, the officials were trained on the use of Booth Apps, Sector Magistrate reporting format on poll day, Web Casting & Videography, and the proper way of installation of Webcast IP Cameras in polling stations.
Kohima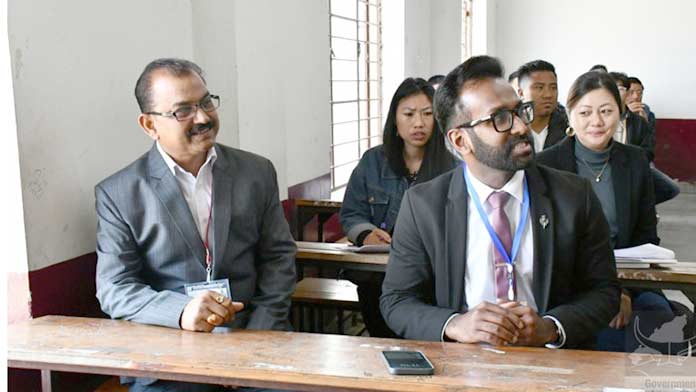 Special Expenditure Observer, Nagaland Balakrishnan held a special review meeting with expenditure related officials of Kohima district at DPDB Hall, Kohima on February 17. Expenditure Observers of Kohima district, DC & DEO Kohima, Superintendent of Police Kohima, all Nodal officers of enforcement Directorate/Assam Rifles/Bank/Forest/CRPF and Nodal Officers Election Expenditure Monitoring Kohima attended the meeting.
A two-day, second round of training for officials/staff appointed as Polling Personnel/Grade-IV Staff for the forthcoming General Election to the 14th Nagaland Legislative Assembly was held at Kohima College, Kohima began on February 17. The training was held for 8 Western Angami A/C, 10 Northern Angami-1 A/C, and 11 Northern Angami-II A/C. The training was inspected by Election General Observer, Janak Prasad Pathak accompanied by DC & DEO Kohima, Shanavas C and ADC & RO Kohima, Rhosietho Ngouri, and other officials.
The training for Polling Personnel/ Grade-IV Staff appointed for 9 Kohima Town A/C, 14 Southern Angami-I A/C, and 15 Southern Angami-II A/C will be held on February 18 from 10 am onwards at Kohima College, Kohima, Billy Graham Road.
Phek
Accessible Observer for Kiphire and Phek districts for the ensuing General Election to the 14th NLA, K. Lipanthung Lotha held a meeting at DC & DEO Office, Phek on February 16.
The meeting discussed in detail the accessible facilities to be provided to Persons with Disabilities and Old-aged electors for casting their vote in the forthcoming general election, 2023. Accessible Observer said that the Election Commission of India will be directing for construction of infrastructures of various kinds to carry out facilities to voters, particularly to assist PwD and old-aged electors, to exercise their electoral adult franchise during election.
He therefore urged all the responsible department officers in the district to carry out their jobs in the Polling Stations to facilitate PwDs and Old Age voters.
DC & DEO Phek, Kumar Ramnikant also shared his observations and views as to how all the required jobs for a free and fair election in Phek could be successfully carried out.
Khriesangoyi Dozo, an icon of PwD from Phek District also spoke at the meeting in which he expressed gratitude and appreciation for providing facilities to PwDs in various ways of accessible living by the government.
District Welfare Officer, Anyle Khamo spoke at the meeting and updated on items and materials prepared for PwDs and Old Age electors for the forthcoming election.
KIPHIRE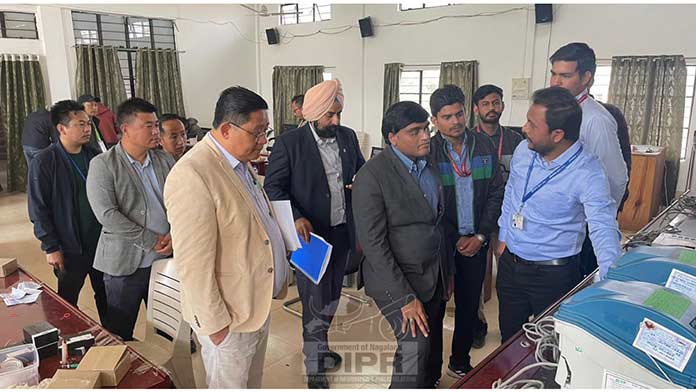 As per the directives from the ECI, Kiphire district held the Commissioning and preparation of EVM/VVPATs at DC's conference hall, Kiphire on February 15 and 16.
During the mock poll process, all the political parties from both the two constituencies: 59 Seyochung- Sitimi and 60 Kiphire – Pungro were also present to oversee the preparation.
General Observer, Sridhar Babu Addanki, Expenditure Observer B.K. Vishnu Priya and Police Observer Amandeep Singh Kapoor and District Administration led by DC Kiphire T Wati Aier were also present during the commissioning.
MOKOKCHUNG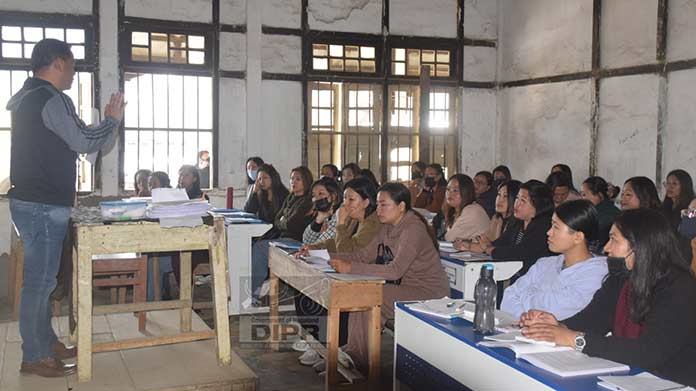 In view of the forthcoming 14th Nagaland Legislative Assembly Election 2023, DC & DEO Mokokcung, Shashank Pratap Singh has informed that the Evaluation cum final briefing of Presiding Officers (male and female), Polling Officers – 1 (male and female) will be held at Town Hall, Mokokcung on February 22 at 11 am.
WOKHA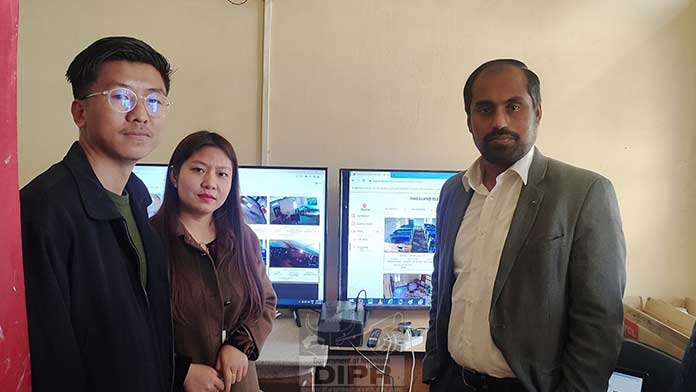 A mock drill on webcasting for the Wokha district was held at Deputy Commissioner's Office on February 17, the mock drill was conducted for the nineteen selected polling stations under the Wokha district.
The second phase of the mock drill will be conducted on February 21. Deputy Commissioner & District Election Officer, Wokha Ajit Kumar Ranjan also inspected the webcasting process.
ZUNHEBOTO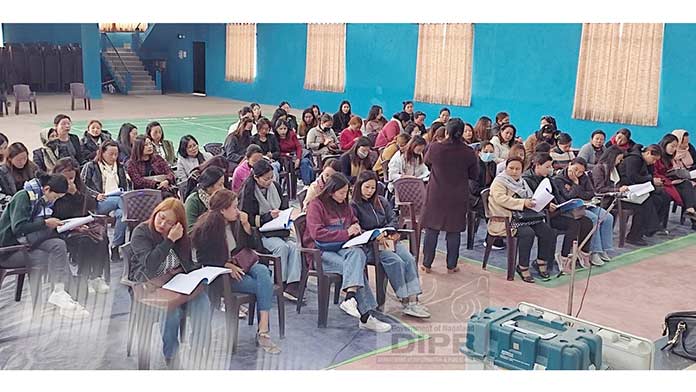 A one-day seminar on Systematic Voters Education and Electoral Participation (SVEEP) on the clean election was held on February 16 at the multipurpose cultural hall Zunheboto. Linovi Kiba, the 1st runner-up of Miss Sumi 2022, who is the SVEEP icon Zunheboto, exhorted that the people have the power to rightfully choose the right leaders for a better tomorrow.
Deputy Commissioner and DEO Zunheboto, Bhanudas Mali said that the election was a festival of democracy and urged the people to celebrate the election peacefully without any violence. He acknowledged various organizations and villages who have pledged to a clean and fair election and for extending support to the administration and the Election Commission of India.
He warned that on the day of the election, no private vehicles will be allowed to ply from one place to another without proper authorization from the administration.
DIMAPUR
In view of the forthcoming General Election to the 14th Nagaland Legislative Assembly Election 2023, DC & DEO Dimapur, Sachin Jaiswal has informed that training and briefing of Micro-Observers of Dimapur district will be held at 11 am on February 20 in the Conference Hall of Deputy Commissioner and District Election Officer, Dimapur.
Therefore, all Micro-Observers have been informed to attend the meeting positively.