As Nagaland gears up for the ensuing general election to the 14th Nagaland Legislative Assembly (NLA), various trainings, meetings have been conducted and information disseminated for smooth conduct of the election.
MON
The first round of training for presiding officer, first, second and third polling officers' personnel was held on February 3 at Government Higher Secondary School (GHSS) Mon.
At the meeting, Deputy Commissioner (DC) and District Election Officer (DEO) Mon, Ajit Kumar Verma briefed the roles and responsibilities of the polling officers, and urged them to work with dedication as a team for the successful conduct of the election.
Training for presiding officers and first polling officers was held in the morning session while second and third polling officer personnel training was conducted in the afternoon.
Master trainers were Chingkei, Shulila, Wanmei, Mary, Simon, Neangmei, Chemyong, Limawapang, Manyuok, Opentsani, Chenkang, Dokingba, Benjamin, Marcy Rose, Abel, Purtila, Bangkai, Neangnyu, Imti temjen, Chamya, Kumari Honya, Tongdi.
District medical board examines cases: Mon district medical board on February 2 had examined the cases seeking exemption from the upcoming general election duty on medical grounds at Conference Hall, Chief Medical Officer, Mon Town, informed DIPR report.
Mon district level medical board consists of additional deputy commissioner, Mon (HQ) as chairman, deputy CMO, Dr. Rongsennungla as member secretary with MO, DHM, Dr. Wungyong Konyak; MO, DHM, Dr. Ngampa Sangme and MO, DHM, Dr. Longe Peter as members.
DC & DEO informs on postal ballot: Deputy Commissioner and District Election Officer Mon, Ajit Kumar Verma has directed all the employees who have been drafted for the ensuing General Election duty that Form 12 (application for postal ballot) can be collect from the Postal Ballot Cell, set up at the office of DC and DEO Mon w.e.f. February 6 and submit the same on or before February 10.
CHOZUBA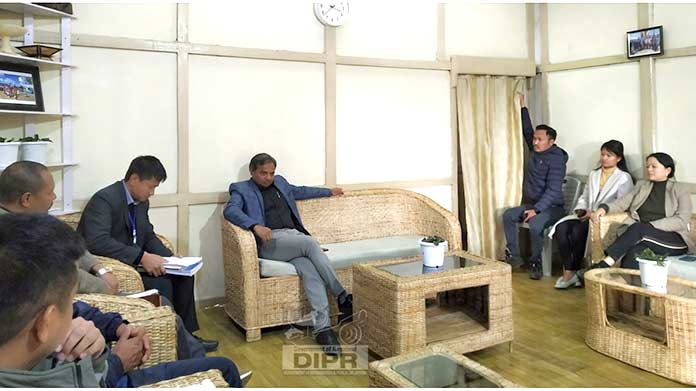 Observer of Election Commission of India (ECI), Ajaydhoke met the election officials of the 18 Chozuba AC on February 2 at Chozuba GA Rest House. During the meeting, Ajaydhoke instructed the election officials to file an authentic report. The observer also interacted with the election officials. ADC and Returning Officer, Imokokla informed that different teams have been formed as per the ECI guidelines.
KIPHIRE
Media Certificate and Monitoring Committee (MCMC) and social media teams meeting was conducted on Friday at the Official Chamber of Deputy Commissioner (DC). Chairing the meeting Deputy Commissioner (DC) and District Election Officer (DEO) Kiphire, T Wati Aier briefed about the role and activities of MCMC and social media teams during the forthcoming general election in the state. Aier said that members should not involve in paid news, and all intending candidates are to take permission from MCMC for any information to be printed in electronic media. He also said that printing press owners to give their names, and address printed on all pamphlets, posters, and banners.
LONGLENG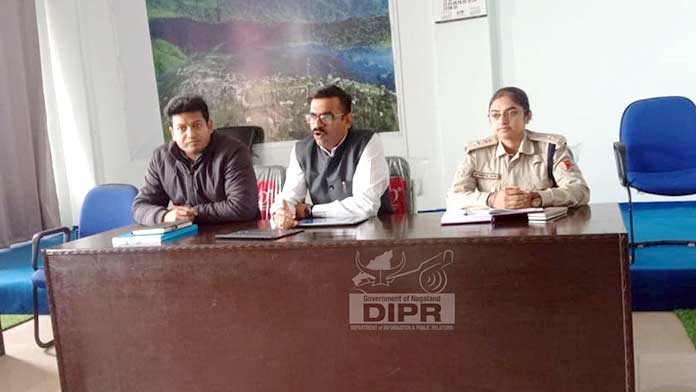 Deputy Commissioner (DC) and District Election Officer (DEO) Longleng has directed all political parties/candidates/public of Longleng district to abide by the directive of National Commission for Protection of Child Rights for the recommendation for regulating the use of loudspeakers in view of ensuing school examination.
According to a DIPR report, the order noted that exams for children are approaching and that it was a crucial time of the year for students as they would be preparing for their examinations. However, it has been observed by the Commission that the use of loudspeakers beyond the permissible limit was a common phenomenon in various social/religious/political/events/functions. As a result of which, the students preparing for examinations were not only disturbed but also not able to give their best in the examinations.
In this regard, DC and DEO has restricted the use of loudspeakers and can only be used by following the certain guidelines issued by Supreme Court.
Therefore, DC and DEO has directed the political parties/Candidates/ public of Longleng district to abide by the directions/guidelines, failing which appropriate action would be taken as per the law.
WOKHA
A training for Election Expenditure Monitoring (EEM) teams, accounting team including AEO, video viewing team, and video surveillance team for 37 Tiyi AC, 38 Wokha AC, 39 Sanis AC and 40 Bhandari AC was held on February 3 at the Conference Hall of Deputy Commissioner (DC) Wokha. Briefing the team members, DC and District Election Officer (DEO) Wokha, Ajit Kumar Ranjan urged all polling personnel and team members to be attentive during the training session so that they can perform their assigned duties effectively. He also said the training process for the election would be a continuous process to ensure that personnel are well-equipped and trained for the smooth conduct of the election. Ranjan also reminded them of their roles and urged them to shoulder responsibilities sincerely.
EAC Changpang and nodal officer EEM, Nuhuta Tunyi interacting with the members of the various team said, training programmes were an important part of the election process where he appealed to the trainees to take the training seriously in order to avoid confusion while in the process of executing their assignments during the election.
ZUNHEBOTO
The final Election Expenditure Monitoring training before the polls was held at DC's Conference Hall, Zunheboto on February 3. Deputy Commissioner Zunheboto while briefing the officials said that they should perform their duties as instructed by the Election Commission of India and perform proper monitoring and the task entrusted to them. The training was attended by Video Surveillance Teams, Video Viewing Teams, Accounting Teams, Media Certification and Monitoring Committees, Flying Squads, and Static Surveillance Teams. The master trainers for the training were Lipokrenla Jamir and H Jekugha Sema.
Requisitioned vehicle owners informed: Deputy Commissioner (DC) and District Election Officer (DEO) Zunheboto, Rahul Bhanudas Mali has informed all concerned private vehicle owners/ drivers under Zunheboto district whose vehicle has been requisitioned for the conduct of the general election to report at Local Ground, Zunheboto on February 6, 10 a.m. along with vehicle documents and Requisition Order (Original) and collect Form 12 (Postal Ballot).
Failure to comply with this order, DC and DEO said strict action shall be initiated against the vehicle owners/ drivers and shall be booked under relevant Sections of the law.
PEREN
Deputy Commissioner (DC) and District Election Officer (DEO) Peren, Vineet Kumar has notified all the citizens of Peren district that the toll-free number 1950 has been activated. DC and DEO has informed that any query relating to election related matters may be enquired through the toll-free number, which is operable 24×7.
First randomization of EVMs & VVPATs: Deputy Commissioner (DC) and District Election Officer (DEO) Peren, Vineet Kumar has informed all concerned that the first randomization of EVMs and VVPATs has been scheduled on February 4, 10 a.m. at the Old DC Office, Peren Town premises. All concerned have been requested to attend the same.
TUENSANG
Media Certification and Monitoring Cell (MCMC) held a meeting on February 2 at Deputy Commissioner (DC)'s Chamber, Tuensang under the chairmanship of DC and District Election Officer (DEO) Tuensang, Nokchasashi. At the meeting, the members were briefed on the certification of the politically related press items. He also asked the members to supervise news channels and to review the Do's and Don'ts regarding the MCMC committee guidelines.
MOKOKCHUNG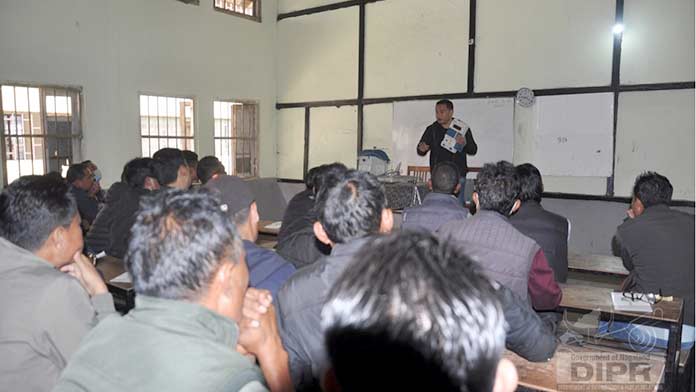 The second day training of the first round for polling officer 2 and 3 was held on February 3 at MGHSS Mokokchung, wherein master trainer demonstrated the handling of EVM, VVPAT and sealing. The trainer instructed the polling personnel on their responsibilities of the mock poll and how to start the poll, secrecy of voting in polling stations among other topics.