As Nagaland gears up for the ensuing general election to the 14th Nagaland Legislative Assembly (NLA), various trainings, meetings have been conducted and information disseminated for smooth conduct of the election.
PEREN
DC & DEO Peren, Vineet Kumar has informed all persons engaged in election-related works such as Returning Officers, Assistant Returning Officers, Sector Officers, employees posted in the office of the DEO/RO, Control Room, NIC, EEM Teams, Micro Observers, Liason Officers, DLMTs, ALMTs, BLOs appointed outside their polling stations and any other staff detailed in election works to collect Form 12 to facilitate the issuance of postal ballot.
The form may be collected from the Postal Ballot Cell at the office of the DC & DEO Peren town.
Filled-in form 12 should be submitted on or before February 9, 2023 with a photocopy of the Epic Card or in case of non-availability of the EPIC Card, any of the 12 identification documents (listed below) as notified by the CEO Nagaland may be submitted.
LONGLENG
DC & DEO, Longleng Dharam Raj has informed all the concerned government officers and staff of Longleng district who have been detailed for election duty to collect form 12 (Postal Ballot) from the facilitation Centre at DC office, Longleng, (PB Cell, First floor).
The last day for submission of the duly filled-in form along with a photocopy of the Epic card will be February 10, 2023.
In exceptional cases where the electors on election duty were not in a position to produce a photocopy of Epic card for applying for a postal ballot in form 12, the elector may be asked to furnish a copy of any of the following identification documents approved by the Election Commission of India.
MON
Deputy Commissioner and District Election Officer Mon, Ajit Kumar Verma has issued a notice to all the drivers/ cleaners of those vehicles requisitioned for the ensuing general Election 2023 duty that a facilitation center has been set up at the office of Deputy Commissioner & District Election Officer, Mon for the purpose of casting votes through Postal Ballot.
Therefore, all the drivers/cleaners of requisitioned vehicles who were desirous of casting their votes by means of Postal Ballot have been directed to collect Form 12 from the postal Ballot cell at the office of the Deputy Commissioner & District Election Officer, Mon and submit the filled up Form 12 along with a Xerox copy of the following documents before February 9.
KOHIMA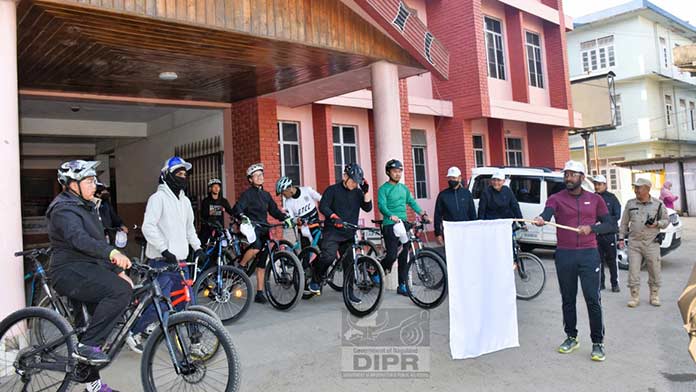 Bicycle rally under the banner of Systematic Voters Education and Electoral participation (SVEEP) campaign, on the theme "No Voter To Be Left Behind," was conducted on February 4, 2023 at DC office Kohima and culminated at Raj Bhavan
At a brief programme, DC and DEO Kohima Shanavas C said that the aim of the SVEEP rally in the district was to ensure by making people aware and carrying a message to impact at least a few people which would bring a huge change that every vote counts and no voter would be left behind. He thanked the riders for their participation and urged them to carry a message of electoral participation for a change and a better future. The event began with a prayer by pastor Khrieneiu Metha, Peniel CRC, Billy Graham Rd, and was organized by the office of the DC and DEO Kohima. More than 100 riders participated in the campaign rally.
NOKLAK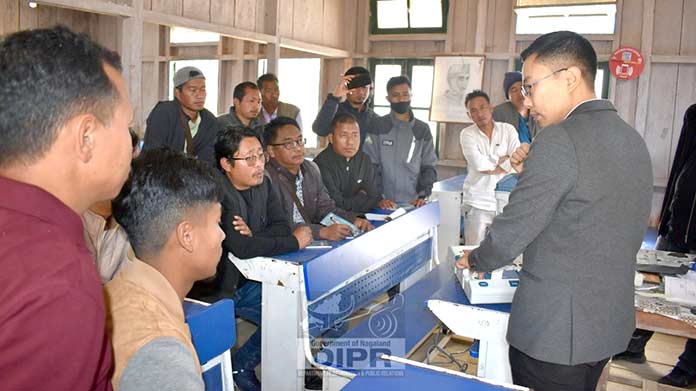 Election Expenditure Observer Arvind Kumar Gehlot, who has been appointed to oversee 56th A/C Noklak and 57th A/C Thonoknyu for the fourth coming general election held a series of meeting with DC & DEO, Noklak, ROs, and AROs of 56th A/C Noklak and 57th A/C Thonoknyu on February 3, 2023 at DC Noklak Office Chamber.
Observer also held an interaction with the members of Election Expenditure Monitoring team at DC Conference Hall, Noklak on February 2.
Meanwhile, the first phase of training for polling personnel was held at GHSS Noklak on the February 3 and 4.
DC & DEO Noklak K. Mhathung Tsanglao requested all the polling officers to work as a team for the successful conduct of the polls.
PHEK
Expenditure Observer for 19 Phet A/C and 20 Meluri A/C, Rajesh Raina visited the Static Surveillance team stationed at Bible Hill (19 Phek) and Losami (20 Meluri) on February 3, 2023 where EO held an interactive discussion with the respective magistrates, Er. Nyakshom Phom and Kakiye Rotaka.
EO emphasized the need for stringent and frequent checking of vehicles for the seizure of unwanted substances and cash beyond permissible limits.
He also shared his mobile number with the teams of both places.
DOCUMENTS REQUIRED FOR POSTAL BALLOT
Aadhar card, MNREGA Job Card, Passbooks with photograph issued by Bank/Post Office, Health Insurance smart card issued under the scheme of the Ministry of Labour, Driving license, PAN Card, Smart Card issued by RGI under NPR, Indian Passport, Pension documents with photograph, Service identity cards with photograph issued to employees by Central/State Govt./PSUs/Public limited companies, officials identity card issued to MPs/MLAs/MLCs, and Unique Disability ID (UDID) card issued by M/o Social & Empowerment Government of India.
WOKHA
Additional deputy commissioner and returning officer, Wokha, K. Furhesie Nyuwi has informed all the drivers, cleaners and helpers of vehicles requisitioned to election duty under Wokha district to collect Form-12 from the postal ballot cell (Nodal officer), Deputy Commissioner Office, Wokha on or before February 5, 2023.
The last date of submission of form will be February 10, 2023.
Advisory on camping office
As per the guidelines and advisory issued by the Chief Electoral Officer, Nagaland, the
Election Commission has issued following instructions on setting up of temporary camping offices by political parties and candidates.
In a press release, SP (SCRB) & PRO, PHQ informed that no such office will be allowed to open by way of any encroachment either of public or private property/ religious place or campus of such religious place/ contiguous to any educational institution/ hospital or within 200 meters of an existing polling station.
The order stated that only one party flag and banner with party symbol/photographs can be displayed at such office and the size of banner used in such office should not exceed 4 feet x 8 feet, subject to the further condition.
SP informed that local police shall be informed of all such office to ensure that no laws and order situation was created in such office/camp.
The SP warned that any violation of the above would amount to violation under model code of conduct.
Further, all concerned, including political parties and intending candidates have been encouraged to take note of the above instructions and comply.