Agricultural Technology Management Agency (ATMA) blocks across the state conducted various trainings and demonstrations for the welfare of the farmers.
Zunheboto block
Zunheboto block: ATMA Zunheboto block conducted a demonstration programme on cultivation of hybrid winter vegetables and intercropping of maize with leguminous plant on October 20 at Lizu Naghuto Village with BTM Chubatsur and BTM Livika K Zhimomi as the resource persons. The resource persons emphasize on its health benefits, lifespan, transplantation, irrigation, weeding and cultivation of hybrid winter vegetables and on the importance of integrated farming system and its benefit symbiotically to the crops.
Medziphema block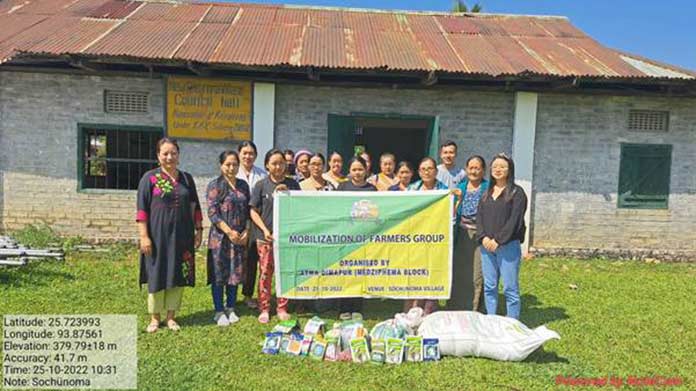 Medziphema block: ATMA Dimapur Medziphema block conducted a programme on mobilization of farmers on "package and practices of winter maize var. Vivek hybrid 45" on October 25 at Sochünoma village with ACTO (Plant breeding), KVK(ICAR)Jharnapani, Dr.Bendangla Imsong as the resource person.
A demonstration programme was also carried out at "Megovi SHG" farm on "seed treatment of field pea (var. Arkel) with biofertilizer-rhizobium with, Medziphema block, ATM Hitokali as the resource person.
Noksen block
Noksen block: Agricultural Technology Management Agency (ATMA) Noksen block Tuensang organised training and demonstration programmme on winter vegetables on October 25 at Noksen village.
The resource persons, ATM, Wetosangla Chang and Keiba Ough gave brief introduction on crucifer crops and common pest found in crucifers were discussed and detailed information on the cultivation techniques of winter vegetables.
In the technical session, hands-on demonstration on nursery seed bed preparation for winter vegetables like cabbage and carrot was conducted.
Meanwhile, mobilization of Farmers Group was also conducted where two groups from Noksen village were mobilized.
Dhansiripar block
Dhansiripar block: Agricultural Technology Management Agency (ATMA) Dhansiripar block conducted demonstration and mobilization of farmers group programmes on October 19-20 at Munglumuk, Bade and Shokhuvi Villages respectively.
Demonstration on sowing of potato and tuberseed treatment with trichoderma fungicide and plastic mulch for solar soil treatment for vegetable crops in nursery bed were carried out by resource persons BTM, Moainla and ATM, KaihoAchumi.
Two groups of women farmers namely Khasaoma SHG and Kekhro Khro SHG were also mobilized.