Various blocks under district Agricultural Technology management Agencies (ATMAs) conducted programmes for the welfare of farmers.
CHÜMOUKEDIMA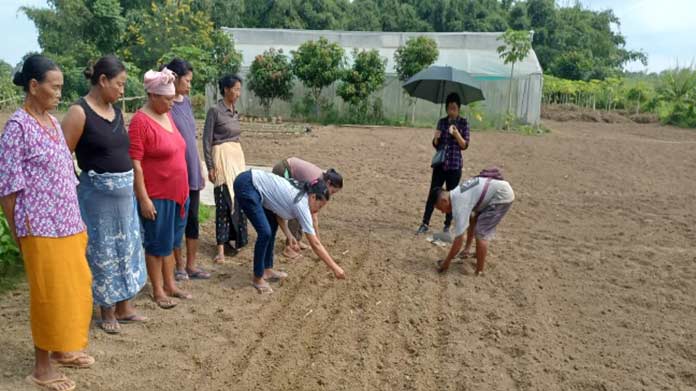 Chümoukedima: ATMA Dimapur, Chümoukedima block organised "mobilisation of farmers group" and demonstration programme on October 22, at Bamunphukri B and Zani villages respectively.
In a press release, ATMA Dimapur stated that a demonstration on treatment of potato tubers with Trichoderma spp and sowing method was carried out by ATM Chümoukedima block, Yatetla at Bamunphukri-B village for Dangsmai Food security group.
Later, farm women group "Ludove-u SHG" was mobilised at Zani village with BTM (Dhansiripar block) Moaien as resource person.
She highlighted the group about the activities under ATMA programme and encouraged the group to work in unity with a common goal to become self-reliant.
The programme was followed by nursery bed preparation.
Another demonstration on line sowing of pea var. Arkel was conducted for "Tive FIG" by BTM Chümoukedima block, Dr. Tiatula, hybrid winter vegetable seeds, Toria var Pusa Mahak, potato tubers var Kufri Joyti and pea were distributed to the participants which was provided by the department of Agriculture, Dimapur.
WOKHA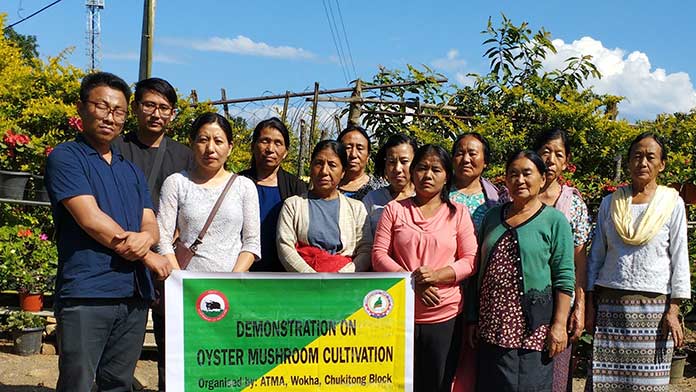 Wokha: ATMA Wokha, Chukitong block conducted a training on fishery management and demonstration on preparation of fish feeds at Koio on October 22 with assistant fishery inspector (AFI) Aponthung Kikon from the department of Fisheries, Wokha as resource person.
Later, two demonstration and mobilisation of groups was conducted at Chukitong.
Demonstration on oyster mushroom was done by ATM Zachamo while demonstration on cultivation techniques of winter vegetables was done by ATM Shanjothung.
Two SHGs group (Likya Thera and Ntsata) were mobilised and winter vegetables seeds and mushroom spawns were distributed to farmers. Altogether, 10 farmers, three ATMA functionaries and BTT convener attended the programme.
MOKOKCHUNG
Mokokchung: ATMA, Kobulong block Mokokchung conducted capacity building program on Homestead Gardening for Farmer interest groups (FIGs)/Commodity Interest Groups (CIGs) on October 24 at Mopungchuket Village, Kubolong block.
In a press release, ATMA Mokokchung stated that FIG Merangdi was mobilised and resource person ATM Tsuktirenla Jamir highlighted concept and importance of homestead gardening in today's world.
Later, rabi crop seeds were distributed to the farmers. Altogether,12 farmers attended the programme.
Changtongya block conducted a training and demonstration programme at Changtongya town and Yaongyimsen village on October 22 and 24.
Training on cultivation practices of winter crops was conducted by horticulture inspector, BTT convenor of Changtongya block, Richa as resource person on October 22 at Changtongya town.
Chuchuyimlang block conducted demonstration, group mobilisation, distribution of seeds, training and capacity building programme at Chuchuyimlang and Mongsenyimti villages on October 19, 20, 21 and 22 respectively with BTM Aolemla Kichu as resource person. Farmers' group Soyim Farmers FIG was mobilised at Mongsenyimti Village with 20 members.
Training on rabi crops cultivation was imparted by resource person ATM Abenla B Jamir.
Altogether, 25 farmers attended the training.
A capacity building programme was organised at Chuchuyimlang village for Merangyimsen Telongjem SHG on cultivation of winter vegetable crops.
Resource person, ATM Tangit Longkumer spoke highlighted the importance of cultivation of winter vegetable crops. Altogether, 10 members attended the programme.
Distribution of Rabi vegetable seeds activity was also carried out for Abensa FSG. Rabi season vegetable seeds including broccoli, Chinese cabbage, radish, onion and garden peas were distributed to members of the FSG.
ZUNHEBOTO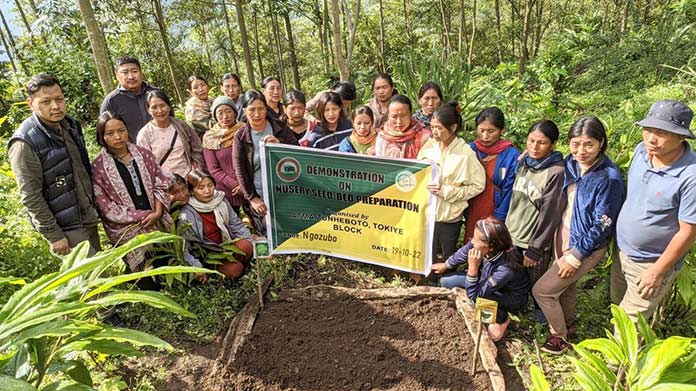 Zunheboto: ATMA Zunheboto, Akuhaito block conducted various training and demonstrations programme on October 19 and 20 at Philimi, Roto New and Asukhuto village.
In a press release, ATMA Zunheboto stated that a training on cultivation practices of winter vegetables (radish and broccoli), demonstration on nursery seed bed preparation on cabbage and mobilisation of farmers group were conducted at Asukhuto village and demonstration on cultivation practices of broccoli and mobilisation of farmers group were conducted at Roto new village with Rovizelhou Kuotsu, BTM and Vishepu, ATM as resource persons on October 19.
Another demonstration on cultivation practices of radish was conducted on October 20 at Philimi village with BTM Akuhaito block Rovizelhou Kuotsu as resource person.
ATMA Satoi aspirational-block under Zunheboto district conducted activities at village level from October 20 to 22 at villages Itovi and Kheshito.
Demonstrations on nursery bed preparation and use of germination trays in effective rising of seedlings of winter vegetable crops were carried out by resource person ATM Kakiho. Altogether, 15 farmers attended the programme at Itovi village. Materials and seeds of cabbage, broccoli, pakchoi, cauliflower, carrot, radish and turnip were distributed to farmers. Training on management practices of ericulture and demonstration on systematic rising of castor cultivation was introduced to farmers of Kheshito village by BTM ATMA Satoi block, Hutoka Y. Jakha. Materials were provided by Sericulture department, Zunheboto.
Altogether, 11 farmers attended the training programme.
Meanwhile, mobilisation of farmers group was conducted in the two villages, Hutoka Y. Jakha was the resource person. Altogether, 26 farmers representing the two villages attended the programme. ATMA Suruhuto block in convergence with IFAD conducted training and demonstration at Phuye Old, Sapoti and Naltoqa on October 20 and 21.
Demonstration on "production technology for cabbage" was illustrated by ATM Kaoto Sema while training on "important pest and its management" was delivered by BTM Livika K Zhimomi.
Later, winter vegetable seeds were distributed to farmers.
Altogether, 30 farmers along with ATMA & IFAD officials attended the training.
ATMA Zunheboto, Tokiye block conducted mobilisation of farmers group, demonstration on nursery seed bed preparation and cultivation practices of broccoli at Integrated Farm School, Ngozubo under Tokiye block on October 19.
Altogether, 22 farmers participated in the programme.
Meanwhile, on October 20, Tokiye block also conducted training on promotion of leguminous crops to enhance soil fertility at Aghunato town. Mobilisation of famers' group and demonstration on nursery seed bed preparation (cole crops) were also conducted. Altogether, 19 farmers participated in the programme.