Nagaland joined the world in celebrating "World Environment Day (WED) 2023" under the global campaign #BeatPlasticPollution, "Ecosystem Restoration".
The day was celebrated by various government departments, Civil Society Organisations (CSOs), educational institutions, Non-Governmental Organizations (NGOs), political parties and others by organising plantation drives, social works and awareness programmes on solutions to plastic pollution.
Zhaleo leads plantation drive
NDPP 5 Ghaspani-II A/C: To commemorate WED 2023, NDPP 5 Ghaspani-II A/C through the initiative of advisor, Urban Development & Municipal Affairs, Zhaleo Rio organised a tree plantation drive. In a speech, Zhaleo noted the imperative need to plant and conserve flora which is the only solution to reduce climate change effected by human down the ages. He also advised the gathering to cultivate a sense of belonging and duty to care for plants. Rio also highlighted on the need to drastically reduce the use of non-degradable plastics from cups and bottles to bags.
SAYO, SASU cleanliness drive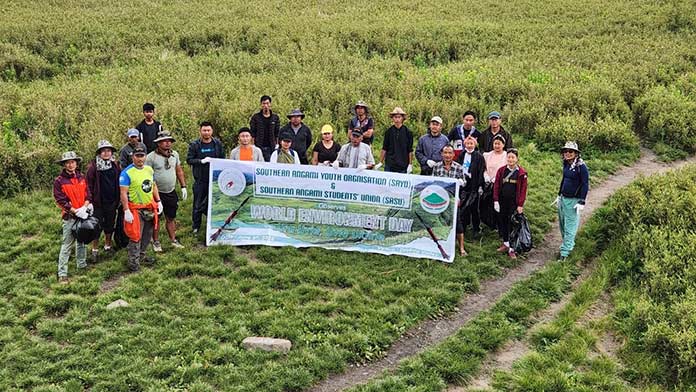 SAYO, SASU: Southern Angami Youth Organization (SAYO) and Southern Angami Students' Union (SASU) jointly observed the day at Dziikou valley under the theme" Ura Uvie, Ura Ukhrie." A cleanliness drive was carried out at Dziikou valley and its vicinity to bring awareness and exhibit the love and care for God gifted Dziikou valley, said SAYO president Metekhrielie Mejura.
PHED Dimapur social work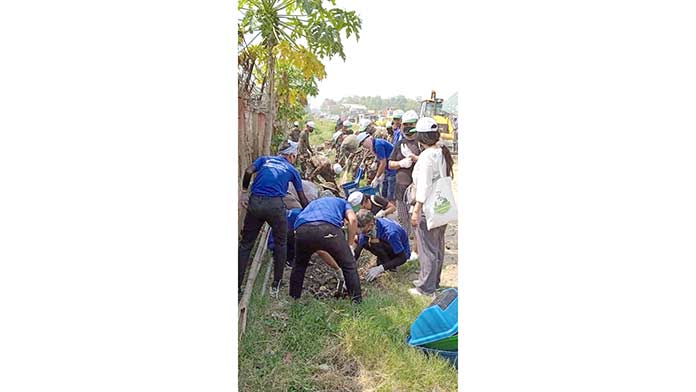 PHED Dimapur: A programme to commemorate WED 2023 was organised by Sanitation and WSSO, PHED at Ara Mile, Dimapur, wherein "3Rs – Reduce, Reuse and Recycle" was emphasised. The programme was followed by a mass social work.
Mass social work at Tizit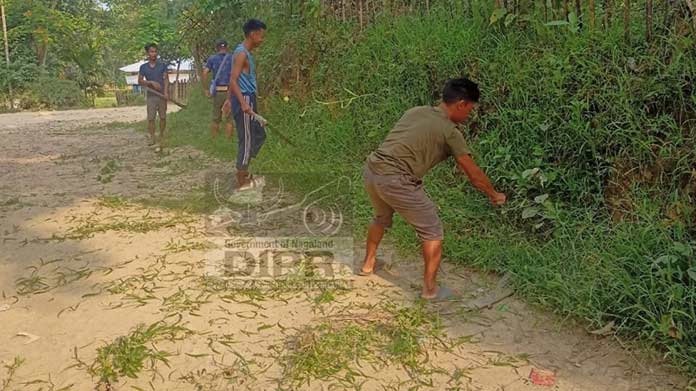 Medical department Phek: Health and Family Welfare Department Phek celebrated WED 2023 in all Health Units across the district. To mark the day, a programme was held at Chief Medical Officer (CMO) Office Phek which followed by pledge reading. Harmful effects of plastic, significance of WED and importance of planting more trees were highlighted.
GMS Chendang: Department of Environmental Science and the Department of Zoology, Sao Chang College (SCC) Tuensang celebrated the WED 2023 at Government Middle School Chendang Village Tuensang. The event was marked by conducting seminar on solution to plastic pollution under the theme, "Solution to Plastic Pollution".
ICFAI: In commemoration of WED 2023, ICFAI University Nagaland green club in collaboration with Sovima Village Council organized plantation drive wherein members from all sections including faculty and staff took part in the drive.
SBC New Showuba: Sumi Baptist Church (SBC) New Showuba carried out plantation drive by planting 40 tree saplings.
BMS Jotsoma: Baptist Mission School, Jotsoma classes 9 and 10 students along with some teachers carried out plantation drive with Puliebadze Club, Jotsoma in and around Jotsoma. A pledge to make the school campus a "Plastic free zone" was also taken.
CHA: To raise awareness about pressing environmental issues and foster dialogue on sustainable solutions, highlighting the potential for young minds to contribute to a sustainable future, Charis High Academy hosted "inter-school World Environment Day Symposium". The programme was attended by Delhi Public School, Hollotoli School, Gonyü Memorial School, Greenwood Higher Secondary School, Livingstone Foundation International School, Rincho Academy, Shalom Public School, St. Joseph Higher Secondary School, and St. Mary's Higher Secondary School.
SPS: Shalom Public School, Chumoukedima participated in the plantation drive organised by Deputy Commissioner, Chumoukedima, wherein the students cleaned the premises and planted tree saplings.
NSRLM: Nagaland State Rural Livelihoods Mission, BMMU Kuhuboto celebrated WED 2023 by conducting plantation drive in five villages.
AIDA: To commemorate WED 2023, ANMA Integrated Development Association (AIDA) – Don Bosco, implementing SBI Foundation Gram Seva programme in Dimapur, Nagaland inaugurated the Afforestation (Jan Van) cum Park at Khriezephe Village and conducted plantation drive at Khriezephe, Diezephe, Urra, Bade and Tsithrongse.
ZHS Tening: Students of Zeliangrong Heraka School (ZHS), Tening undertook a nature walk in a nearby forest to commemorate World Environment Day. The students also took pledge to safeguard the environment.
PVHSS: Pranab Vidyapith HSS, Dimapur, celebrated WED 2023, wherein students and teachers took a pledge to save the mother Earth and avoid non-biodegradable substance.
KSC: Department of Geography, NCC Cell and NSS, Kohima Science College along with Working Plan Division and Silviculture Division, Kohima under Department of Environment, Forests and Climate Change, with a thrust on the Mission LiFE celebrated WED 2023. During the programme, importance of recycling, plantation and WED were emphasised. Plantation drive was also carried out in the college premises.
SJHS: To create awareness to the students about keeping the environment clean and the need to protect the environment, Saint John's High School, Diphupar 'B' celebrated WED at the school premises. Cleanliness drive and plantation were carried out to mark the day.
SSHS: Saint Savio High School, Chümoukedima celebrated WED 2023 with New and Renewable Energy, joint director Er. Inaho P. Awomi as the special guest, who inaugurated 15 KW Solar Plant at the school.
GPS Lengirjan: Government Primary School Lengrijan Dimapur celebrated the World Environment Day under the theme, "I am Responsible".
FCC: To commemorate WED 2023, Forest Colony Council, Dimapur conducted social work, cleanliness drive and plantation inside Forest Colony along with Divisional Forest Officer, Dimapur Division, Beizo Suokhrie.
DHS Zbto: District Health Society Zunheboto in collaboration with development partner Jphiego celebrated WED 2023 at Government Higher Secondary School (GHSS) Old Town, Zunheboto and across all health units. During the programme, the harmful effects and the burden of waste created by the increased use of plastic was highlighted. Students were also encouraged to minimise use of plastic and opt for reduction, reuse and recycle. Painting competition was organised for the student. Plantation, cleanliness drive was also carried out at various health units across the district.
FGAN: As part of WED celebration, Forest Graduates Association of Nagaland (FGAN) distributed paper bags to the Local Vendors at BOC, Kohima, focusing on the solutions and the ill effects of the use of plastics. The association also created awareness among the people about the threat and the consequences of using plastic articles to the environment.
Razha Chedema: In celebration of WED 2023, Integrated AYUSH Hospital, Razha Chedema, Kohima, medical superintendent along with doctors and staffs conducted plantation drive in and around the campus. Awareness and sensitization on preserving the environment was also conducted among the staffs and general public.
Kohima Bn of AR: Kohima battalion of Assam Rifles, under the aegis of HQ 5 SECTOR/ HQ IGAR (North) conducted various activities in Kohima to commemorate WED. The activities included massive plantation drive at Kohima Village (Below IG Stadium), Chakabama Kezoma Village, Councilors Hill, Heritage DC bungalow and Kohima Garrison.
NDPP: To commemorate the WED 2023, NDPP Youth Organisation and Women Organisation jointly carried out plantation drive across the state.
NHB: Nkialwa Students' Union (NHB) with deputy Ranger Namkipo Rangkau, Beat Forest Officer Athibung organised a plantation drive as part of observing WED 2023 at Nkialwa Village.
AuS: Altrura Society (AuS) celebrated WED by organising a plantation drive at Hebron Higher Secondary School and North Town Higher Secondary School Chümoukedima.
AWES: Understanding the role Christians should play as caretakers of God's creation, the Amenty Welfare Educational Society teamed up with Longjang Baptist Arogo Youth Ministry to celebrate WED on the theme, "Süngdong Wazuka Yudi" at Longjang Baptist Church. The programme was followed by tree plantation drive in and around the church premises. Plantation was also carried out along the roads, symbolising the commitment of the attendees to a greener future.
DAN: Development Association of Nagaland (DAN) under Morung Project celebrated WED 2023 in Phek, Zunheboto and Tuensang districts. In Chizami Town under Phek district, plantation and plastic waste collection was jointly organised by Morung Project (DAN) and Chizami Town Chakhesang Students' Union (CTCSU) in collaboration with Self Employed Women's Association (SEWA) Chizami Town and Child Protection Committee (CPC) Chizami Town. In Zunheboto district, poster competition, cleanliness drive, tree plantation and repurpose of plastic waste was organised at Government Middle School Amphoto, Government High School South point, Ghokishe Village, Natha Old Village, Lukikhe village and Shevishe Village. In Tuensang district, painting competitions were held at Government Primary Schools, DC Hill Old Medical.
DFO Tuensang: In celebration of WED 2023 under Divisional Forest Officer (DFO) Tuensang office, a weeklong major outreach and advocacy activities for mass mobilization on "Mission LiFE" (Lifestyle for Environment) was carried out under three offices of the range.
DEC: Dimapur Electrical Circle (DEC) celebrated WED 2023 at Electrical Complex, Full Nagarjan by organizing a formal programme and plantation drive.
NDPP Mkg: To commemorate the WED 2023, NDPP Youth Organisation, Mokokchung Region planted ornamental tree saplings at the Astro Turf, Rempukong, Ungma village.
NESMS: To commemorate WED 2023, Nagaland Ecological and Sanitation Management Society in collaboration with Tuli Area Ongpangkong Students' Union organised tree plantation drive under the theme, "Mission Life".
CVS&AH Jalukie: A week-long plantation drive conducted by the students and staffs of College of Veterinary Sciences & Animal Husbandry, Jalukie, Peren culminated on WED 2023 by conducting plantation drive in the college campus and Jalukie Town. During the week-long plantation drive various plants of horticultural, medicinal and ornamental importance were planted.
LFI: National Service Scheme (NSS) of Livingstone Foundation International College organised a tree-planting initiative in commemoration of WED 2023. The volunteers planted trees to broaden the basis for an enlightened opinion and responsible conduct in preserving and enhancing the environment towards achieving sustainable future.
MGH HSSS: MGM Higher Secondary School Dimapur under St.Thomas Mission Society Dimapur celebrated the WED 2023 in the school with different programmes and activities. Keeping in view of 2023 theme, the school adopted different measures to reduce the use of plastic among students and also create awareness on the dangers of indiscriminate use of plastic that in turn posing a grave danger to the environment. The school has declared zero tolerance to plastic waste. Students are discouraged to bring plastic carry bags, water bottles and eatables wrapped in plastic covers. Painting, drawing competitions and social work were some of the highlights of the programme.
NCC Nagaland: NCC cadets in the state of Nagaland observed WED, wherein 80 Cadets of both the Senior Wing and Junior Wing with 9 ANOs of 1 Nagaland Girls Batallion NCC, Kohima participated in several activities such as cleanliness drives, plantation drives, poster-making completions. Handmade paper bags were also distributed by the cadets of St Joseph College, Jakhama to local vendors, who were also encouraged to use recyclable materials for packaging. At Longleng, NCC Cadets, in collaboration with Eco Club and other students conducted tree plantation drive.
RJHSS: Ram Janaki Higher Secondary School, Dimapur celebrated WED 2023 by encouraging staffs and students to involve in various indoor activities to create awareness of environment and to create sustainable living without pollution formed by plastic and similar products.
GHSS Meluri: Government Higher Secondary School (GHSS) Meluri celebrated WED 2023 by carrying out cleanliness drive and tree plantation within the school premises.
GMS Bayavü: Government Middle School (GMS) Bayavü Kohima celebrated WED at the school premises, wherein students were encouraged to protect and preserve environment. A social work was also carried out while the students also pledged on "Mission LiFE" (Meri Life- Lifestyle for Environment). The students also took part in the programme organised by the Kohima district administration with Zubzub while some students also took part in the programme organised by SoCRAN Focus Nagaland.
MSHSS: Mount Saramati Higher Secondary School and Montessori Home, Unity Villag Chumukedima celebrated WED 2023 at the school premises. The objective was to create awareness among the students and staff members about the hazardous consequences of plastic utilisation in the day-to-day lifestyles and how to remedy this ongoing environmental issue.
NU: Nagaland University and all its campuses celebrated WED by organising events such as poster making, painting and essay competition. The day was also celebrated at NU Headquarters: Lumami with NU vice-chancellor, Professor Jagadish K. Patnaik, who led the plantation drive.
NSS GHSS Seikhazou: National Service Scheme (NSS) Unit of Dr. Neilhouzhü Kire Government Higher Secondary School (GHSS), Seikhazou celebrated WED by collecting plastic waste from in and around the school area, to be disposed of properly as part of efforts to maintain a plastic waste-free campus. A tree plantation drive was carried out at the school campus and at Chede Model Village.
SCWS: Silas Care and Welfare Society (SCWS) celebrated WED 2023, wherein senior citizens planted some saplings in the Women's De-addiction Centre. Indisen Dimapur.
UCHSS: The management, staff and students of Unity Christian HSS, Diphupar, Chumukedima celebrated WED, wherein importance of reducing the use of plastics and protecting environment was highlighted. Various activities like drama, special song, dance and model making, based on the WED 2023 theme was carried out by the students. The students and the teachers also carried out a social work in and around the school campus.
USSC: In commemoration of WED 2023, the United Sangtam Students Conference (USSC) undertook an initiative of organising a tree plantation and cleanliness drive across the Sangtam areas.
FOCUS-IFAD: FOCUS-IFAD, DMU Zunheboto along with the civil society conducted a plantation drive at the Sumi Martyrs Park, Sukhalu village with the aim to sensitize rural masses about the growing concern of environment pollution at the grassroot level.
District administration Zbto: On the occasion, district administration carried out plantation drive at DC residence, Circuit House, DC office Zunheboto in collaboration with ZAPO, Sumi Totemi Loka Zunheboto, DFO , Sakhi OSC MSK and DEO Zunheboto.
KSC: Department of Geography, NCC Cell and NSS, Kohima Science College along with Working Plan Division and Silviculture Division, Kohima under department of Environment, Forests and Climate Change observed WED with a thrust on the Mission LiFE. Around 100 students, faculties and forest staffs participated in plantation and cleanliness drive during the event.
NFI: National Foundation for India (NFI) in collaboration with IDeA-the ant and Can Youth, co-funded by European Union organized one day plantation drive at various localities in Dimapur and Hazadisa, Dhansiripar Sub-division Chumoukedima.