Collegedunia College Predictor is a tool specially designed to allow aspirants to filter through desirable colleges based on their expected scores, ranks and preferences. Get a detailed list of participating IITs, IIMs, IIITs, NITs, GFTIs, and other top colleges that accept scores before participating in the counselling process.
Collegedunia has designed college predictor tool for several exams namely, JEE Main, JEE Advanced, NEET, GATE, CAT, BITSAT, DU, NMAT, MAT, XAT, VITEEE and other national and state level exams. The tool can be used on selecting the Course and Exam/University.
College Predictor tool compiles information from previous year data on qualifying and admission cut-off from entrance exams to predict colleges. It is beneficial for any student who will be appearing for the exam and who wants to analyse the levels of preparedness.
What You Should Know about College Predictor?
There are several entrance exams held in India for admission to UG, PG and Ph.D courses in various top colleges and universities. All participating institutes decide their individual cut off scores for admission. College Predictor tool can help a candidate to figure out the college(s) for admission based on the minimum cut-off marks.
Collegedunia College Predictor: How to Check?
Candidates can go to the College Predictor by visiting the Collegedunia page for any exam. Once there, students just have to click to the College Predictor option in the ribbon above. The College Predictor will appear on the left hand side of the screen.

Candidates then have to enter the following information as per the tool:
Rank/ Score/ Percentile
Gender
Reservation
State
Stream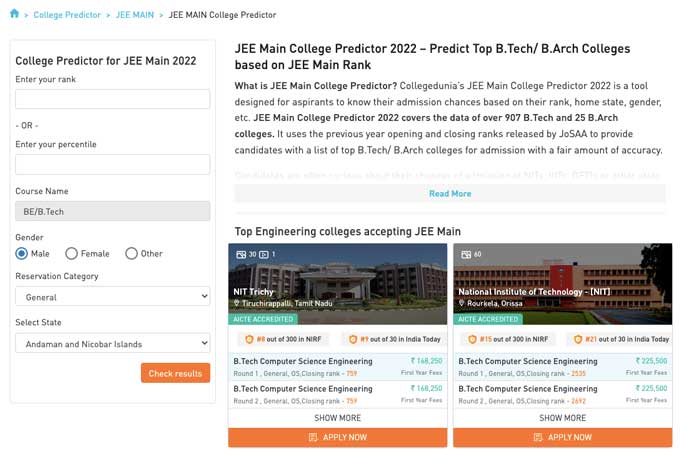 After confirming their gender, candidates need to select "Find Colleges'. This will take them to the choice of colleges available to them.
Why Collegedunia College Predictor?
Education is undeniably the most important investment one makes in their lives. One does not take any decision based on a whim. Candidates have to make a number of life-altering decisions. Collegedunia exists to provide a clear, comprehensive vision to aspirants allowing them to make the most optimum decision for themselves.
With Collegedunia College Predictor, aspirants can make informed decisions about the institutes of their choice and focus on their career ahead.