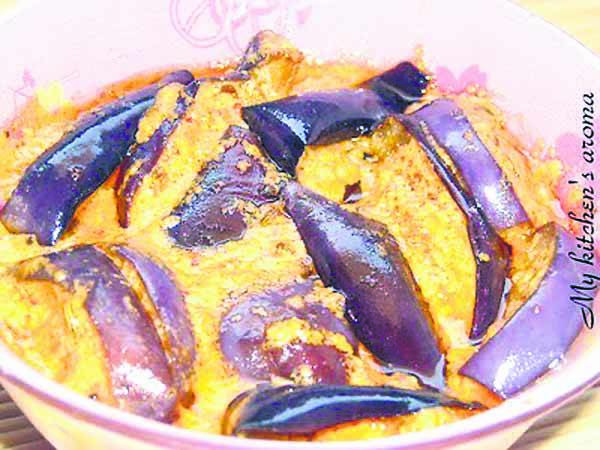 Ingredients
250gm brinjal
½ tsp cumin seed
1 onion
1 tomato
½ ginger
1 tsp red chilli powder
2 green chillies, slit half way
1 tsp coriander powder
½ tsp saunf powder
1 tsp coriander leaves
1 cup beaten yogurt
Pinch of garam masala
Pinch of kasuri methi
Salt to taste
Oil to fry
Method
1. Wash and cut the bringal length wise, chop onion, tomato, ginger and coriander.
2. In a bowl, combine yogurt, chilli powder, coriander powder, saunf powder, salt, coriander leaves and green chillies. Keep aside
3. Heat oil in a pan, add cumin seed, ginger and onions and fry for 4-5 minutes.
4. Add turmeric powder, brinjal and cook over medium heat. Cover with lid and cook for 5 minutes.
5. Add tomatoes and cook for few more minutes. Add a cup of water and bring to a boil.
6. Add the yogurt mixture and simmer to a thick consistency. Add garam masala and kasuri methi. Mix well and remove from the heat.