Solving Dimapur's perennial traffic congestion problem poses a stiff challenge to effect better traffic management overwhelmed by haphazard parking and rising number of two wheelers, three wheelers and four wheelers. Traffic congestions at various points of the roads under Dimapur City are becoming a daily harassment and the need for construction of flyovers is being felt. Another contributing factor for traffic congestions, is that roads have very little space for parking and at the same time, not having enough space to allow vehicles to pass by.
A case in point being the daily problem faced in the heart of the city at N.L.Road (Old Church Road), M.P. Road, GS Road etc. In order to solve parking problems the Urban Development Department (UDD) had obtained sanction for parking lot in 2008 estimated at Rs.22.3 crore located at New Market. The work began in 2009 and was expected to be completed by 2012. However, after four years in 2013 the work was abandoned by the contractor due to financial problems.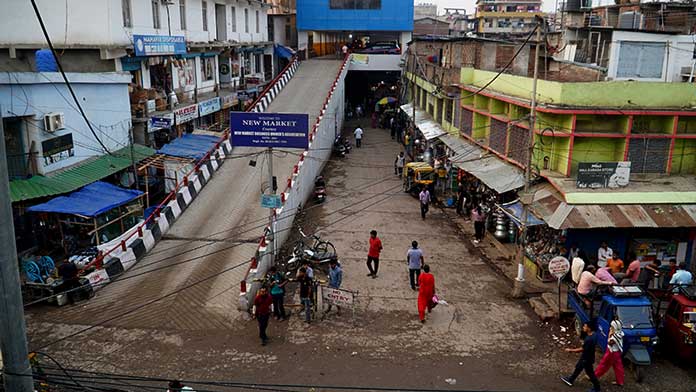 The half completed work was re-tendered and awarded to another contractor with a revised estimate of Rs.14.35 cr. Work began in 2019 and after the work was completed by 2022, the parting lot-cum-market centre was open on a trial basis from February 13,2023.
Talking with Nagaland Post, DMC Administrator W.Manpai Phom said DMC would first observe how things work out and changes needed would be implemented with help of traffic police.
Manpai said the entire parking facility has a capacity to accommodate 100 cars. Presently since only the first floor was operational, 50 cars will be accommodated currently. He said the ground floor for parking would also been made operational soon. However, the paths to the parking lot at both ends, are very steep and may prove quite risky for vehicles, if the paths become slippery during monsoon.

In order to ease traffic congestion, DMC and Traffic Police should restrict parking of two, three or four wheelers of shop owners and business firms along NL Road and direct that they park in the parking lot. DMC can charge parking tax from shoppers who park their vehicles at NL Road initially for a duration of 15 minutes. The fee can be doubled for the extended duration of 15 minutes.
Dimapur has only one parking lot for thousands of vehicles while Kohima has three parking lots- at Old NST Complex, Old Medical department office and one proposed at the cemetery below Midland. Speaking to Nagaland Post, deputy commissioner of police (DCP), Traffic, IM Chenth said that the police were trying their best to manage the traffic by taking a very holistic approach, but lamented that with the increase in the number of vehicles, lack of wide roads, the problem was only getting compounded. He said the traffic personnel were putting all their efforts to manage traffic.

He pointed out that the parking space along the Nyamo Lotha Road (NLR) stretch was very less, while the new parking facility of Dimapur Municipal Council (DMC) would not be sufficient to ease the traffic congestion. He maintained that priority should be given in setting up more parking facilities around the town.
He disclosed that he had approached Dimapur Chamber of Commerce and Industry (DCCI) office-bearers and shop owners of the area for a meeting to discuss the issue, adding that this was likely to be held before elections to urban local bodies (ULBs). He stated that only after the meeting, new guidelines like road marking at certain locations for separate two and four-wheeler parking and no parking zones would be adopted.