With the theme of "Fulfilling the Promises of the Universal Declaration of Human Rights for Older Persons: Across Generations", the International Day of Older Persons (IDOP) was observed in different places in the state on Sunday. On the occasion, award instituted by the Social Welfare Department, was presented to elderly persons who have made commendable contribution, government and non-governmental organisations.

Department of Social Welfare observed the day at Hotel Japfu. Speaking as special guest, chief secretary, J. Alam pointed out that Nagaland with a population of 19,78,502;(5.19%) 1,02,736 were 60years and above as per 2011 census, while the global population of 7.9 billion, (13.9%) 1.1 billion were 60years and above and in India with a population of 1.3 billion, (10.5%) 1.49 million were above 60years.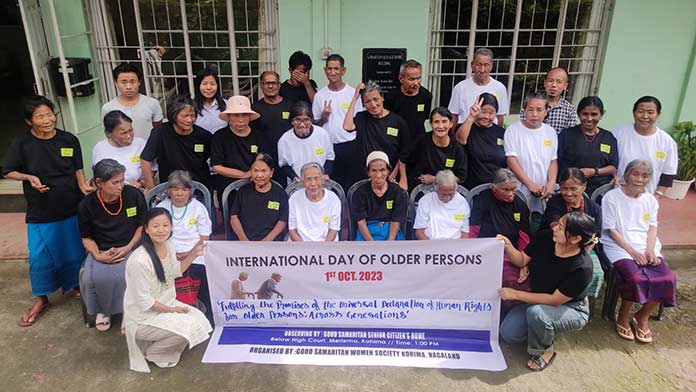 Alam said with the context of the declaration of 2021-2030 as the "UN Decade of Healthy Ageing", the voices, perspectives and needs of the elderly were very critical to help achieve Nagaland Vision 2030.
He also stressed on the need to raise awareness on issues that adversely affect the elderly persons and appreciated their contributions to the society. He reminded the gathering to commit in honouring and supporting the elderly population noting that the occasion was reminder of the significant contributions made by them.

Alam also pointed on the importance of acknowledging and valued the contributions of the older generations as they have been considered as the "guardians of the past, the pillars of the present, and the guiding lights for the future". Mentioning that Naga society was deeply engrained in the ethos of the family and valued of human connection, Alam recalled the contribution of the people in building a healthy community where older persons were always respected and their experience valued and stories stood as a bridge between traditional and modern culture.

He also acknowledged the efforts of the department towards senior citizens of Nagaland. Earlier, delivering keynote address secretary, department of Social Welfare, Martha R. Ritse informed that in Nagaland, there were 51750 beneficiaries of Indira Gandhi National Old Age Pension Scheme under NSAP who were paid Rs.200 per month and 5650 beneficiaries were paid Rs.500 per month and five Senior Citizens Home run by various implementing agencies, where senior citizens were given shelter and few Day Care Centres managed by private agencies. She also emphasized on Maintenance & Welfare of Parents and Senior Citizens Act, 2007 which empowered Senior Citizens including parents to file for maintenance against children or any or relatives.

Ritse also highlighted National Helpline for Senior Citizens or Elderline-14567 across the country and informed that in Nagaland, the helpline has been implemented by Good Samaritan Women Society. A brief note was delivered by Senior Citizens' Association Nagaland, general secretary, Dr. R. Rose Chakhesang.

The celebration was chaired by director, Social Welfare, Tosheli Zhimomi, invocation by Rev. Thsadongse Sangtam, pastor, Sangtam Baptist Lithro Kohima (SBLK), special Song was presented by Sumi Baptist Church Kohima (SBCK) and vote of thanks by Assistant Director, K. Wango Langsym.

Distinguished Senior Citizens Awards: On the occasion distinguished Senior Citizens Awards were presented to four persons: State Level— Dr Hokishie Yeputhomi and S.P Ellen Konyak awarded Rs. 20,000 each and citation. District Level— Nosato Zao and Khrieliehuu Pfukha awarded Rs. 10,000 each and a citations.
DIPHUPAR: Social Welfare Department (SWD) observed the International Day of Older Persons on October 1, at AWTC, Diphupar.

A press release from, District Welfare Officer, Dimapur, Keneikesangulie Zumu stated that the department acknowledges and awards two senior citizens on the basis of their distinguished contribution to the society.
The awardees were Rev. Thilihe Yeptho and Oreno Murrie. The programme was invoked by Kevineinuo Rio, CDPO, Medziphema and the significance of the day was briefed by chairperson Keneikesangulie Zumu, DPO, Dimapur. Later, vote of thanks was delivered by senior inspector Y Shikato Jimo and the programme concluded with a mass prayer.

MON: Along with the rest of the country, Mon also observed the day at Town Council Hall, Mon, with the theme "Resilience of older persons in a changing world". While gracing the programme as a special guest, ADC Mon, Temjen Naro spoke on maintaining good health both mental and physical. She said that to live a longer life, one should keep busy. Earlier the programmer was commenced with invocation by Golang Kheman, Welfare inspector. About 30 older persons attended the programme. Among them Nangmung Konyak and Hoka Konyak was awarded by the Social Welfare Department Mon.

GSWS Kohima: Good Samaritan Women Society (GSWS) Kohima observed the day in three senior citizen's homes in Longleng, Peren and Kohima districts. Neithonuo Liegise, chairperson GSWS and on behalf of program manager, Elderline Nagaland (National Helpline for Senior Citizens) called upon the younger generations and children to show respect and kindness towards elders in words and in action.

The government should bring basic facilities and elderly welfare programme into effective implementation in the state, she said. She informed that Elderline-14567 has distributed T-shirt to the senior citizens for creating awareness on National Helpline for senior citizens.

She informed that International Day of Older Persons was observed at Senior Citizen's Home, Ngwalwa, Peren with Dr.Tiakala Walling, SMO Peren as special guest. Senior Citizen's Home, Meriema, Kohima and Senior Citizen's Home Longleng also observed the day.