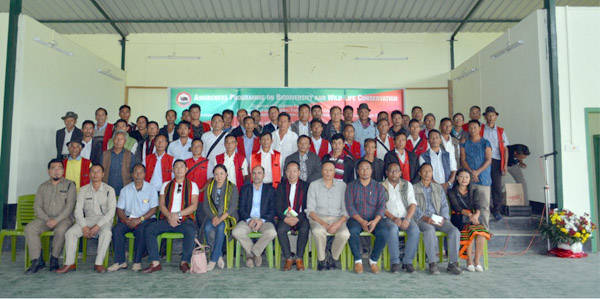 An awareness programme on wild life conservation was held on October 19 at Botsa.
Special invitee, Vedpal Singh, Chief Wild Life Warden Nagaland, highlighted on the importance of landscape approach to wild life conservation and sought concerted action from all the villages for the sustainability of the conservation. DFO Kohima, Rongsenlemla Imchen who chaired the programme dwelt on the significance of implementation of Village Forest Resolution in letter and spirit and also highlighted on the importance of conservation and livelihood security. Chairman Sendenyu BMC, Gwasinlo Thong gave a power point presentation on wild life conservation and its challenges with regard to Sendenyu Biodiversity Conservation.
Heirang Lungalang, secretary Nagaland Community Conservation Area Forum also spoke on the occasion where he reflected the activities of the forum and the roles and responsibilities of the communities. SDO (Civil) Chiephobozou, Samuel Thyug encouraged the gathering to work towards a common goal and raise awareness on conservation in all the areas.
Altogether 21 villages covering Chiephobozou and Tseminyu Range attended the programme along with forest department officials, district administration, village functionaries and student union.
The programme was organised by Kohima Forest Division, department of Environment, Forests and Climate Change in collaboration with the village councils of Northern Angami and Tseminyu areas.