Congress' youth wing chief is in fresh trouble over a harassment complaint, as the Assam Crime Investigation Department (CID) has summoned him to its headquarters for examination in the northeastern state today. Notice was served to him on April 20.
The specialised police unit's action is based on the National Commission for Women's letter to the Assam police, asking them to initiate action against Indian Youth Congress national president Srinivas BV, who has been accused of harassment and discrimination by a former party colleague.
The Assam Police also visited Karnataka on Sunday to serve a notice to Srinivas, who the police couldn't trace, directing him to appear before the Dispur Police Station in Guwahati at 11 am on May 2. Police were looking for Srinivas BV at his uncle's residence in Bengaluru, where he used to stay whenever he was in the city, as he had vacated his permanent residence two years ago. Congress on Saturday suspended its former Assam Pradesh Youth Congress chief who made the allegations against Srinivas. She has been expelled for six years for "anti-party" activities.
The Assam unit of the grand old party reportedly found the woman's allegations "baseless and politically motivated", and took disciplinary action against her for tarnishing the image of the party and its leaders.
Assam Chief Minister Himanta Biswa Sarma and senior Congress leader Randeep Singh Surjewala traded barbs yesterday over the motive behind police action against Mr Srinivas.
The woman had filed a complaint against Srinivas at the Dispur police station on Wednesday and was summoned by the Criminal Investigation Department (CID) of Assam Police on Thursday. She accused the Congress leader of being "sexist and chauvinistic". She claimed that Srinivas and another IYC leader, Vardhan Yadav, had discriminated against her based on her gender and had used foul language to threaten her. Srinivas, who is currently campaigning for the Congress in Karnataka ahead of the assembly elections next month, has denied the allegations and filed a defamation suit against the complainant for using "unparliamentary and defamatory" words against him.
IYC chief Srinivas' Covid work 'stunt, PR exercise': Expelled Cong leader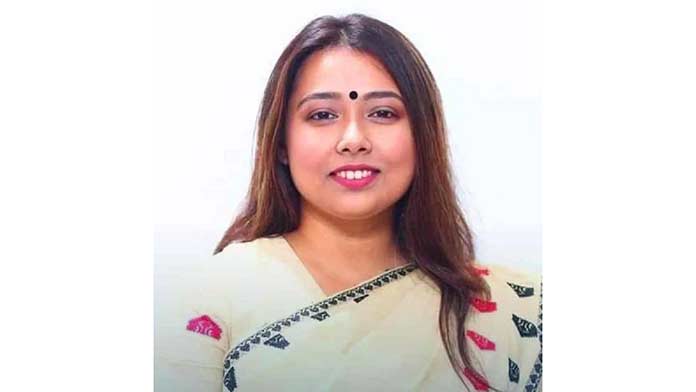 Expelled Assam Youth Congress president Angkita Dutta on Monday alleged that "all the work" done by Indian Youth Congress chief Srinivas B V during the Covid pandemic was a part of "a stunt and PR exercise".
She also maintained that though the Congress expelled her for "anti-party activities" after she levelled charges of harassment and gender discrimination against Srinivas, she will remain loyal to her "duty and responsibility" towards the party.
"The Congress has expelled me. It is their decision; I have nothing to say about it. But we are a fourth-generation Congress family. We understand our duty and responsibility towards the party," Dutta said, addressing a press conference here.
Dutta was expelled from the Congress on Sunday for six years following a show-cause notice, soon after she went public with the allegations against Srinivas last week.
Alleging that the IYC chief has been trolling her through his "paid social media workers", Dutta said, "He is trying to justify himself as the 'Oxygen Man of India', as a messiah…. All the work he did during the Covid pandemic was a stunt, a PR exercise. I later came to know as I was privy to the internal affairs of the party," she claimed.
Dutta also refuted accusations that she was speaking out against Srinivas to get rid of ED cases against her.
"The ED cases are against the company of which I am a director. It is a purely professional matter. I have been cooperating with the ED and CBI and have nothing to hide in the matter," she added.
To a question, Dutta clarified that she will not join the BJP in the near future.
After taking to Twitter, Dutta had filed a complaint at Dispur police station here against Srinivas for "harassing and torturing her for the last six months by making sexist comments, using slang words and also threatening her with dire consequences if she keeps complaining against him to senior party office bearers".
The Guwahati Police has issued a notice to Srinivas to appear before it for questioning in the case on May 2, while the IYC chief has also served a legal notice to Dutta demanding an apology.