Group of Seven leaders on Saturday warned China over its "militarization activities," but also sought to win Beijing's support for pressing Russia to halt its invasion of Ukraine, as the war-torn country's leader arrived in Hiroshima for the G7 summit.
A joint communique by G7 leaders a day ahead of the summit's conclusion called on Beijing to adhere to international norms, including addressing "nonmarket policies and practices," refraining from "unilateral attempts to change the status quo by force or coercion" and respecting human rights, including in Tibet and Xinjiang.
But G7 countries, many of which have economies that are deeply intertwined with China, also held out an olive branch— despite some views that the world has already entered a new Cold War between the U.S.-led West and China. "We stand prepared to build constructive and stable relations with China, recognizing the importance of engaging candidly with and expressing our concerns directly to China," the G7 leaders said.
"We call on China to press Russia to stop its military aggression, and immediately, completely and unconditionally withdraw its troops from Ukraine," the G7 leaders said. "We encourage China to support a comprehensive, just and lasting peace based on territorial integrity and the principles and purposes of the U.N. Charter, including through its direct dialogue with Ukraine."
Meanwhile, Japanese Prime Minister Kishida also invited prime ministers of India and Australia and convened them for the Quad meeting, which originally was scheduled early next week in Sydney but was preempted by negotiations in Washington to avoid a U.S. default and raise the country's debt ceiling.
Prime Minister Narendra Modi on Saturday highlighted the importance of Quad (Quadrilateral Security Dialogue, a group of four countries – US, Australia, India, and Japan) while addressing concerns over Chinese assertiveness in the Indo-Pacific.
Addressing Quad leaders US President Joe Biden, Australian PM Anthony Albanese and Japanese PM Fumio Kishida, Modi said, "There is no doubt at all about the fact that the Indo-Pacific region is the engine for global trade, innovation and development. We agree that the security and success of the Indo-Pacific is important, not just for this region, but, for the entire world."
"With united efforts, we are giving practical dimension to our vision for a free, open and inclusive Indo-Pacific," he said.
Will do 'whatever we can' on Ukraine crisis: Modi to Zelensky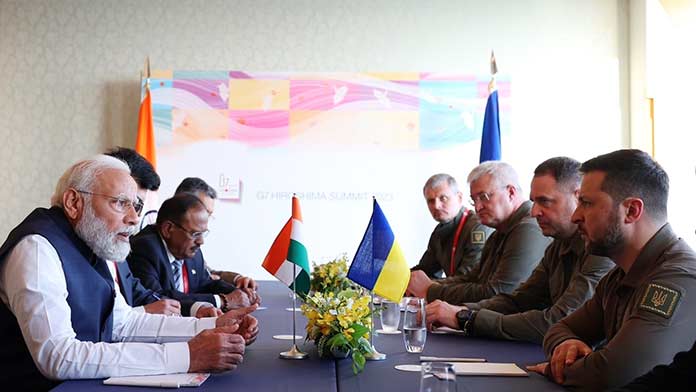 India will do "whatever we can" to resolve the Ukraine crisis, Prime Minister Narendra Modi pledged Saturday as he met President Volodymyr Zelensky for the first time since Russia's invasion.
"I understand your pain and the pain of Ukrainian citizens very well," Modi said, as the pair met on the sidelines of the Group of 7 summit in Hiroshima, Japan.
"I can assure you that to resolve this India and, me personally, will do whatever we can do," Modi said.
It was the pair's first in-person meeting since Russia's invasion began 15 months ago, which New Delhi has pointedly resisted criticizing.
India to host Quad summit next year: India will host the United States, Australia and Japan next year for a summit of the group of regional powers known as the Quad, Prime Minister Narendra Modi said on Saturday.
"We will be happy to host the Quad summit in India in 2024," PM Modi said in the opening remarks of the Quad meeting held on the sidelines of a Group of Seven Summit (G-7) meeting in the Japanese city of Hiroshima.