US President Joe Biden has condemned the unprecedented attack by Hamas on Israel as the "deadliest day" for Jews since the Holocaust, saying it has brought back painful memories of millennia of anti-Semitism and genocide against them.

Biden added that the US continues to monitor the situation in Israel very closely. Israel witnessed a multifront attack – by air, land and sea – by the Hamas militant group, which has ruled the Gaza Strip since 2007, in its southern parts on October 7.

"We continue to monitor the situation in Israel very closely, and the vice president and I and the bulk of my security team spoke with the (Israeli) Prime Minister (Benjamin) Netanyahu, again this morning," Biden told reporters on Wednesday.

"This attack has brought to the surface the painful memories and scars left by millennia of anti-Semitism and genocide against the Jewish people," he said. Over 1,200 people have been killed in Hamas' surprise attack on Israel, which has countered it with airstrikes in Gaza killing around 1,100 people.
Biden also stopped by a roundtable with Jewish community leaders and reaffirmed his unwavering support for Israel over the terrorist attacks.

"The attack was a campaign of pure cruelty … not just hate, pure cruelty against the Jewish people. And I would argue it is the deadliest day for the Jews since the Holocaust. One of the worst chapters in human history," Biden said.

"I mean silence is complicity. It really is. And I want you to know, I think you've already figured it out, I refuse to be silent, and I know you refuse to be silent as well," he told Jewish leaders gathered at the White House.
"It has been hard to find that light during the darkness of these past few days, when terrorist groups like Hamas brought not only terror but sheer evil to the world, the evil that echoes the worst, and matches, in some cases, exceeds, the worst atrocities of ISIS. More than 1,000 civilians (have been) slaughtered in Israel."

Holocaust refers to the systematic state-sponsored killing of six million Jews and millions of others by Nazi Germany and its collaborators during World War II.

Biden said he has been speaking with a number of Israeli leaders, a number of leaders around the world, and leaders in the region as well. "Among those who have been victimised by this evil and have been killed, are at least 22 American citizens. This attack was a campaign of pure cruelty, not just hate, but pure cruelty against the Jewish people," he said.

The president told the Jewish community leaders that America is not and can't be silent. The US is extending additional military assistance to the Israeli Defence Force, including ammunition, and interceptors to replenish the Iron Dome. It has also moved a US carrier fleet to the eastern Mediterranean and sending more fighter jets in the volatile region.

Beyond the 22 US citizens known to have been killed, the State Department said at least 17 more Americans remain unaccounted for in the Israel-Palestine conflict that has already claimed more than 2,200 lives on both sides while a handful of other US citizens are among the estimated 150 hostages captured by Hamas militants.
Netanyahu threatens to 'crush & destroy' Hamas
TEL AVIV, OCT 12 (AGENCIES): Israel would "crush and destroy" Hamas, Israeli Prime Minister Benjamin Netanyahu threatened amid the war like situation with Palestine, and further added 'every Hamas member was a dead man.'

"We saw boys and girls bound, who were shot in the head. Men and women burned alive. Young women who were raped and slaughtered. Soldiers who were beheaded," he also claimed
Netanyahu made the remarks in a late-night televised address as Israeli planes pounded Gaza in response to the unprecedented attack.

However, the allegations could not be independently confirmed, and authorities did not immediately offer further details, AP report cited. Later in a post in X, the PM said, Hamas is ISIS. "We will crush and eliminate him as the world crushed and eliminated ISIS. They should be spat out from the community of nations. No leader should meet with them, no country should harbour them….," Netanyahu said.

Over 3,600 people have so far been killed in Israel and Gaza after the sudden Hamas strikes triggered a catastrophic war in the region.

Israel strikes Syria airports: Israeli strikes targeted Syria's two main airports on Thursday, Syrian state television said. "Israeli aggression targets Damascus and Aleppo airports," the state television reported. Israeli strikes have repeatedly caused the grounding of flights at the airports in Aleppo and the capital Damascus, both of which are controlled by the government of war-torn Syria.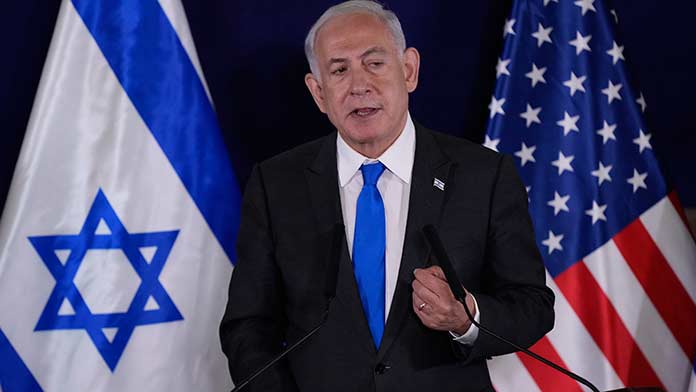 They also came as US Secretary of State Antony Blinken visited Israel, and hours after Iranian President Ebrahim Raisi, in a telephone call with his Syrian counterpart Bashar al-Assad, called on Arab and Islamic countries to cooperate in confronting Israel.

The US will never falter from its support for Israel, Secretary of State Antony Blinken said on Thursday but underlined the importance of taking "every possible precaution to avoid harming civilians" as the Israeli military prepares for a "next stage" of the war against Hamas militants in Gaza. "No country can or would tolerate the slaughter of its citizens or simply return to the conditions that allowed it to take place. Israel has the right, indeed the obligation, to defend itself and to ensure that this never happens again," Blinken told reporters while speaking alongside Israeli Prime Minister Benjamin Netanyahu in Tel Aviv. "The message I bring to Israel is this, you may be strong enough to defend yourself but as long as America exists, you will never, ever have to, we will always be there by your side," he said

He said the US has started delivering arms and ammunition to Israel. Lt. Col. Richard Hecht, an Israeli military spokesman, told reporters Thursday that forces "are preparing for a ground maneuver" should political leaders order one. A ground offensive in Gaza, where the population is densely packed into a sliver of land only 40 kilometers (25 miles) long, would likely bring even higher casualties on both sides in brutal house-to-house fighting.
Israel-Hamas war is likely to escalate The war, which has claimed more than 3000 lives on both sides, is expected to escalate. Rescue workers and witnesses have described horrifying scenes, including the slaughter of elderly people and finding bloody rooms crowded with massacred civilians.

Israel's increasingly destructive airstrikes in Gaza have flattened entire city blocks and left unknown numbers of bodies beneath debris. A ground offensive in Gaza, whose 2.3 million residents are densely packed into a tiny, coastal strip, would likely result in a surge of casualties for fighters on both sides.

Amid the conflict situation, Netanyahu joined with a top political rival Wednesday to create a war-time Cabinet overseeing the fight to avenge the stunning weekend attack by Hamas militants. Israel is now determined to crush the group's hold in Gaza.