Along with the rest of the world, Krishi Vigyan Kendra (KVK) Nagaland observed "World Soil Day" on December 5 in various districts of the state under the theme, "Soils: Where Food Begins."
Mokokchung
Mokokchung: Department of Soil and Water Conservation, Mokokchung and KVK, Mokokchung along with Agriculture Department and villagers of Khar observed World Soil Day at Khar village under Mokokchung district.
Delivering his key note address, District Soil Conservation Officer, Mokokchung, Ruokuosietuo Dzuvichu said that over the years, soil degradation is posing a serious threat on food security and environment quality that is caused by unsustainable agricultural practices, rapid urbanisation, industrialization and commercial pollution, overgrazing and long–term climate changes. He mentioned that it is easy to destroy soil and its fertility within a short period of time but very difficult to regain them back to normal that will take 200-400 years to form 1cm of soil.
In this perspective, it has become imperative for all mankind to understand the importance of soil and take as individual and social responsibility to nurture them, he added.
He reminded that protection and conservation of natural resources particularly the soil resource is of paramount importance for achieving overall sustainability and productivity as soil being the only media from where food begins.
Dr. Khate while conveying welcome speech briefed the participants on the significance of observing World Soil Day where it aims to create awareness of the importance of maintaining healthy ecosystems and human well-being.
Topic on importance of soil testing and soil health card and proper management of soil with the use of organic manures and biofertilizers was delivered by AO, Agriculture department, Mokokchung, Yimkum Kichu.
Slides show on production and application of various organic manures was presented by ACTO Agronomy, KVK, Mokokchung, Imtisenla, while presentation on the importance of Agromet in the perspective of agriculture was delivered by SMS, Agromet, KVK, Mokokchung, N. Walling. Further, demonstration on soil sample collection and geo-tagging was conducted by SCA, Opangtemsu. After interactive session, the village numbering to 120 farmers were distributed with organic manures and biofertilizers.
The program was chaired by Sr. Scientist & Head, KVK Mokokchung, Dr. Keviletsu Khate, exhortation was delivered by Khar Village Council chairman, Sashikaba and vote of thanks by programme assistant, KVK Mokokchung, Moainla Longkumer.
Peren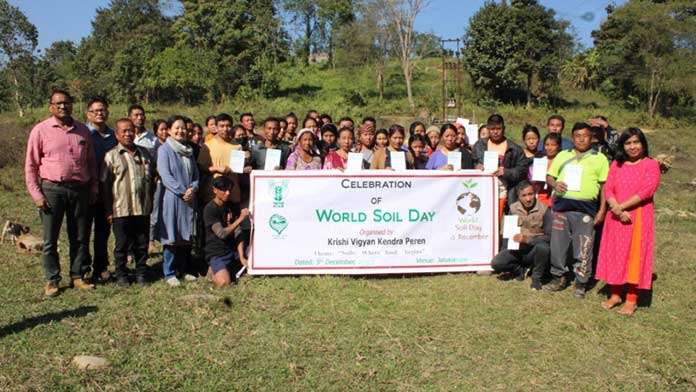 Peren: KVK Peren celebrated the "World Soil Day" with an aim to connect the farmers as well as people to raise awareness and the importance in their live at Jalukieram village.
Principal Scientist & Head, Dr. K. L. Meena, while welcoming the farmers of the village for their active participation on this important occasion, advised the farmers to give more importance to the soil as it provides everything for their needs and also to all living beings. He also spoke on the importance of water to the gathering.
ACTO, GPB, Dr. Patu Khate Zeliang elaborated the importance of soil nutrient in relation to human health and nutritional security. Chairman of Jalukieram village, Arei Zeliang exhorted the villagers to co-operate with KVK Peren and avail all the facilities provided by them with sincerity and dedication. Computer assistant (FPO), Taochila Pongen, read out the message of Union Minister of Agriculture and Farmer's Welfare, Narendra Singh Tomar and secretary (DARE) & Director General (ICAR), Dr. Himanshu Pathak.
ACTO, Soil Science, Z. James Kikon gave a lecture on the theme and elaborated on the importance of soil health management and appealed them to use appropriate strategies for safe resource use to achieve higher production and productivity without hampering the soil health. While delivering the vote of thanks, CTO, Animal Science, Dr. L. Babita Devi, acknowledged the farmers for their effort in supporting various activities implemented by KVK Peren at the same time she encouraged them to give their best with honesty and dedications in the days to come. The program ends with the distribution of Soil Health Card and Group discussion. Altogether 37 farmers and 8 KVK officials attended the programme.
Longleng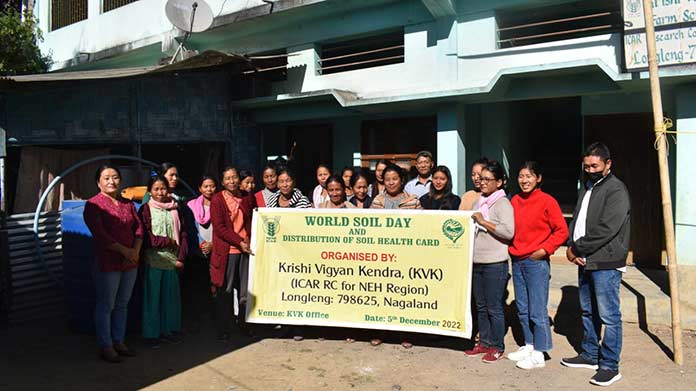 Longleng: KVK Longleng under ICAR research complex for NEH Region, Nagaland centre celebrated World Soil Day at KVK training hall Longleng.
In the series of events, the programme was conducted by technical officer, KVK Longleng, Wati Longkumer; opening prayer was pronounced by one of the farmers; ACTO (in-charge) KVK Longleng, Dr. Lily Ngullie, highlighted the celebration and importance of World Soil Day. Technical officer, KVK Longleng, Yuimi presented slides show on fertilizer application on soil and importance of vermicomposting.
There was interaction between the farmers and KVK officials on how to enhance soil fertility.
Altogether 40 participants from 5 different villages attended the programme.
The programme ended with distribution of soil health card.
Mon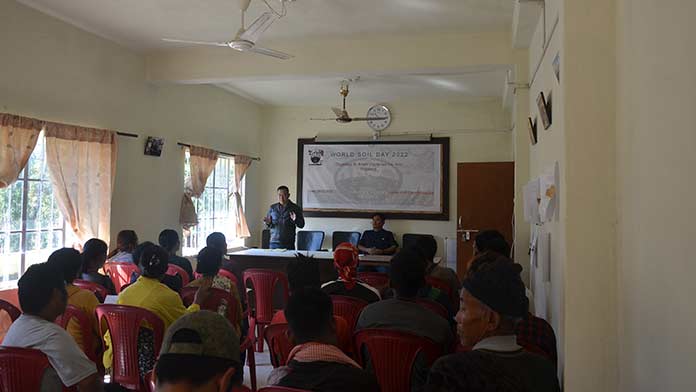 Mon: KVK Mon observed World Soil Day at the KVK conference hall. ACTO (soil conservation), Zhiete, elaborated on the theme and opined that soil give basic for food, feeds, fuel, fibre, service to the ecosystem and human well beings. He also emphasised that in agriculture farming, the whole things produced from soil, so soil has to preserve from generation to generation and not to exploit because the ultimate suffered will be the human beings. He urged the gathering to restore and preserve soil health as their present action speak loud volume and determined their future.
Chairing the programme, technical officer, Kevi Medom, highlighted on the significant of maintaining healthy ecosystem and addressing the growing challenges in soils management and encouraging societies to improve soil health.
Later the participants were given first-hand information on mini soil testing kits, soil sample collection and benefits of soil health card.