Krishi Vigyan Kendras (KVKs) in various districts across Nagaland organised programmes to webcast the inaugural programme of "PM- Kisan Sammam Sammelan 2022". The two-day event was officially inaugurated by prime minister Narendra Modi on Monday, at Indian Agricultural Research Institute, New Delhi. At the programme, PM released Rs. 16000 crore as 12th instalment under PM KISAN, inaugurated one "nation one fertilizer", 600 PM KISAN Samruddhi Kendras and "Indian Edge", an e-magazine on fertilizers. It may be mentioned that 11 farmers from Nagaland representing 11 Krishi Vigyan Kendra districts are participating in the Sammelan.
Dimapur District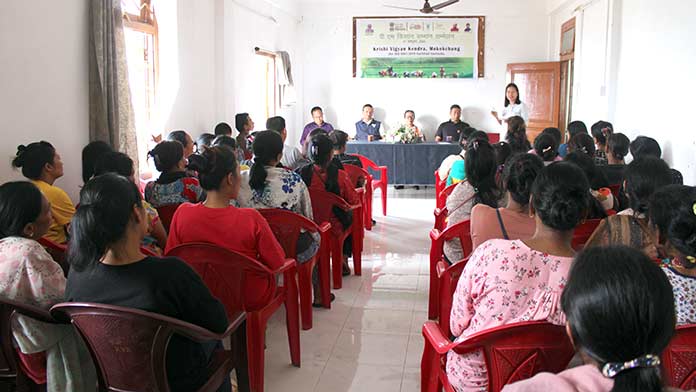 KVK Dimapur, ICAR Research Complex for NEH Region, Medziphema participated the live webcast of nationwide interaction at KVK conference hall with special guest, BJP spokesperson, Nagaland Pintu M Ghosh.
In a press release, KVK Dimapur stated that in his speech, Pintu M Ghosh exhorted the highlighted various schemes for farmers in the country.
In the welcome address, Dr. Ebibeni Ngullie briefed on the objectives of the programme and encouraged the farmers to build a stronger relation with the department in days to come.
Head of Regional Centre (ICAR), Dr. D.J Rajkhowa also urged upon the farmers to make the best use of available schemes and facilities of various departments.
The programme was followed by training on package and practices of rabi crops and distribution of winter vegetable seeds and mango saplings.
The programme was chaired by ACTO (Plant Breeding) Dr. Bendangla Imsong and vote of thanks was proposed by programme assistant (Plant Protection), Dr. Moanaro.
Altogether, 67 participants attended the programme.
Kohima District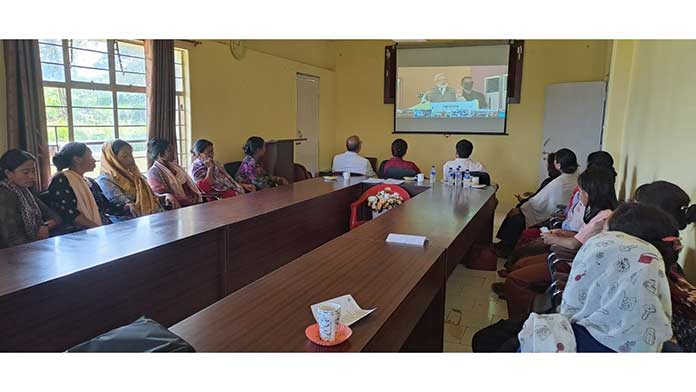 Kohima: KVK Kohima organised the webcasting of PM-Kisan Samman Sammelan at KVK Kohima office Tesophenyu.
In a press release, KVK Kohima stated that the programme was graced by member of parliament (MP) Rajya Sabha, S. Phangnon Konyak with officials from the directorate of agriculture.
Altogether, 41 farmers from adopted Doubling Farmers' Income (DFI) villages attended the programme.
Mokokchung District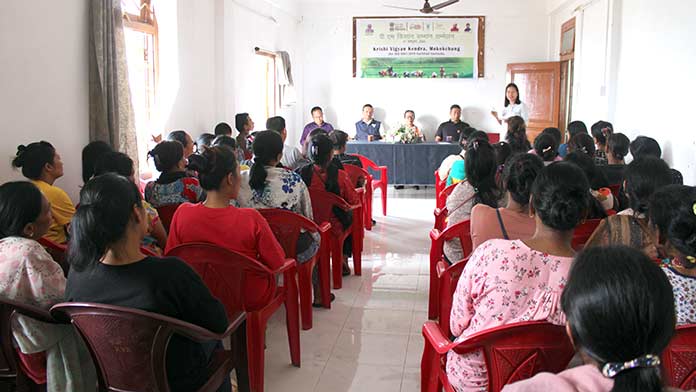 Mokokchung: Krishi Vigyan Kendra Mokokchung organised the programme at its conference hall.
In a press release, KVK Mokokchung stated that special guest of the programme, Kisan Morcha BJP Mokokchung president, Tiayanger Jamir encouraged the farmers to avail and make the best use of development and livelihood programmes.
He emphasised on the benefits of PM KISAN scheme and requested all eligible farmers to approach concerned financial institutes and departments for registration.
Kisan Morcha BJP Mokokchung, general secretary Tiamenla and Intellectual Cell, BJP Mokokchung, convenor T. Bendangyanger Jamir also exhorted the gathering.
The programme was chaired by ACTO Martha Chakruno, welcome address by senior scientist & head Dr. Keviletsu Khate and vote of thanks was proposed by technical officer, KVK Mokokchung Moainla Longkumer.
The programme ended with a technical session where production and management of chicken in backyard and awareness on "Swachhta and Jal Shakti Abhiyan" were imparted. Altogether 72 participants attended the programme.
Peren District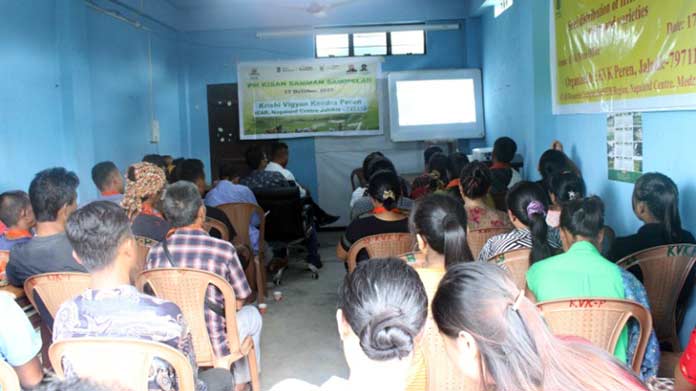 Peren: ICAR-KVK Peren, ICAR Research Complex for NEH Region, Nagaland Centre, Jalukie, Peren district organised the webcasting programme at KVK Peren office.
In a press release, ICAR Research Complex for NEH region stated that special guest, BJP, Kisan Morcha Peren district, general secretary Chahutkerin spoke on the importance of agriculture for improving livelihood.
He advised the farmers to execute their works sincerely and also avail government facilities to enhance production of major crops.
ACTO GPB, Dr. Patu Khate Zeliang spoke on rabi vegetables cultivation and advised the farmers to cultivate different vegetables in different plots.
CTO, Animal Sc. KVK Peren, Dr. L. Babita Devi also highlighted on FPO formation and its importance in marketing agriculture products.
The programme was chaired by ACTO Soil Science, KVK Peren, Z. James Kikon while PS & Head, KVK Peren Dr. K. L Meena delivered the welcome address.
At the programme, various vegetable seeds from IIHR-ICAR, Bengaluru were distributed to the farmers.
Altogether, 57 participants attended the programme.