Nagaland joined the rest of the world in celebrating "International Women's Day" under 2023 theme, "DigitALL: Innovation and technology for gender equality".
The day is celebrated every year in recognition of women's achievements without regard to divisions, whether national, ethnic, linguistic, cultural, economic, or political.
Konyak Baptist Church Kohima
KBBK: Konyak Baptist Church Kohima (KBBK) Wednesday celebrated "International Women's Day" under the theme, "Embrace Equity" at the church premises with associate pastor children, Konang Bangmei as the speaker.
In a message, Konang Bangmei deliberated on the need for women to be treated with respect and dignity in all aspects of life. He emphasised the importance of women's education and their role in shaping the future of society.
Bangmei said the theme, "Embrace Equity," was a call to action for all to work towards a more just and equal world. He said, "We must all do our part to ensure that women have the same opportunities and rights as men, whether it be in the workplace, the home, or the community."
The celebration was attended by hundreds of women from the Konyak community, who gathered to mark the occasion and show their support for gender equality. The event also included special prayer for the women and song that highlighted the challenges faced by women in the Konyak community, and the need for greater awareness and support for gender equality. "We are proud to celebrate International Women's Day here at Konyak Baptist Church," said one of the church administration head, adding, "It is important for us to come together and show our support for women's empowerment and gender equality. We hope that this event will inspire others to join us in this important cause."
The celebration concluded with a pledge to continue working towards gender equality and women's empowerment in the Konyak community and beyond. The participants expressed their commitment to promoting women's rights and creating a more just and equal society for all. 
LFI College
LFI College: Department of political science, Livingstone Foundation International College celebrated "International Women's Day" on March 7 with IQAC coordinator and assistant professor department of political science, L Achilo Kikon Panmei as speaker.
At the programme, Panmei spoke on various rights that are entitled to women which can be revelled in India.
She said this day was a global day to celebrate the social, economic, cultural, and political achievements of women, and that it also marks a call to action for accelerating gender parity.
Modern College
Modern College: An essay writing competition was organised by Gender Champion Club, Modern College, Piphema on account of International Women's Day on March 7.
The topic for the competition was based on the theme, "DigitALL: Innovation and technology for gender equality." During the competition, principal, Dr Vitsou Yano shared on the significance of the day. Tiajungla and Urmipem Mokung of BA 4th Semester were adjudged first and second respectively.
A total of 60 students participated in the competition.
Peren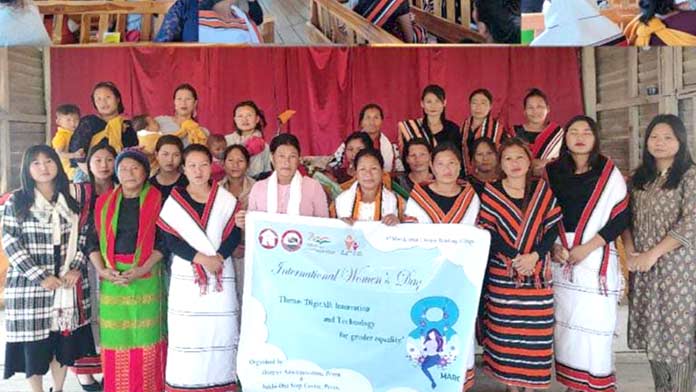 Peren: Peren district administration and Sakhi one stop centre (OSC)Peren District celebrated "International Women's Day" Wednesday at Kendung Village, Peren district.
Resource person, counsellor One stop Centre (OSC) Grace while speaking on 2023 theme emphasised that bringing women and other marginalized groups into technology would create more solution and more potential for innovations. She also underscored the need to promote gender quality.
OSC case worker, Peheilusile also enlightened the gathering about Sakhi One stop Centre scheme which provides a range of service including police assistance, medical aid, psyco- social counselling and legal counselling.
An interactive session related to possible way of creating equality and empowerment of women was also held.
PGC: Peren Government College, women development cell celebrated "International Women's Day" on March 7 at the College Campus.
During the programme, short speech on the Women's Day theme was delivered by convener, women development cell, Agnes Lalengkimi. Altogether about 70 female students participated in the programme. After the function gifts were presented to all the participants in commemoration the Day.
Women's day in KOHIMA
The "International Women's Day" was observed at Heritage, Kohima on Wednesday with representatives from women Hohos and apex tribal hoho.
Speaking on the theme of the celebration, Padma Shree Awardee and former member, UPSC, Dr P Kilemsungla said digital technology has opened a new door and brought unprecedented opportunity to remove gender disparity and inequality.
With communication easily accessible, she said Information Technology could be the greatest tool to bring about change in the society.
Dr. Kilemsungla also said the history has been created as two women have been elected to the 14th State Legislative Assembly, and termed it as a major breakthrough for gender equality in the history of Naga women. She expressed the hope that more women would come forward and participate in the decision making bodies inclusive of Naga society.
In her keynote address, commissioner and secretary, Women Resource Development & Horticulture, Anenla T.Sato cited a special reference on the achievement of women in political view, namely, Hekhani Jakhalu and Salhoutuonuo Kruse for becoming the first women to be elected to the 60-member Nagaland Assembly.
She said that Women's Day has been observed at empowering women across the world and celebrating the social, economic, cultural and political achievements of women.
Secretary, Social Welfare and administrator, Nagaland Social Welfare Board, Martha R Ritse suggested creating awareness about issues concerning women with emphasis on holistic empowerment of women. She also highlighted on various initiative for women empowerment in the state.
An overview of the transformative livelihood intervention project & the Myki initiative was presented by director, Women Resource Development, Vilone Sakhrie.
The program was chaired by State Hub for Empowerment of Women, Meneno V, invocation by Associate Pastor, Women, City Church, special song by Aosunep Jamir and concluding remark by Director, Social welfare, Tosheli Zhimomi.
A powerpoint presentation on power of education was also screened.
St. Joseph University, Chümoukedima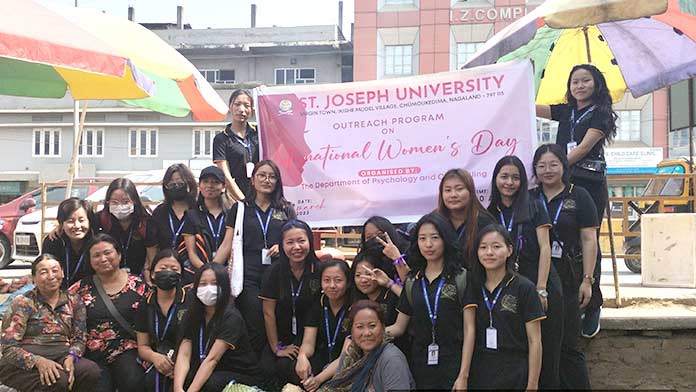 SJU: On account of "International Women's Day", The MA II students along with two faculties of department of psychology and counselling, St. Joseph University, Chümoukedima organised an outreach program to Tuesday Bazaar at 3rd Mile, Chekiye Village, Chumukedima on March 7.
The outreach program was organised with the purpose to celebrate and acknowledge the women in the workforce.
The students provided refreshment and handed out ribbons to commemorate the day, while simultaneously raising awareness on women's dignity and equity in the workforce.
ICFAI University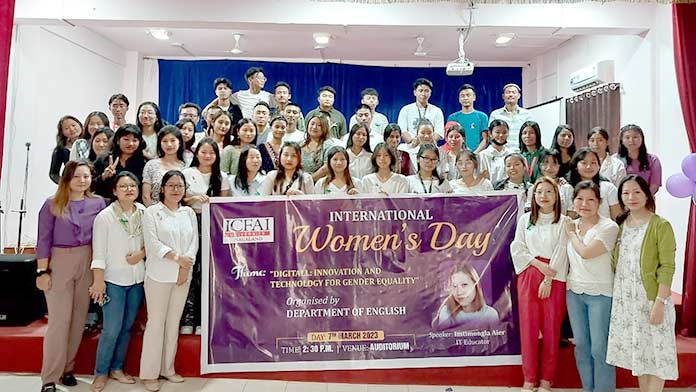 ICFAI: The department of English, ICFAI University Nagaland celebrated "International Women's Day" on March 7, wherein resource person, IT educator, Imtimongla Aier stressed on the need to promote women in the fields of technology.
Aier said it would result in more creative solutions and greater potential for innovation, meeting women's need and promoting gender equity. The event was attended by the undergraduate and postgraduate students of the English department.
ABOI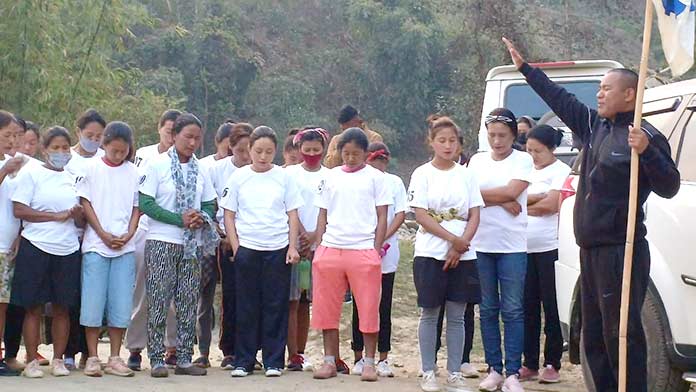 Aboi: The "International Women's Day" celebration in Aboi Sub-Division Wednesday was organised by the Konyak Nyupuh Sheko Khong (KNSK) and Sakshi-One Stop Centre, Aboi in collaboration with district administration, Krishi Vigyan Kendra (KVK) Mon, Aboi Town Students' Union (ATSU) and ATBP.
According to a DIRP report, special invitee, additional deputy commissioner Aboi, Phuleshe K Yepthomi deliberated on the importance of gender equality and its necessity in the present social life as well as for the future. He encouraged the women and girls to come out of the box and execute their role as an equal to men.
The guest speaker, vice principal KHSS, Mon, Alem Konyak highlighted the gathering on the outmost necessity and importance of women upliftment as a step towards a secure future for women. Special prayer for women by was said by Aboi Town Baptist Pastor's Fellowship I/C, PBFAT, Pastor Mongnyei.
Assisi Centre & NDWM
Assisi Centre & NDWM: The "International Women's Day" was celebrated by Assisi Centre for Integrated Development cum National Domestic Workers Movement NDWM Nagaland Region Wednesday at Assisi Auditorium.
In a welcome address, director of ACID and NDWM, Sr. Pramila said celebration of the day would explore the impact of the digital gender gap on widening economic and social inequalities, and it would spotlight the importance of protecting the right of female gender.
"As we celebrate women's achievements and progress made towards gender equality, we must also acknowledge that there is still much work to be done," said Sr. Pramila. She called upon everyone to work towards a future where every woman and girl could live a life free from fear, violence, and discrimination. In her speech, chief guest, DCP (Crime) Dimapur, Khekali Y Sema highlighted the gathering on the disadvantages of digital age and briefed them on how to live by being cautious.
Stating that women are less than none, she called upon women to empower themselves, adding than nobody else can empower them unless they take initiative to empower themself. Sema also highlighted the gathering on the importance of maintain a good balance between physical and mental health.
Special guest of the day, Sr. Juliana spoke on the beauty of women and their role in the family and the society.
AIDA
AIDA: ANMA Integrated Development Association (AIDA) – Don Bosco, SBI Gram Seva programme Dimapur, Nagaland, celebrated "International Women's Day" with five of the adopted villages – Khriezephe, Diezephe, Tsithrongse, Urra and Bade at Tsithrongse village. On the occasion, AIDA-SBI Gram Seva took initiative to build support for women's participation in the economic arenas and handed over materials and equipment to women.
Assistant district programme manager DRDA, Dimapur, department of Rural Development, Yimok Phom was the special guest and chief manager, sales and business development, SBI, RBO, Dimapur, Temsurenla Jamir was the guest of honour. SDB Rector Don Bosco Dimapur, Rev. Fr. Nebu Mathew implored God's blessings on the occasion and blessed the materials and equipment handed over to the beneficiaries. SDB associate director, AIDA welcome the guests for the day, Rev Fr. N. Angel Kuldeep.