Sovima village, NavSahyog Foundation, a Bangalore based NGO working in 20 villages under Dhansiripar circle Dimapur and Lihtsaoung Village under Kiphire district celebrated the 77th Independence Day on August 15.

Head GB Sovima village, Thepfukeduo Kuotso hoisted the National flag and followed by the national anthem led by Asenuo Metha at Amrit Sarovar Park, Vitho Khel, Sovima.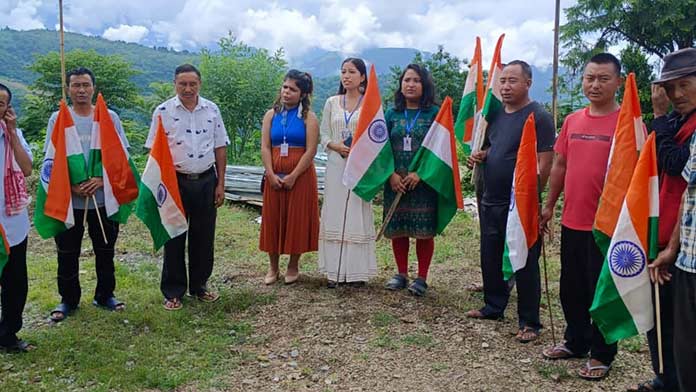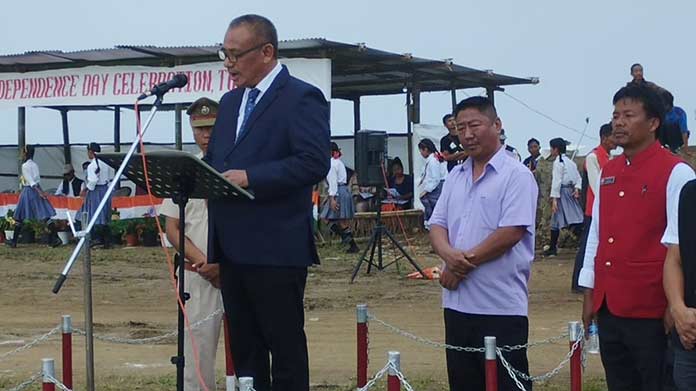 Delivering speech on the occasion, chairman Sovima village council, Sebastian Zumvü enlightened the gathering on how Indians suffered under the British rule, when the British was exploiting India economically by draining its wealth. He also spoke on the inequality and social evils faced by the Indians and also violation of human rights which led to the development of spirit and unity among Indian citizens.

Zumvü said despite of differences in caste, religion, language, Indians worked in unity for Independence.
He also recalled that the independence movement began in 1757 and later during 1857 sepoy mutiny, the call for unity set in the minds of the Indian people.

Further, quoting Pandit Jawaharlal Nehru's "Tryst with Destiny', speech, " All of us, to whatever religion we may belong, are equally the children of India with equal rights, privileges and obligations", Zumvü appealed to all the political parties to adhere to the statement of India's first Prime Minister.

The programme witnessed "panch pran" pledge by led VDB secretary, Lhouvisakho Punyu.
The programme concluded with plantation drive within the premises.
On the occasion, the following personnel of Central Armed Police Force and Ashok chakra awardee were felicitated by Lt Col SK Singh on behalf of the village council:

R.Sopu Ashoka Chakra (1962); Lt. Col. Tesinlo Tep,Paratrooper unit; Hav.(Retd) Hichulo Kent, Assam Regiment; Nk. (Retd) Ronsheni Lorin, Assam Regiment; Hav. Shayhunlo Seb,CRPF; Hav. Hyunlo Keppen,CRPF and L/Hav Limatemsu, 143 Med Regt.

NavSahyog Foundation: NavSahyog Foundation, Field Coordinator and Program Lead, Dete Therie, informed that the celebration across the 18 centers witnessed hoisting of National Flag and singing of National Anthem by Foundation's Children.Various activities such as drawings, speech and dance performance were also conducted.
The event concluded with plantation of trees in all 18 centers by village leaders and school headmasters.

The release further stated that NavSahyog Foundation's core programme aimed to develop life skills and creativity of children in rural areas, through sports, story-telling, creative activities and experiential learning.
NavSahyog Foundation has been currently present in 285 villages across Karnataka, Tamil Nadu and Nagaland.
Lihtsaoung village: Along with the rest of the country, Lihtsaoung village under Kiphire district celebrated 77th Independence Day.

The day started with the National Anthem led by Tiaba Sangtam, chairman of Lihtsaoung Village Council.
The occasion was marked with a special Gram Sabha led by the chairman Lihtsaoung Village council, council secretary and VDB Secretary.

Lithsa, District Lead Piramal Foundation Kiphire appreciated and thanked the project director DRDA Kiphire, Block officers and Lithsaoung Village Council for the support and cooperation.