Along with the rest of the world, Nagaland observed "World No Tobacco Day" under 2023 theme, "We need Food, not Tobacco". Various programmes and activities were organised across the day to create awareness on harmful effects of tobacco products.
Naga Hospital Authority Kohima
NHAK: District Tobacco Control Cell Kohima observed "World No Tobacco Day" on May 31 at Naga Hospital Authority Kohima (NHAK).
According to a DIPR report, addressing the function, managing director NHAK Dr. Sendimeren Aonok said that a new initiative was taken by the State Tobacco Control Cell, National Tobacco Control Program (NTCP) to take anti-tobacco campaigns from "tobacco-free Schools to tobacco-free homes" under the Ministry of Health and Family Welfare.
He encouraged the institution and also the students to adopt tobacco free guidelines of the NTCP to be declared tobacco-free.

District Nodal Officer NTCP, Dr. I Simon Sumi briefed the gathering on the objectives of the "tobacco-free home" campaign.
He said that when the students are motivated and given in charge of creating anti-tobacco awareness in their homes, there was huge potential to take this campaign to thousands of homes.
To be eligible for a "tobacco-free home badge", he said a simple checklist was given to the intending students which needs to be first complied with.
He also said that the most important thing one needs to do for tobacco control was awareness and that it should start with schools and homes.
Earlier, junior dental specialist, Dr. Pfukrolo Koza spoke on the theme "We need food, Not tobacco".
Livingstone Foundation International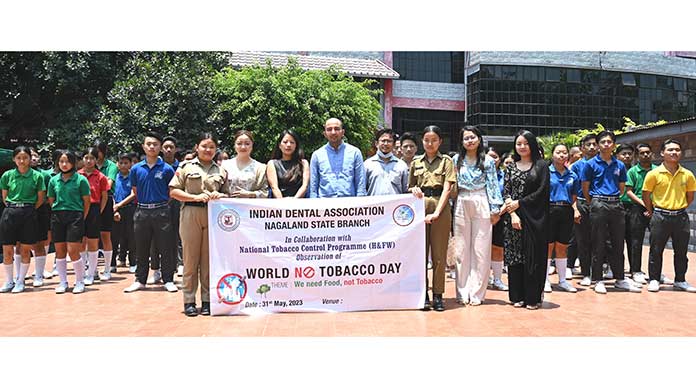 LFI: In commemoration of "World No Tobacco Day 2023", an awareness and sensitization programme for students and teachers was conducted by Indian Dental Association, Nagaland State Branch in collaboration with the National Tobacco Control Programme (NTCP), Health & Family Welfare Department on May 31 at Livingstone Foundation International (LFI) Dimapur.
A press release by LFI Dimapur stated that guest speaker of the event, Dr. Thungbeni Ngullie, dental surgeon from Crown Dental Care and Lab, Dimapur deliberated on some of the fundamental aspects of tobacco and its health hazards, and the different types of tobacco – smokeless and smoke.
During her discourse, she busted several myths associated with the use of smokeless and smoke tobacco and also the use of weed among people especially the youngsters.
Dr. Thungbeni also highlighted the adverse effects of smoking and chewing tobacco especially on women folk, which are leading causes of cervical cancer and fertility issues besides affecting the oral health leading to bad breath, discoloration or pigmentation of teeth, painful ulcers and even pre-cancer lesions.
She called upon the students to be aware of the adverse effects of tobacco and to keep oneself away from such bad habits as it has a huge impact on not only the user but also on his/her family, spouse, relatives and friends.
St Joseph University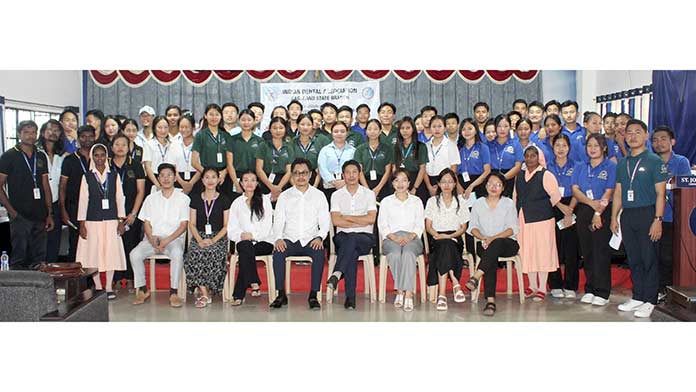 SJU: St Joseph University Red Ribbon Club in collaboration with Indian Dental Association, Nagaland Branch successfully observed "World No Tobacco Day" on May 31 at the university's auditorium.
A press release by SJU stated that the programme was an effort to bring awareness about adverse impact of tobacco usage and its dangerous consequences.
A six-member team from Indian Dental Association, Nagaland Branch led by Dr Kaketo, a dental surgeon and proprietor of Beyond Smile Clinic visited the university. Main speaker of the day, Dr Karisma, a pedodontics from Beyond Smile Clinic Dimapur, stressed on the adverse effect tobacco consumers are bound to face as the person ages. She shared some very useful tips on how to quit tobacco usage and explained the advantages thereof besides advantages of maintaining a healthy dental life.