Fate of FA hangs in balance, says Tuccu
Various Naga political groups (NPGs) celebrated 'Republic Day' at their respective headquarters and designated camps on Tuesday.
Fate of Framework Agreement hangs in balance: Tuccu
NSCN chairman and GPRN yaruiwo, Q Tuccu, stated that the fate of the Framework Agreement, which was signed on August 3, 2015, hangs in balance "as the commitment of the Government of India fluctuates wildly every now and then." Delivering presidential speech at the '44th Republic Day' celebration at CHQ, Hebron, Q. Tuccu said that political identity of Nagas as a sovereign people was "well recognized and protected" by FA. However, he said that in the years that followed, the Government of India "started to fiddle with what has been agreed upon." Yaruiwo said that the world was "keenly watching" how India handles the FA. (Full text on p-6)
On the occasion, short speeches were delivered by representatives from Naga Hoho, Naga Students Federation, Eastern Naga Students' Federation, ENPO Dimapur, Naga People's Movement for Human Rights (NPMHR), Global Naga Forum (GNF), United Naga Council (UNC), Naga Students Union Shillong (NSUS), Naga Public Organization (NPO), Rengma Naga People's Council (RNPC) and Zeme Council Assam.
Highlights of the programme included silent prayer in remembrance of the martyrs led by CNC general secretary Rev. Seksim Kasar, rank declaration by GPRN Keya ministry secretary Ng Jacob, patriotic song by Naga army GHQ choir and The Naga Emancipators choir CHQ, Hebron.
Drill display was presented by GFTHq. Naga army, folk dance was presented by Sumi war dance troupe and Yimkhiung War dance troupe.
Earlier, opening prayer was proposed by Naga army, head chaplain "col." Ph Daniel.
The commemoration began with hoisting the Naga National flag, followed by a moment of silence in honour of the martyrs.
Later, vote of thanks was proposed by GPRN cabinet secretary Lh John and closing prayer was given by CHQ Church, Hebron pastor Vikuto Kappo.
AP accepted by all Nagas: Neokpao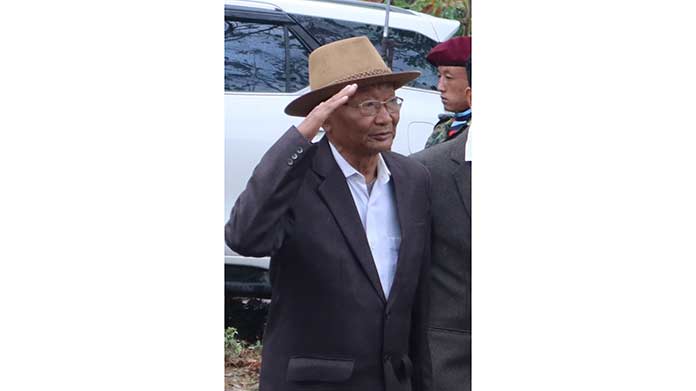 In his speech during the '44th Naga Republic Day' celebration held at Naga Unification Camp, Khehoyi on Tuesday, GPRN/NSCN president "gen. (retd.)" MB Neokpao Konyak asserted that the "Agreed Position", signed on November 17, 2017, and negotiated status papers were "sacred political documents" widely known and accepted by all Nagas.
Neokpao Konyak expressed belief that the Government of India, in the course of political talks with Working Committee (WC), Naga National Political Groups (NNPGs), have clearer understanding of the "Indo-Naga" political problem in its correct perspective.
GPRN/NSCN president urged Nagaland government headed by chief minister to shift focus from electoral politics to facilitating and resolving the "Indo-Naga" political problem. (Full text on p-6)
The programme was also attended by ato kilonser N Kitovi Zhimomi and host of leaders from the GPRN/NSCN and others.
Contribute to save Naga identity: Niki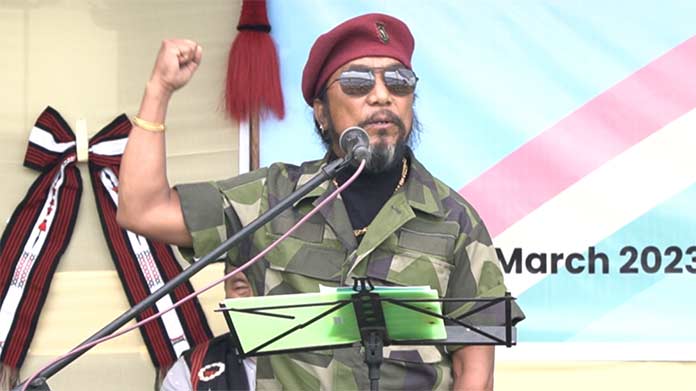 Addressing the "43rd Naga Republic Day" celebration as chief guest at cease fire supervisory board (CFSB) office, Padumpukhri on Tuesday, NSCN/GRPN president "gen. (retd)" Niki Sumi while acknowledging the sacrifices made by forefathers towards the cause for Naga identity and political rights has called upon every Naga to contribute in their own capacity to save Naga identity. He recalled that earlier Nagas worked in unity for a common goal. However, Sumi said that at present the Nagas were "in state of breaking into pieces" based on lines of tribalism and clannism creating disunity among Nagas.
Niki stated that the new generation intellectuals understand the Naga political rights, but were being compromised and only a handful of people were practically and physically committed for the Naga cause. He said that more of the people should practically commit for the cause.
Niki further urged all the Naga people to realize the history and the commitment made by forefathers and work towards a common shared goal to preserve the identity and attain political rights.
Earlier, the programme was chaired by joint secretary Kakuto Awomi, invocation by deputy kilonser religious affairs Viheshe Yeputho, welcome address by National Tatar Hoho speaker Mhonbemo Tsanglao, special number by Toshi Yimkhiung, vote of thanks by Kilonser law & justice Moses Sangtam and benediction by kilonser medical Y. Asang.
A minute's silence was observed in honour and memory of the martyrs during the programme.