Educational institutions, government agencies and others have been organising various activities for the students and staff, across the state, as part of the yearly curriculum or extracurricular activity.
DGC: In commemoration of Gandhi's Dandi March, the History Club of Dimapur Government College (DGC) organised a walkathon on March 11 with managing trustee, Mahatma Gandhi Ashram, Chuchuyimlang, Mokokchung, Dr Aotoshi as the special guest.
Addressing the gathering, Dr Aotoshi spoke on the importance of Dandi March. He reminded that the historic event Dandi March that took place on March 12, 1930 with 78 followers.
He said that when many have started dismissing Gandhi, it was heartening to see youth of the academia coming together to awaken the spirit of Gandhi.
Dr Aotoshi stated that Gandhi was just not an individual but that he was a philosophy and a culture. Imbibing the spirit of unity and non-violence, he urged the youth to rise against social injustice and denial of rights.
The programme was chaired by Meshiang Konyak (B.A.6th semester) and welcome address was delivered by HoD, department of history, Meripeni Ngully. Around 200 students, eight faculty members and one guest participant from IIT, Guwahati participated in the walkathon which started from Riverbelt Junction and culminated in DGC.
KCK: Kohima College Kohima (KCK) Kohima College Students' Council (KCSC) & Cultural Cell, KCK organised its 54th "cultural cum literary day" under the theme, "cultural integrity" on March 11 at KCK courtyard with assistant professor of department of English KCK, Dr. Theyiesinuo Keditsu as speaker.
Speaking on the theme, Keditsu emphasised the need to research, revive, reject and reinterpret (4Rs) the Naga traditional culture. She stated that equating everything from the past as regressive and modernity with progressive values was harmful and harming.
Dr. Keditsu underscored the importance of taking the best of tradition and modernity and creating more inclusive practices, which embodies ethical, moral values and enrich lives.
She said understanding and respecting one's own culture was the beginning of understanding and respecting other cultures, and appealed to use such opportunities as this programme to foster and value each other's culture. Dr. Keditsu this would bridge the differences and create empathy.
During the programme, KCK vice principal, Keneilesa Neikha delivered the welcome address; Girls Welfare secretary, Meribeni delivered a short speech in commemoration of International Women's Day; Gwanyele Kent said the invocation prayer and social & cultural secretary KCSC, Iteibuibo delivered the vote of thanks. The programme was chaired by Sameer Khati.
Cultural presentations included a cultural dance by the Zeliangrong Troops, a flute performance by Sogwalo Seb, indigenous song by the Chakesang students of KCK, a folk fusion song by Arola and Akhrienuo and an ethnic fashion show I/c Thejavizo Venuh.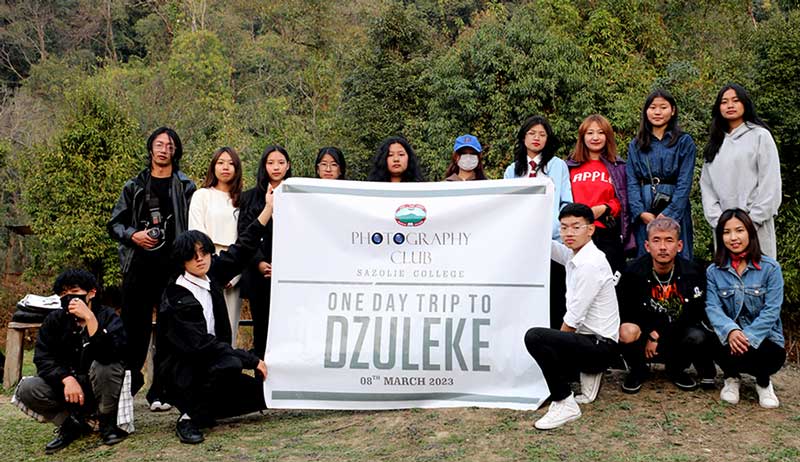 GNHSI: Grace Nursing & Health Sciences Institute (GNHSI) Padum Pukhuri Village Dimapur celebrated its first lamp lighting and oath taking ceremony for first year General Nursing and Midwifery (GNM) students on March 9.
During the programme, chief guest, deputy director cum registrar Nagaland Nursing Council (NNC), Dr. Sentinaro Ao inspired and motivated the nursing students by encouraging them to be a source of light and hope for others and a candle for those who are in the dark.
Guest of honour, principal SON, District Hospital Dimapur, Bendangnaro encouraged the nursing students to be devoted to their profession.
The programme was attended by the student, parents and prominent guests from several hospitals and institutes. The programme was presided by GNHSI, senior nursing tutor, Avikali Chishi while GNHSI principal, Watikumla Amlari gave the opening remark.

ICFAI: The ICFAI University Nagaland in collaboration with the Khadi and Village Industries Commission (KVIC), Dimapur conducted a series of programmes on March 9-10.
The first day began with essay and debate competitions on the topics, "Swadeshi: Understanding Gandhi's Vision of Self-reliance" and "KVIC: Post Liberalization and Globalization in India". On the second day, the seminar was conducted in the presence of resource person, DCO (KVIC), Sani Pongen, who began his presentation with a brief history of KVIC and its functions.
He spoke on the Prime Minister's Employment Generation Programme (PMEGP) highlighting the eligibility conditions for the beneficiaries, EDP training, etc., and added that the programme is designed keeping in mind the need for the students to be aware of the several government schemes.
Earlier, the department of commerce, ICFAI University Nagaland in collaboration with National Institute of Securities Market (NISM), registered under Security and Exchange Board of India (SEBI) organised a two-day financial education workshop on March 6-7.
At the workshop, resource person on financial education from SEBI, Chenio Lotha briefed the students on securities market and financial management, and stressed on opting for careers in the financial sector.
EBRC Kushiabil: Educational Block Resource Centre (EBRC) Kushiabill Dimapur organised a short programme on distribution of free uniform for government schools (Classes 1-8) on March 20 in the presence of EAC Dimapur, Litsenthung Kikon, Sr. SDEO Dimapur, Talitemsu Jamir and ADC DEMO Dimapur.

SC: The Photography Club of Sazolie College undertook a trip to Dzuleke on March 7, under the theme, "Celebrating timeless pieces in fashion".
FGN informs: Federal Government of Nagaland (FGN) Ministry of Rali Wali has informed that the Naga National Council (NNC) and the FGN would observe the "68th Nagaland Republic Day" on March 22, 10 a.m. at Transit Peace Camp (TCP) Kohima. All have been invited to participate in the function.