In preparation of the upcoming general election to 14th Nagaland Legislative Assembly (NLA), various meetings, and trainings were held and information and notifications disseminated by the office of the Chief Electoral Officer (CEO) Nagaland and respective district and sub-division administrations.
LONGLENG DISTRICT
DLMTs, NOs, DEO & RO meeting: A meeting of the District Level Master Trainers (DLMTs) and Nodal Officers (NOs) with the District Election Officer (DEO) and Returning Officer (RO) of Longleng was held on January 13 at the Conference Hall of Deputy Commissioner (DC) Longleng.
According to a DIPR report, Longleng DC and DEO and ADC and RO briefed the gathering on guidelines and instructions of the Election Commission of India, and the time frame to be followed up with strict compliance for smooth conduct of general election.
The sequence of training schedules for sector magistrate, presiding officers, polling personnel, SST, FST, VST, VVT, MCMC, counting agents, accounting team and other committees and agents related to election was framed. The trainings to be begin from February 1.
The report informed that the election flying squad team along with video surveillance team in the district have been activated to check violation of model code of conduct.
NO and MTs appointed: The DC and DEO Longleng has appointed BDO, Angam Longho as the
Nodal Officer (NO) and G.S. Rao, V.S, Chingdom, TOT and Mahabir GHA, assistant professor as master trainers for webcasting and offline videography.
Postal ballot paper: The DC and DEO, Longleng has notified all the Booth Level Officers (BLOs) under Longleng district to distribute Form 12D to all the eligible absentee voters, under respective polling stations, who wish to cast their vote through postal ballot paper.
According to a DIPR report, DC and DEO has informed that the eligible absentee voters, who can cast their vote through postal ballot paper, are those persons belonging to the class of person employed in essential services, who on account of the compulsion of their duties are not able to present in their polling stations on the day of polling; senior citizens (above 80 years) of age; Person with Disability (PwD) attached with disability certificate issued by the appropriate authority under the Rights of Person with Disability Act. 2016; Covid-19 suspect or affected person certificate from competent health authority to be attached.
It has been informed that only such voters whose particulars are found correct in Form 12D shall be issued postal ballot paper and shall not be allowed to vote at the polling stations. The fill up form 12D should be submitted to the returning officer of the respective constituency on or before February 4.
Requisitioning of Govt employees/staff: In connection with requisitioning of government employees/staffs for election duty, the DC and DEO Longleng, Dharam Raj has instructed all the HoDs/AHoDs under Longleng district not to grant leave to those employees/ staffs who are requisitioned /drafted for election duty.
In case of inevitable situations/circumstances, the DC and DEO informed that proper consultant should be obtained from the DC and DEO office before granting any leave.
District level standing committee constituted: In order to ensure observation of Model Code of Conduct (MCC) and smooth conduct of general election, the district level standing committee has been constituted with DC and DEO, Longleng as chairman and additional superintendent of police, EAC HQ Dr. Samuel Akho Konyak, DPRO, president/ secretary/representatives of all political parties, President PPC, PSC, Phomla Hoichem and Assistant Election Officer (AEO), Longleng as its members. The first meet of the committee was held on January 20 at the Conference Hall of DC Longleng office.
MCC toll-free number: In connection with the enforcement of the Model Code of Conduct in Longleng district, District Contact Centre (DCC) with toll-free number 1950 at the DC & DEO office, Longleng has been operationalized for complaint redressal. According to a DIPR report, 24×7 Control Room with adequate manpower and logistic facilities had been activated with strict instructions for prompt redressal and disposal of the complaint. The control room numbers are – 8794607805 / 7005579036.
MCMC constituted: District-level Media Certification & Monitoring Committee (MCMC) for Longleng has been constituted headed by DC and DEO, Longleng as chairman, and ADC and Returning Officer, assistant election officer and ARO and District Public Relations Officer, Longleng as members.
KOHIMA DISTRICT
Training for BLOs: A training for the Block Level Officers (BLOs) of Kohima district was held on January 24 at the Conference Hall of DC Kohima office.
According to a DIPR report, the training was imparted in connection with the distribution of Form 12D for absentee voters for the category of senior citizens, Person with Disabilities (PwDs) and COVID-19 suspects.
BLOs of 8 Western Angami A/C; 9 Kohima Town A/C; 10 Northern Angami I A/C; 11 Northern Angami II; 14 Southern Angami I AC; 15 Southern Angami II AC attended the training session. The resource persons for the trainees were ADC Kohima Rhosietho Nguori, SDO (C) Nokpai Konyak, EAC Kezocha and Nodal Officer (ETPBS/PB) Molosangla and AEO Olivi Thurr.
TUENSANG DISTRICT
Schedule for polling personnel training: Deputy Commissioner & District Election Officer, Tuensang, Nokchasashi has informed that government employees under Tuensang district have been drafted to perform the election duty as presiding officer, 1st polling officer, 2nd polling officer, 3rd polling officer, and grade IV.
According to a DIPR report, the training for 1st round would be held on February 2-3; second round on February 16-17 and final round on February 21-22. All the Heads of Offices under the Tuensang district have been directed to depute all the listed officials under their respective establishments to attend training. The DC has warned that any department officials who fail to attend the election training/duties shall be prosecuted under the election laws.
ZUNHEBOTO DISTRICT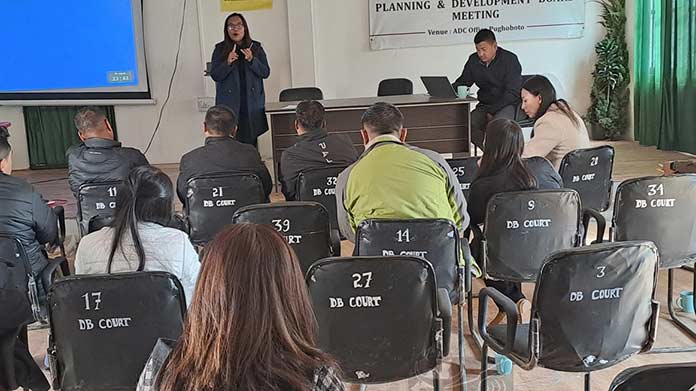 Information on election expenditure: Deputy Commissioner and District Election Officer Zunheboto has informed all the concerned that all credit bills and vouchers of expenditure i.e., POL, refreshment, stationary, hire charges of private vehicles, remuneration of polling parties, and miscellaneous, etc. done during the election process, which does not have the assistant election officer's seal and signature would not be accepted during the payment of dues after completion of elections by DEO.
MOKOKCHUNG DISTRICT
Training for SOs/magistrate and SC: A training for sector officers/magistrate and sector commander under Mokokchung district for the upcoming general election was held on January 24 at the Conference Hall of Deputy Commissioner Mokokchung office.
According to a DIPR report, during the training session, a powerpoint presentation on roles and responsibilities of sector officer was presented by Dhritishree Bordalai, DC office ministry of skill development and entrepreneurship.
District level master trainers also demonstrated handling of EVMs to the officers
Deputy Commissioner Mokokchung, Shashank Pratap Singh and Superintendent of Police Mokokchung, Manoj Kumar while attending the training briefed the officers present to diligently attend the training for smooth conduct of upcoming election.