Nationalist Democratic Progressive Party Legislature Party (NDPPLP) of the 14th Nagaland Legislative Assembly, which held its first meeting at the NDPP Central Office, Kohima on March 3, 2023, unanimously elected Neiphiu Rio as the leader of the NDPP legislature party.
NDPP through its media & communication committee said the NDPP legislature party, which adopted four-point resolutions at the meeting, further endorsed its leader, Neiphiu Rio, to take the prerogative of forming the new government.

NDPPLP also resolved to work with the vision for peace and development and take Nagaland towards a State of Excellence.
Further, the NDPPLP conveyed heartfelt gratitude to all the electorates of Nagaland for once again reposing their faith and confidence on NDPP and the leadership of chief minister Neiphiu Rio by electing them as their respective representatives to the 14th NLA.

At the meeting, chaired by NDPP secretary general Abu Metha, the chief minister Neiphiu Rio and party president Chingwang Konyak congratulated and welcomed all the newly elected NDPP Members of the NLA. They encouraged all members to work tirelessly for the people and fulfil the commitments made during the entire campaign period based on the party manifesto.

Meanwhile, it was learnt that most of the legislators from other parties like the NCP (7), NPP (5), LJP (2), RPI-A (2), JD-U (1) including four Independents were willing and ready to be part of the next government. Several of the newly elected members have openly said they will be with the government and not sit in opposition.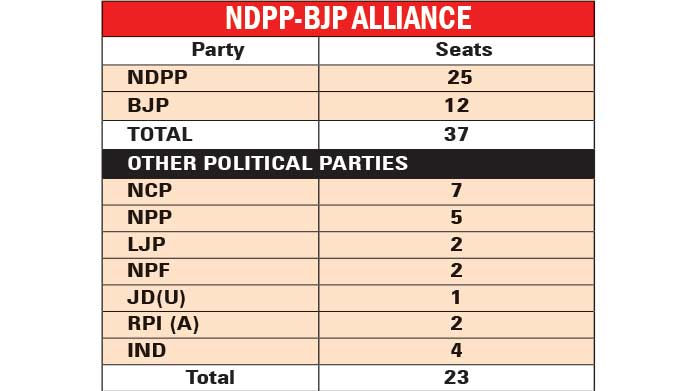 NDPP-BJP alliance yet to stake claim
PTI: Despite securing a clear majority of 37 seats in the 60-member assembly in the recently concluded elections, the NDPP-BJP alliance was yet to stake claim to form the government in Nagaland.
Sources from both parties said their legislators would hold a joint meeting with consensus leader Neiphiu Rio, the outgoing chief minister, before staking the claim to form the government.
The term of the present government ends on March 12.

Rio held a closed-door meeting with new NDPP legislators at the party head office to take their views on government formation.
NDPP sources said most of the newly elected MLAs are staying together till government formation.
BJP sources said party legislators will have a coordination meeting by Sunday after which the joint meeting with NDPP MLAs will take place.