Lending further joint efforts to ensure success of NDPP-BJP candidates, convenor of North East Democratic Alliance (NEDA) and Assam chief minister Dr Himanta Biswa Sarma and Nagaland chief minister Neiphiu Rio addressed election rallies for women candidates of BJP and NDPP on Thursday.
Sarma and Rio campaigned for NDPP candidates – Salhoutuonuo Kruse (8 Western Angami) and Hekani Jakhalu (3 Dimapur –III), assembly constituencies respectively, and Kahuli Sema BJP candidate from 32-Atoizu A/C.
Addressing the rally for Kruse at Capital Cultural Hall Kohima, Sarma maintained that by fielding women candidates for the first time in Nagaland in over 60 years, BJP and NDPP were on the cusp of creating history.
He lauded Rio's historic decision of not only talking about women empowerment and gender equality, but giving responsibility to women to lead the destiny of the State in days to come.
On inter-state border issue, he said there was a lot of scope for oil exploration along the border. Sarma disclosed that Assam had come to the realisation that oil exploration along some parts of the border should be shared between the States for development on both sides.
He stressed that all North-eastern States should work together for development, poverty alleviation and improved roadways and airways as their fate was interlinked.
He declared that youth from the region should also have the right to live and develop in a manner that was best for them. He also extended support of Assam government towards the construction of the Foothill Road.
On the Naga political issue, Sarma pointed out that the NDPP-BJP government had laid the foundation for a better Nagaland in the past five years, and that a considerable amount of time was spent on bringing solution.
He said he was hopeful that since much ground had been covered, the next five years would be very crucial towards achieving the objective and bring about a permanent solution to the Naga issue.
"We want to have a solution that will respect Naga history, uniqueness of the Nagas and also recognise a strong friendship between Nagas and people in rest of India,"he emphasised.
Sharing the stage, Rio remarked that it was for the first time in history that the chief ministers of Assam and Nagaland had such good friendship. As a good neighbour, he said that Sarma had always been helpful.
He disclosed that they both exchanged papers to settle the interstate border issue outside the court amicably by involving indigenous people of the two States. However, he pointed out that a third party was creating hurdles, though he expressed the hope to resolve the issue at the earliest.
On oil exploration, he said Sarma had written to him suggesting that royalty from oil exploration could be shared in a few sectors along the border, while the royalty earned from oil exploration in the disputed areas could be stored in an account and shared when the issue was resolved.
Acknowledging Sarma, he said the relationship between Assam and Nagaland was a never so cordial before. He claimed that special attention was given to women candidates as they were equally capable to fulfil responsibilities.
"When we did a study at the grassroots, we found out that they had a very high chance of winning. I believe we will win with a huge mandate," he added.
Rio thanked Sarma for extending his cooperation and support to election rallies for the three female candidates sponsored by the alliance partners and for maintaining a peaceful relationship with Nagaland.
Meanwhile, NDPP candidate Salhoutuonuo Kruse shared her vision of bringing equal infrastructural development and representation to urban and rural areas, youth and women empowerment, skill development and employment, and so on.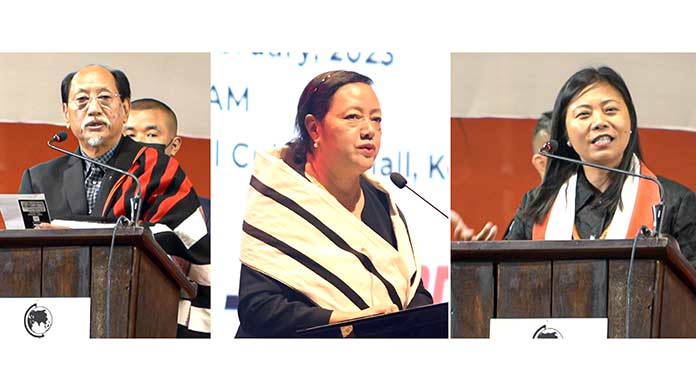 Sarma refutes LJP's claims: Sarma once again categorically stated that there was no need for any confusion over the "false claim" by LJP and other political parties that they were in alliance with BJP, maintaining that the only alliance party with BJP in Nagaland was NDPP.
Speaking at the rally for 3-Dimapur-III NDPP candidate Hekani who has been pitted against LJP (RV) candidate Azheto Zhimomi, Sarma said BJP valued its friendship with NDPP as it was its oldest ally and assured to extend unconditional support to the regional party.
Sarma clarified that the only objective of NEDA was to develop the Northeast and claimed that ever since BJP came to power at the Centre and Rio became the chief minister of Nagaland, there were very few border-related incidents.
He stressed on oil exploration in the disputed border areas so that both the States could earn royalty and use it to boost their respective economies.
He also assured to bring new transformation to Nagaland if the people voted the BJP-NDPP alliance to power once again.
In his speech, Rio thanked Sharma for extending his cooperation and support to jointly campaign for the three women candidates. He also lauded Sarma for agreeing to working together and implement every necessary scheme and contribute resources inorder to develop the state and the region.
Hekani, in her speech, stressed on four issues– youth empowerment, women empowerment, transform to a model constituency and protecting the minor communities. She, therefore, appealed to all the voters from the constituency to vote for her so that with unity they could walk together to bring about the changes.
BJP national spokesperson Nalin Kohli, NDPP secretary general Abu Metha and other senior leaders of both the parties also spoke at the rallies.