NPF Legislature Party leader Kuzholuzo (Azo) Nienu lamented that Nagas were witnessing one of the dirtiest politics at present with blatant use of money power and that many political leaders had fallen prey to this evil.
Speaking at the second phase of NPF ticket distribution programme for six more candidates at the party's central office Kohima, Azo asserted that though NPF was not fielding candidates in all the 60 seats, the party would produce the best result in the upcoming Assembly election.
NPF president Dr Shürhozelie Liezietsu formally handed over tickets to the six candidates for the upcoming Assembly election. The party is expecting to issue more tickets on Monday.
Azo congratulated all the party ticket recipients, terming them "bravest among the brave" who had stood up to fight money power for the welfare of Naga people.
He also lamented that many Naga leaders had now become like a commodity that could be purchased by anyone. He appealed to all leaders not to let any force buy them else, he warned that Naga society would one day become a market place where people would start selling their rights and identity.
Also addressing the programme, Dr. Shürhozelie asserted that NPF was the only and the oldest regional political party in Nagaland that survived to defend Naga people and assured to continue doing so at all cost in all time to come.
He admitted that the party was facing a temporary setback as it could not contest in all the 60 Assembly constituencies. He however claimed that many aspirants had approached the party for tickets, though the party had decided to narrow down the list of candidates and issued tickets only to the best ones.
On the other hand, the party informed that it had received an application from Bishnu Bhattacharjee, president of NPF Minority Wing, considered as one of the most trusted party leaders, for Dimapur-1 Assembly Constituency (general seat).
However, NPF was of the view that Bhattacharjee's service was more required for the party than contesting the election. Keeping in mind the requirement of his service, the party said it had requested Bishnu to not contest and that the ticket may not be issued to him, this was stated in a press note issued by Press Bureau.
Politics in Nagaland is about money power: AAP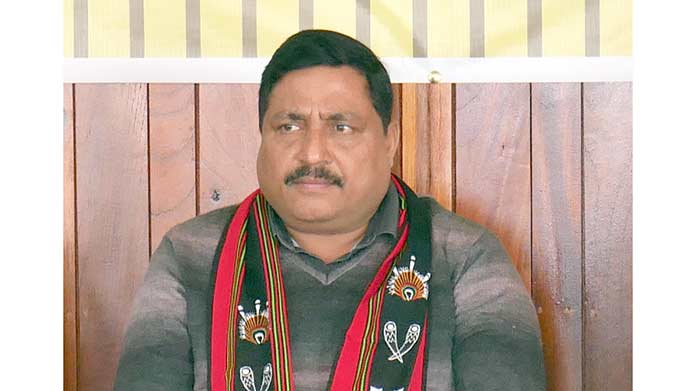 Correspondent
KOHIMA, FEB 5 (NPN): Aam Aadmi Party (AAP) secretary in-charge of Nagaland Rajesh Sharma has alleged politics in Nagaland was based on money power, which his party did not endorse.
Addressing a press conference here on Sunday evening, he stressed that with such politics, change could not be expected.
He thus appealed to people who wanted to see change in Nagaland to join AAP, pointing out that the party was ready to give tickets to candidates who were committed to serve the State and its people.
The AAP in-charge also claimed that the party had received many applications seeking tickets for Assembly election, which were being scrutinised.
To a query whether the State Aam Aadmi Party party had funding issues, Sharma said AAP did not endorse money power in politics because, even if a candidate was voted to power, the MLA would take back the money he had spent during election and nothing would be left for development and that it would be impossible to eradicate corruption.
Hence, keeping this in mind, he said AAP was yet to take a final decision on preparing its list of candidates though the party had has received 14 applications.
AAP State president Asu Keyho, who too was present, said the party was serious about the welfare of the people of Nagaland.
He too claimed that the party had received many applications seeking candidatures, though the names had not been finalised yet. He said the party would declare its list of candidates on February 7 morning, after which nominations would be filed.
He hoped that AAP would take a strong footing in the State in the coming days considering its commitment to serving the people.
Citing the instances of Delhi and Punjab where APP was in power, Keyho assured that his party's Delhi model of delivering health service, education, roads and other developmental activities would be taken up in Nagaland too if voted to power.