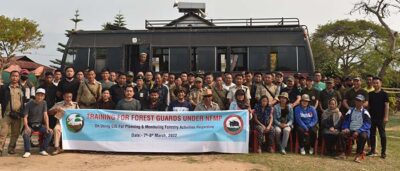 DIMAPUR: Nagaland Forest Management Project (NFMP) Japan International Cooperation Agency (JICA) organised two-day training for forest guards on March 8-9.
A press release by NFMP-JICA stated that the training was conducted on NFMP concepts, institutional setup, planning and implementation of Monitoring & Evaluation (M&E) Processes/PRA exercise, web GIS portal and mobile application
The training was organised to improve understanding of ground-level staff for collaborating villagers in decision making by organising PRA map exercise and collecting forest-related data with help of mobile App. It said the training also helped the key stakeholders on different monitoring and evaluation-related problems with the use of the WebGIS Portal. The release stated that various experts from Project Management Consultant (PMC) and Project Management Unit (PMU) namely PMC team leader, Pranab R Choudhury, PMC GIS expert, Anurag Verma, PMC forestry & biodiversity expert, Dr Arun M Dixit, PMC capacity building expert, Pravanjan Mahapatra and PMU GIS expert, Rashid KV, PMU remote sensing assistant, Subongchiten Jamir and PMU GIS operator Anamoa Imsong presented various modules of the applications and described their uses during the training. As part of the training a field visit to Ruzaphema village was also organised on March 8.
The release informed that NFMP assisted by JICA headed by chief project director cum CEO, Dharmendra Prakash, was a forestry intervention and biodiversity conservation project, which aims to focus on different project works for livelihood improvement and forest community development.