District Planning and Development Board (DPDB), Niuland and Tseminyu held its meetings for the month of November on Monday.

DPDB Niuland recommends inclusion of Niuland under NSDZ
DPDB, Niuland meeting was held under the chairmanship of DC Niuland, Sara Jamir, who is also the vice chairman DPDB Niuland at the DC' conference hall Niuland.
According to a DIPR report, during the meeting, the house agreed for sending a proposal to the Government for inclusion of Niuland district under Nagaland Special Development Zone (NSDZ).

In this regard, DC Sara Jamir, stated that although the said proposal was taken up during the year 2014, Niuland district was not included under NSDZ. She disclosed that Niuland touches the Foothill Road, the proposed Showuba to Pangsha 2 lane road and several other roads.

Observing the number of connectivity opportunities, a meeting of all the stakeholders including the GBs, VCs and landowners was also held where the issue was deliberated and the people of Niuland have agreed in principle for inclusion of Niuland under NSDZ.
DC further opined that the district has to be brought under NSDZ for bringing development in the district.

Other agendas of the meeting included approval of society registration of Zoe Theatre and Art Association, Nihoto village, upgradation of GMS Zutoi to GHS under Aghunaqa circle and recognition of Anato village where the house recommended the proposals to the higher authority for necessary action.

ADC Niuland, Athsangla Yimkhum, while highlighting on the "Viksit Bharat Sankalp Yatra" informed that the aim of the yatra was basically a national awareness campaign for reaching the unreached with regard to information on various schemes and for enrolment of potential beneficiaries.

For Niuland district, the yatra would start from December 20 and culminate on January 25, 2024. During the meeting, slides show was also presented by medical department highlighting on the activities of the health profile under Niuland district.

Tseminyu: In a gathering at the DC conference hall, the Tseminyu DPDB meeting was convened under the leadership of Deputy Commissioner and vice-chairman DPDB, Rohit Singh.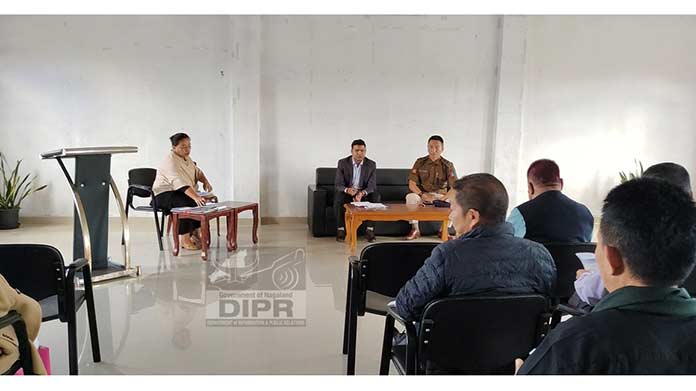 The meeting commenced by with the DC reviewing the minutes of the previous meeting.
The agenda comprised of discussions, including the society registration for the Rengma Seniors Citizens Forum Tseminyu.
This matter was diligently examined and subsequently forwarded to the concerned department for further action. Additionally, an appeal to the DPDB was made, urging Village Councils to collaborate with the Power Department in facilitating the clearance of jungle/vegetation along power line corridors. This proposal was submitted by the Chief Engineer of the Power Department.

The meeting also addressed the development action plans and proposals for the upcoming financial year, 2024-2025. The gathering concluded with a vote of thanks from the chair.