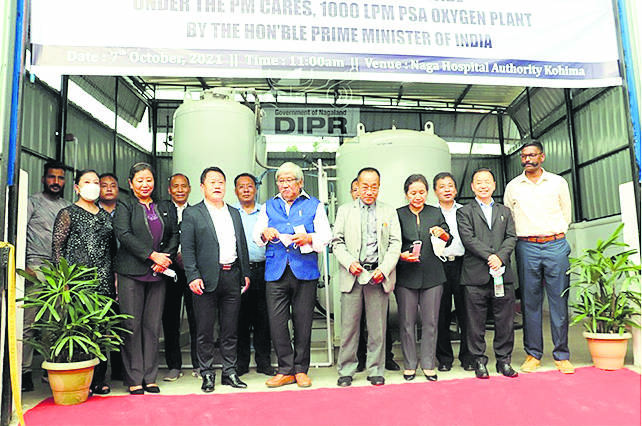 In line with the prime minister's direction of boosting availability of oxygen at government hospitals in the district headquarters, Citizens Assistance and Relief in Emergency Situation (PM-CARES) fund, Pressure Swing Adsorption (PSA) oxygen plants were inaugurated across the state on October 7.
Kohima: Naga Hospital Authority Kohima (NHAK) held a According to a DIPR report, advisor for urban development & municipal affairs, Dr. Neikiesalie Kire expressed gratitude to the centre and the department for successfully installing the state's biggest PSA oxygen plant at NHAK.dedication programme of the PSA oxygen plant (1000 LPM PSA oxygen plants).
He said that the PSA oxygen generating plant was an important milestone and that the state would be able to save many more lives.
Dr. Sentimeren Aonok informed that the PSA had four cylinders of which the two big cylinders would be used as reservoirs, two pressurised vessels with zeolite ensure continuous production for separation of oxygen from other gases.
Earlier the programme was followed by live telecast by the prime minister of India.
Dimapur: In Dimapur, 200 Liter Per Minute (LPM) and 1000 LPM PSA oxygen plants were dedicated at district hospital and Christian Institute of Health Sciences and Research (CIHSR) by Dimapur Baptist Pastor's Fellowship president, Rev. S. Vitoshe Swu and Pastor Supong Jamir respectively.
Rev. Vitoshe Swu said he considered the pandemic a "blessing in disguise" as people learned the value of health and because of the pandemic, the government had developed and improved health sector across the state.
The programme was chaired by medical superintendent, Dr. Khrielasanuo Metha, invocation by Rev. Yhunlo Thong, welcome address by deputy chief medical officer, Dr. Antoly Suu and vote of thanks by consultant, Dr. Keveduyi Theyo. The participants also attended the nation-wide virtual dedication of PSA oxygen plants by prime minister Narendra Modi.
At CIHSR, Director Dr. Sedevi Angami gave an introduction of the setting up of the PSA oxygen plant while bio medical technician, Kalyan gave a brief explanation on the functioning of the plant in the presence of deputy director, Dr. Viu Meru and others.
Mokokchung: Minister for higher education & tribal affairs, Nagaland, Temjen Imna Along inaugurated 200 LPM oxygen generation plant at IMDH Mokokchung.
Speaking on the occasion, the minister said that the day was momentous for the people of Mokokchung to finally have the PSA oxygen plant in the district.
Along thanked DTF, doctors and nurses and all the front-line workers ABAM and Churches, NGOs and every individual.
ABAM executive secretary, Rev. Dr. Mar Pongen said the dedicatory prayer, short speeches were delivered by DC Mokokchung, Limawapang Jamir and Ao Senden president, Chubawati Longchar. Vote of thanks was proposed by CMO, Mokokchung, Dr. Chubala Aier.
Zunheboto: DC Zunheboto, Peter Lichamo inaugurated 500 LPM PSA oxygen generation plant at district hospital.
Speaking at the programme as guest of honour, Peter Lichamo explained how the district faced hassles since the beginning of the pandemic and cylinders had to be sent for refilling.
Fortunately, with the introduction of oxygen plant, it has become an asset and convenience for the people of Zunheboto, he said.
MS district hospital, Dr. C. Yanpo Kithan gave a brief explanation of PSA while Sumi Hoho president Nikheto Jimomi spoke on behalf of civil societies.
CMO Zunheboto, Dr. Zathung Lotha informed that the output of PSA was up to 90-96% where 40-50 ICU beds could smoothly function. Deputy CMO, Dr. Akaho Sema also delivered a speech.
Wokha: Dr. Chumben Murry, MLA inaugurated 250 LMP PSA plant at Dr. Motsuo Memorial District Hospital (DMMDH).
Dr. Chumben while stating that the district hospital has now been equipped with many new facilities capable to take care of critical patients, he urged doctors to be dedicated and serve the needy people. Medical superintendent, DMMDH Wokha, Dr. Tumchobeni highlighted about PSA oxygen generation plant.
Dr. Tumchobeni said a separate transformer was required to support the functioning of the plant. In this regard, she appealed the power department, elected representatives Hohos to help in hastening the installation of a separate transformer at district hospital for which the proposal was already forwarded to the responsible department.
Tuensang: DC Tuensang Kumar Ramnikant inaugurated 500 LPM PM Cares plant at district hospital.
In a press release, DMO (NHM) Apheang informed that a brief report of the PSA plant was given by medical officer, Dr. Y. Imlongchaba, who informed that the district had existing oxygen plant of total capacity for 50-60 patients only.
Hence, in order to increase some more oxygen plants in the district, he requested district administration and civil societies to appeal the department regarding bottling of the plant. The programme was chaired by SMO, DH Tuensang Dr. Imna Pokim, dedicatory prayer by Rev. Achu Chang, executive secretary, CBLT, concluding remarks by chairperson and words of gratitude on behalf of civil society by former president, chamber of commerce, Dorothy Chang.
Kiphire: A 250 LPM PSA oxygen plant was inaugurated at district hospital Kiphire.
In a press release, district media officer, Haichikambe Pame informed that DC T. Wati Aier acknowledged the medical department for its tireless work and urged the department to continue the services in the future.
Earlier, welcome address was delivered by chief medical officer, Kiphire, Dr. E Motsuthung Patton who highlighted the importance of the oxygen plant. The inaugural programme was chaired by medical superintendent, Dr. Bendangsenla Ao, associate pastor, KTBL, Alison said the invocation and Dr. Holiba A Anar, MO DHK, proposed vote of thanks.
Mon: N. Thongwang Konyak, MLA, 46 AC Mon on behalf of the state government inaugurated 500 LPM generation plant at district hospital.
Thonwang urged the medical team to use the equipment judiciously for the benefit of all. Nodal officer for PSA oxygen plant, DH Mon, Dr. Pangkhat Konyak highlighted the gathering with a detailed briefing of the plant. The event was chaired by deputy CMO Mon, Dr. Rongsennungla while vote of thanks was delivered by SMO, DH Mon, Dr. Wungyong.
Earlier, in another programme, DC Mon, Thavaseelan K inaugurated a CSR funded 400 LPM oxygen generation plant at district hospital. The plant was funded by ACT grants under the initiative of DTF Mon.
Peren: DC Peren Sentiwapang Aier inaugurated the oxygen plant at district hospital.
Sentiwapang urged the public and government departments to have coordination for smooth functioning of the hospital.
Medical superintendent, Dr. Limatula Ao chaired the inaugural programme while senior specialist, Dr. Y. Renbonthung Lotha delivered welcome address. Medical officer, Dr. Dietho Koza also spoke at the programme.
Meanwhile, 250 LPM PSA oxygen plant was inaugurated at CHC Jalukie with ADC Jalukie, Dr. Tinojongshi Chang in the presence of medical officials, public leaders and other officials.
NZPO president, Kevipelie Iheilung and Jalukie town chairman union president, Hauneu also spoke at the programme.
The function was presided by medical officer CHC Jalukie, Dr. Ruokuovinuo Rachel, while vote of thanks was proposed by Dy. CMO Peren, Dr. Lanuakum Jamir.
Longleng: DC Longleng, M. Shayung Phom inaugurated 250 LPM oxygen generation plant at CHC Yachem.
DC while maintained that safety and security was essence of any project to function smoothly, Shayung call on various authorities of Yachem village to take full responsibility and ownership of the oxygen plant to cater best medical services to the people of the district.
CMO Longleng, Dr. Obangjungla clarified that shifting of oxygen plant to Yachem CHC was taken after analysing pros and cons with consultation from higher ups and DTF as the present district hospital lacked space and would be shifted again to the new hospital site.
She urged the gathering not to create misunderstanding but to have farsighted vision for all-round development of the district.
Senior SP Longleng, H. Kuhovi Sema NPS, medical superintendent, Dr. Kibangkumba, representative from Phom People Council, Phaushi and chairman, village council Yachem, Isakumba also delivered speeches.
Noklak: DC, Noklak Hiazu Meru inspected the installation process of PSA plant at district hospital.
During the inspection, Hiazu appreciated timely construction of building and installation process. SMO district hospital Noklak, Dr. Victor NC expressed gratitude to district administration and civil societies for the inspection and highlighted on the ongoing construction and installation process of PSA plant.