World Environment Day is celebrated on June 5 every year to raise awareness and encourage action for the protection of the planet. The theme of this year celebration was "Beat Plastic Pollution". Nagaland too observed the day by organising various activities such as plantation drives, social works, etc by various organisations, educational institutions and NGOs.
KOHIMA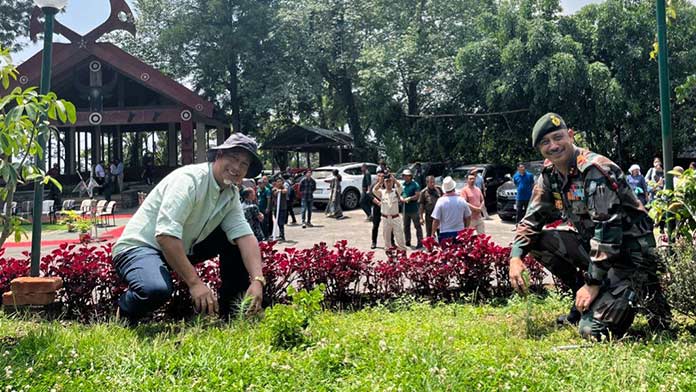 AYO & ASU: Joining United Nation's call towards a healthier planet, World Environment Day was observed at Kisama Heritage Village with a plantation and cleanliness drive organised by Angami Youth Organization (AYO) and Angami Students' Union (ASU) in collaboration with Samagra Shiksha Nagaland under Department of School Education (DoSE) at Kisama. In his address, advisor of School Education, Dr Kekhrie Yhome, highlighted the adverse effects of climate change. Earlier, the programme was chaired by AYO environment secretary, Kedoroko Casavi while pastor, Phesama Baptist Church, Rokovilie Zashümo offered a prayer. The keynote address was delivered by AYO president, Kesosul Christopher Ltu while vote of thanks was proposed by vice president Dievi Yano.
GPS Kigwema, GMS Kigwema A, GMS Phesama, St Paul School, Nagaland Police Central School Phesama, GHS Kigwema and Japfü Christian College Kigwema took part in the plantation drive.
KOHIMA 9 A/C: Kohima 9 A/C observed the day by carrying out plantation drive at Heritage, DC, Bungalow.
On the occasion, Dr Tseilhoutuo Rhütso, called for action from individuals to protect the environment.
Short speeches were presented by ICAR (North), Maj General Vikas Lakhera, students of G Rio School, Fernwood School and SPG, Net Zero Fellow, Virosanuo Solo. The drive was organised in collaboration with T Khel Youth Organisation, department of Land Resources and Forest department and Assam rifles and about 10,000 tree saplings were distributed for plantation drive.
NIMSR: On the occasion, Nagaland In-Service Doctors' Association in collaboration with Forest department organized a plantation drive at Nagaland Institute of Medical Sciences and Research (NIMSR), Kohima.
Speaking on the occasion, chief secretary, J Alam said that the government was doing a lot for the environment by organizing awareness campaigns and activities such as ban on single-use plastics. Commissioner and secretary Health and Family Welfare, Y Kikheto Sema encouraged the gathering present to pledge to beat plastic pollution and strive for a cleaner, healthier, and sustainable planet.
Earlier Dr. Bernard Amer, president of NIDA gave the opening remarks and chaired the programme. Dr Vibeituonuo M Sachu, principal director, DHFW delivered the welcome address, and Vikepu Tepa, chaplain, NHAK said a prayer.
Street cleaning of ZZYC: Kohima district administration in collaboration with Züb Züb India, Nagaland Forest Department, Kohima Smart City Development Limited, and Kohima Municipal Council organized a mass cleanliness drive in all wards of its municipality under the National Clean Air Program (NCAP).
DC Kohima, Shanavas C flagged off the Street Cleaning of Züb Züb Your City (ZZYC) from Old MLA junction to Capital Cultural Hall and after the completion of the mass cleanliness drive, a short formal programme was held at Capital Cultural Hall, Kohima.
DC Kohima also launched NCAP Promo Video and encouraged everyone to inculcate civic sense and be responsible citizens in keeping the surroundings, towns, and cities clean.
Senior Manager, Kohima Smart City Development Limited (KSCDL), Angke Konyak delivered a short speech. Also, the founder, Züb Züb India, Pelenuo shared about its journey titled "Let me tell you a story." While Range Forest Officer, Pezaneinuo Chielie presented a topic on "Time to Contribute to our Planet Earth." and also administered Pledge on "Life Style for Environment" (LiFE). Administrator, KMC, Lanusenla Longkumer, highlighted the aims and objectives of "Meru LiFE, Mera Swachh Shekar Campaign, and its successful culmination and EAC Kezocha, Molosangla Ozukum pronounced a vote of thanks.
RRR centre to be opened once a week: Speaking to this correspondent, KMC administrator Lanusenla Longkumer said that Reused, Recycle and Reduce (RRR) centre which was launched on May 20 will be opened once a week. She said that the centre has received plastic chairs, plastic utensils and homewares, electronic items etc. Lanusenla said she was happy to see people coming forward and informed that collected items have stored at KMC building which will be opened once a week for the public.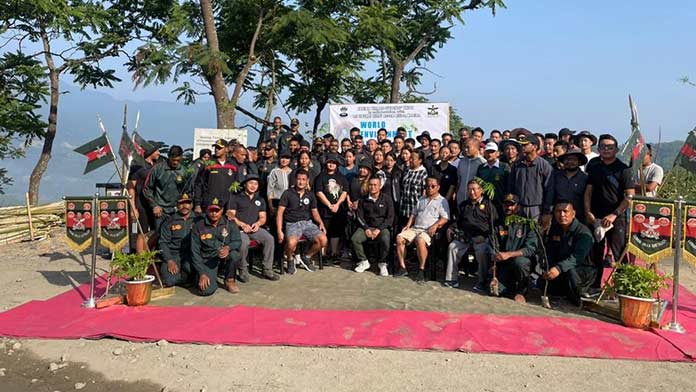 KVSU: Kohima Village Students' Union (KVSU) with 1st Lushai Hills Assam Rifles, Kohima carried out plantation drive at Kohima Village V.D.B Road below I.G Stadium.
KCK: Friends of Nature and the department of Environmental Science, Kohima College units jointly organized a programme on the theme "Solution to Plastic Pollution" #Beat Plastic Pollution on June 3.
PWD South division: On the occasion, PWD South division, Kohima led by executive engineer South, Er. Vizotuo Seletsu carried out a plantation drive in all PMGSY road under Southern area of Kohima district.
CWSN: Government Primary School for Children with Special Needs (CWSN), Lerie, Kohima observed the under the theme "One Earth – One Family – One Future" in the school premise.
To mark the day, various activities were organized which included cleaning the school compound, planting trees and re-cycling plastics.
FOCUS- Nagaland: FOCUS- Nagaland observed the day in collaboration with NSF at the NSF Solidarity Park Kohima.
Additional secretary, Sentiwapang Aier, spoke on behalf of APC, R. Benchilo Thong.
State project director, additional secretary, FOCUS- Nagaland, Dr Jitendra Gupta also addressed the gathering and shared the objectives of FOCUS.
NSF president, Kegwayhun Tep, in his special remark, emphasized on the need to preserve the environment.
Dimapur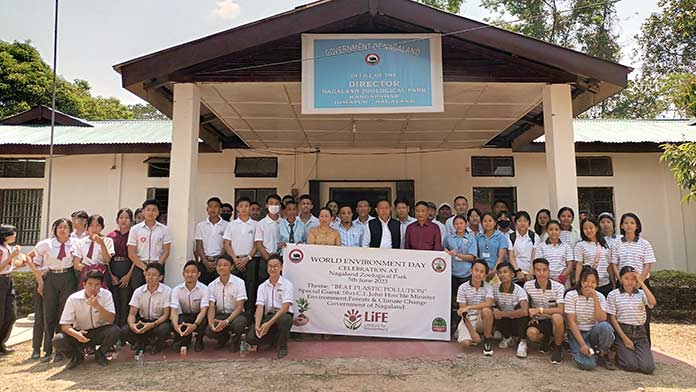 NZP: Nagaland Zoological Park (NZP) observed the day with minister of Environment, Forests & Climate Change, CL John as special invitee.
A total of about 160 participants including students from four schools and one college along with their teachers attended the event.
To mark the occasion competitions on painting and innovative product making from recyclable waste materials was conducted.
2 Dimapur II A/C: NDPP 2 Dimapur II AC along with advisor Labour, Employment and skill Development and Excise, Moatoshi Longkumer, organized a tree plantation at Duncan, Supply and Court area.
DPDB: A tree plantation drive and beautification of Dimapur city was carried out by the members of the Dimapur District Planning & Development Board (DPDB) members, at different locations under Dimapur district.
NCD: Naga Council Dimapur (NCD) planted around 250 tree saplings in and along roadside of New Naga Cemetery, at Zani Village, Dimapur. The saplings were provided by DFO Dimapur.
LFI: Eco Club and Yuva Tourism Club of Livingstone Foundation International (LFI) organised a bicycle awareness rally and tree plantation drive under the theme 'Beat Plastic Pollution'.
The bicycle rally was flagged off by director LFI Ani Yepthomi. Students from Grades-VI to XII took part in the bicycle rally which started from the School Campus and culminated at the Nagaland Zoological Park.
Later, the students of Grades-I to XII along with the mentors undertook a tree plantation drive in the school campus.
Immanuel College: Eco Club, Immanuel College, celebrated the day by organising painting and slogan writings based on the theme.
Angel Home: Angel Home at Signal Angami village, Dimapur observed the day with a tree plantation drive in the premises.
DBC: Duncan Bosti Council (DBC) organized a tree plantation programme with the students of Deen Dayal Upadhyaya Grameen Kaushalya Yojana (DDU-GKY) and Duncan Woman Union.
GHS Lengrijan: GHS Lengrijan observed the day where the students participated in collecting plastic materials in the surrounding and disposed it safely. The Eco Club also planted trees in and around the school campus.
GMS Sangtamtilla: GMS Sangtamtilla Dimapur "Team Eco-Club" observed the day under the theme 'The Earth is what we all have in common. The activities included cleaning of school surroundings and plantation of 50 fruits saplings along the school boundaries, few ornamental trees were also planted in the school compound.
Wokha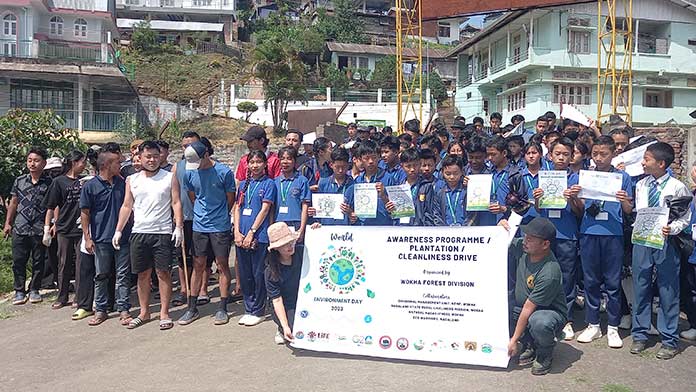 Lotha Officers Association (LOA) in collaboration with the department of Environment, Forest & Climate Change, Nagaland (DEFCC) and Nagaland Empowerment of People through Economic Development (NEPED) planted of varieties of tree saplings from Wokha to Yikhum village. Earlier, commissioner and secretary & TL, NEPED & president Lotha Officers Association, K. Libanthung Lotha flagged off of the WED Avenue plantation and read out the Mission LIFE Pledge. DC Wokha, Ajit Kumar Ranjan thanked the LOA for the initiative in carrying out the plantation drive from Wokha to Yikhum village.
According to DFO, Wokha 15510 different varieties of tree saplings were distributed for planting.
Lotha Students' Union (LSU) also celebrated the day at Chukitong, Wokha. LSU officials led by its president Lirhonthung Kithan carried out plantation drive at LSU Park Chukitong compound. The plantation drive was carried out in collaboration with department of Forest & Climate Change, Wokha. Land owner's union (LOU), Doyang Hydro Power Station (DHPS) in collaboration with the DHPS, NEEPCO and Forest Department, Wokha under the theme "Single use of and plastic, beat plastic pollution" organized plantation drive.
Walkathon: Wokha district education department including Samagra Shiksha Wokha organized a walkathon/plogging from PWD Junction to DEO Wokha office in line with ongoing Janbhagidari/people's participation at Wokha town Hundreds of students, teachers and officials of Wokha district education department went around picking up plastics and litters all along the walkathon route of around 2 kms covering the main part of Wokha town along with banners and posters reading: 'Beat Plastic Pollution', 'One Earth, One Family, One Future', etc.
Mokokchung
Mokokchung District Planning & development Board(DPDB) with initiatives from department of Forest, Rural development, Water resources, Soil & Water Conservation, Land Resources and PHED observed the day at Longkotsung, Mokokchung Village .
Advisor of Water Resources and chairman Mokokchung DPDB, Tongpang Ozukum spoke on the occasion and planted tree sapling.
Walkaton-cum-cyclothon: National Programme on climate change &Human Health (NPCCHH) under department of Health & Family Welfare Mokokchung conducted Walkaton-cum-Cyclothon. The event was flagged off by CMO Mokokchung, Dr. Kibangkumba.
Meanwhile, Eco Friendly Club Dr. IMDH Mokokchung observed the day at Dr. Imkongliba Ao Monument Garden, IMDH.
Mon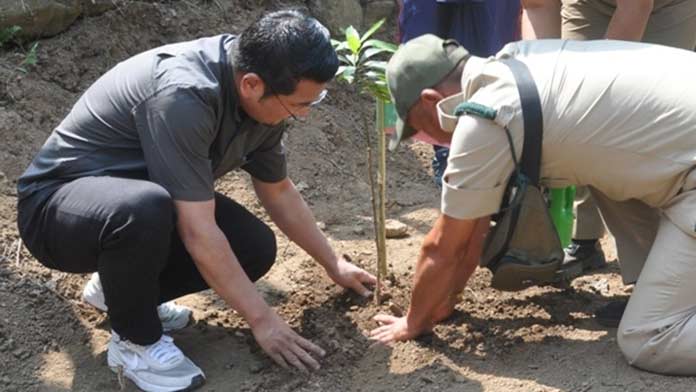 District health society, Mon organized mass social work within the health units of the district.
In commemoration of the day, the district would also roll out one week long campaign in some of the selected health units with the title "Our Earth, Our Health, Our Responsibility" and under the theme Beat Plastic Pollution.
The team also took a pledge to take complete responsibility to reduce consumption of plastic to less than half. After which, CMO Dr Vizokholu Theyo planted a pine tree at the office premise to mark the world environment day.
Pangthet Team, Monyakshu village also observed the day by organising a plantation drive in and around Monyakshu Village, Mon. Around 200 saplings were planted.
Zunheboto
Zunheboto district celebrated the day by planting tree saplings at various places. The mass plantation drive was led by Deputy Commissioner Rahul Bhanudas Mali along with ZAPO officials, STH, Sakhi One Center, Green Club, NYK, MSK, and DC staff.
Zunheboto district Bharat Scouts and Guides also observed the day by cleaning the district ground and surrounding areas.
LONGLENG
DEF Longleng observed the day at SP's Office Longleng by organising plantation and cleanliness drive. Altogether 300 saplings were planted at SP's Office premises, New Police Reserve Hamlikong, and New Site Bhumnyu.
CHIEPHOBOZOU
ADC Chiephobozou Office in collaboration with Chiephobozou Town Council and Range Office Chiephobozou, Forest Department organised various programme at ADC Office Chiephobozou . At the programme EAC Chiephobozou, Ane Khieya gave a speech on World Environment Day while EAC Botsa, Arhonbeni Ezung spoke on the theme and RRR (Reduce, Reuse and Recycle). The day long activities included tree plantation drive, distribution of tree sapling and prize distribution of painting competition on the theme "Lifestyle for environment".
PUGHOBOTO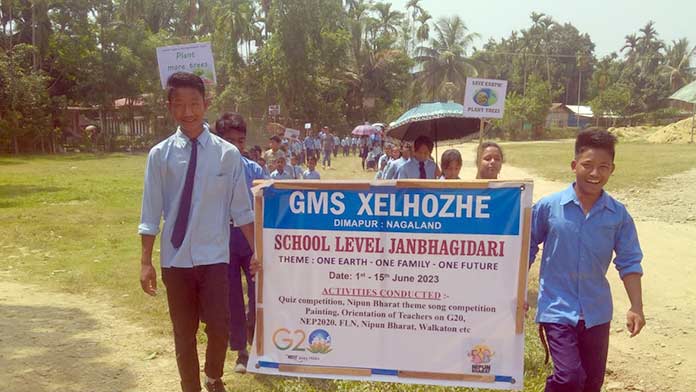 In Pughoboto, to mark the day a programme was organized where Dr. Sukhato A. Sema, MLA emphasized the need for proper waste management and appealed to all the gathering to plant at least one tree each
Kihoto Wotsa shared the significance of the day and ADC Pughoboto, Tiameren Chang thanked all the participants.
Phek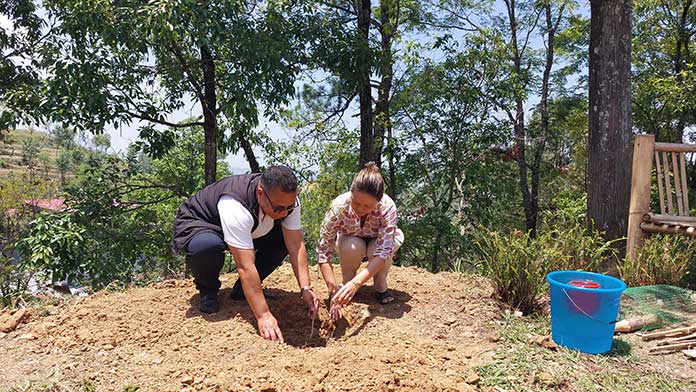 Mega tree plantation: Advisor of CAWD and Taxes, Kudecho Khamo launched a mega tree plantation drive in commemoration of 50th anniversary of Phek district under the banner of Chakhesang Public Organisation (CPO) at Sedzü, Thenyizu. Delivering keynote address Satahi Shijoh, finance secretary CPO highlighted the significance of the world environment day where CPO in commemoration of the 50th anniversary of the Phek district formation have initiated the mega tree plantation drive.
CPO: To mark the day a mega trees plantation drive commemorating the 50th anniversary of the formation of Phek district was organized by Chakhesang Public Organisation (CPO) in collaboration with Phek district administration where the denizens planted tress saplings in their villages, roadsides, and the highways.
The plantation drive kicked off with a programme held at the DC's office compound, where DC Phek, Kumar Ramnikant acknowledged the CPO for making plantation drive a mass movement every year in the district. He said the plantation drive undertaken to show concern for the future generation.
CPO president,Vezuhu Keyho said CPO has taken the mega tree plantation drive to fulfill the resolution of the CPO and show its concern for bio-diversity, preservation of forests, and promote tree plantation amidst the environmental degradation and global warming.