Chief Minister, Neiphiu Rio on Wednesday kicked off the poll campaign for NDPP candidates Tongpang Ozukum for 24 Angetyongpang A/C and Imnatiba for 22 Arkakong A/C.
Kicking off the campaign for Tongpang at Langpangkong Tzükong GHS, Chuchuyimlang play ground, Rio who is the chief campaigner for NDPP candidates said that NDPP will be contesting for the first time in 24 Angetyongpang A/C and said that the pre-poll alliance between the NDPP and the BJP was expected to win 40-45 seats. Rio therefore encouraged the residents of Chuchuyimlang town to vote for Tongpang so that they might join the ranks of the victors. He also assured to the residents of Chuchuyimlang village that the government will expeditiously establish an astroturf field illuminated by a high-mast light.
In his speech, Tongpang Ozukum said that government will be formed within three weeks and therefore it was for to the people of Angetyongpang A/C to decide if they want to be on the winning side.
At Changtongya town local ground, Rio while campaigning for Imnatiba said that it was necessary to join hands with the central government in order to ensure development in the state.
In a press release media cell of NDPP 22 Arkakong A/C stated that Rio said this while kicking off the campaign for NDPP candidate Imnatiba from 22 Arkakong A/C at Changtongya town local ground. He appealed to the gathering to once again elect Imnatiba for the people's welfare and also to partake in the Naga political issue as part of the ruling government.
Imnatiba in his speech said it was the right time to be elected for a second term as MLA under the excellent leadership of Neiphiu Rio. He urged the people to come together and work hard to ensure victory.
Short speeches were delivered by Metsubo Jamir, Aolepden vice president, CEB NDPP; N. Bendang Jamir, president NDPP, Mokokchung Region and Jonathan Rongsen Longkumer, captain of the Nagaland senior cricket team. Earlier, the program started with an invocation by CTBA pastor, Rev. Temshi.
The program concluded with a benediction by Yaongyimsen Baptist Church, pastor, Chuba Aier.
Tovihoto meets supporters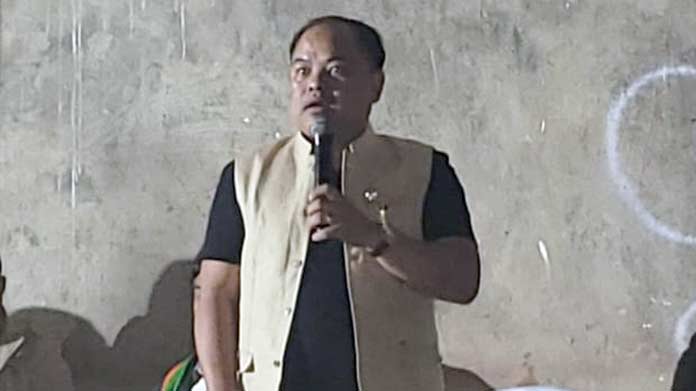 DIMAPUR: BJP candidate for 1 Dimapur I A/C, H. Tovihoto Ayemi, accompanied by his supporters and party workers held meetings in municipal wards 5 and 6 on Wednesday, covering Police colony, Bank colony, Fire Brigade colony, Namgalong colony, Haralu colony sector I & II, Power House colony, over Bridge colony, Hongkong Market area, Hazi Park area and Rail Bazaar area.
Tovihoto in his speech said that he had given his best in working for the welfare and upliftment of the constituency and sought the support of the electorates.
Reiterating that peace, harmony and development of the people have always been his priority and will continue to endeavour for the same in the days to come.
He also hailed the BJP-NDPP alliance with an assurance that two party alliance will do more for the people of Nagaland.
On Tuesday, Tovihoto held meetings in Ward 3 and 4 and addressed the public of UNB-A, UNB-B, Jasokie, Sunrise, Rainbow, Paira, Chungaizaeng, Ragailong, Banjak Phom, Northern Angami, Rengma, Sumi, Chakhesang and Zeliang colonies.
Naiba kicks off campaign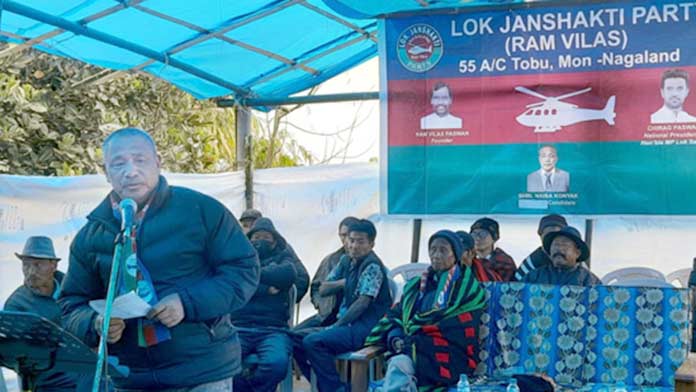 DIMAPUR: Lok Janshakti Party (RV) candidate for 55A/C Tobu, Naiba Konyak kick started his election campaign on February 6 at Tobu Hq.
He shared his vision for the upliftment of youth, farmers, destitute women, road maintenance and over all infrastructure development of Tobu Area.