Thenyizumi Students' Union (TSU), Medziphema Town Sümi Students Union (MTSSU), Shena New Students Union (SNSU), Zhavame Students' Union (ZSU), Thipüzumi Students Union (TSU) and Old Riphyim Students' Union (ORSU) observed their respective general sessions and anniversaries on December 27 and 28.
TSU 69th general conference
TSU: Thenyizumi Students' Union (TSU) held its 69th general session under theme, "Resilience and flexibility to achieve continuity" at Multi-Purpose Hall, Thenyizu, Wednesday.
A press release by TSU stated that guest speaker of the session, joint director, department of Agriculture, Sanuzo Nienu called upon the students to work hard so as to excel in their career. "We are living in a competitive world with latest technology where only the best of the best is only selected in competitive exams," he said.
He also underscored the importance of upgrading the education system especially in rural areas so that students could be at par with the rest of the world. Nienu said student development was imperative for overall development of the society.
Highlighting the issue of unemployment in the state, he asked the students to look beyond government jobs as the latter has reached a saturation point.
Nienu also encouraged student bodies to organiser career guidance seminars and counselling for students so as to help them choose their respective area of interest.
At the programme, VCC Medothi Rhakho delivered the greetings, presidential address was delivered by Nuzovo Dawhuo, invocation by Catechist Theduseyi Poru, St. Andrew Church Thenyizu, folk tune by Women Society Thenyizu and benediction by Neshotsulu Thisa.
ORSU platinum jubilee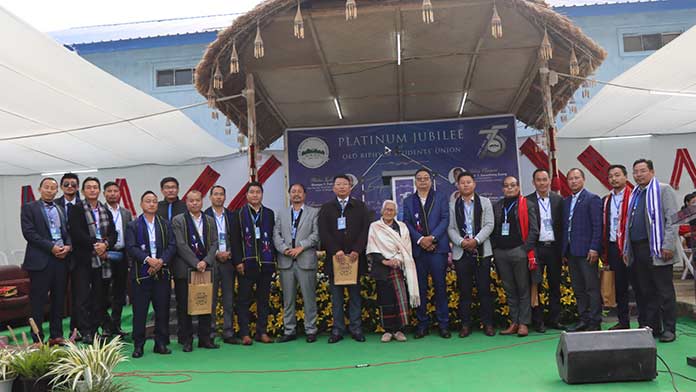 ORSU: The platinum jubilee celebration of Old Riphyim Students' Union (ORSU) kick started on December 28 at Old Riphyim village with E.M.Patton IAAS, Principal Secretary, Government of Nagaland as the special guest of the inaugural session.
Speaking at the event E.M.Patton described the day as a time for thanksgiving and forgiveness and a time to introspect and to move forward with new visions and targets by setting goals.
Appreciating those leaders and visionary leaders for their sacrifices at the formation of ORSU, he informed the congregation to value the leaders and encouraged them to nurture the leaders.
Also speaking at inaugural session, M. Patton, IAS Rtd. & chairman State quality control board Government of encouraged the student community to redefine their duty to achieve greater heights lamenting that though the village has been blessed with a high number of literacy rate and good number of government employees yet the village lacked behind in producing more through competitive exams.
Literary session and election of new office bearers for the tenure 2023- 2024 was held in the second session, where Henry Ngullie and Rentsan Patton were elected as the president and general secretary ORSU.
On December 28, the main event will be graced by Dy. Chief Minister, Y. Patton as the chief guest.
SNSU 64th session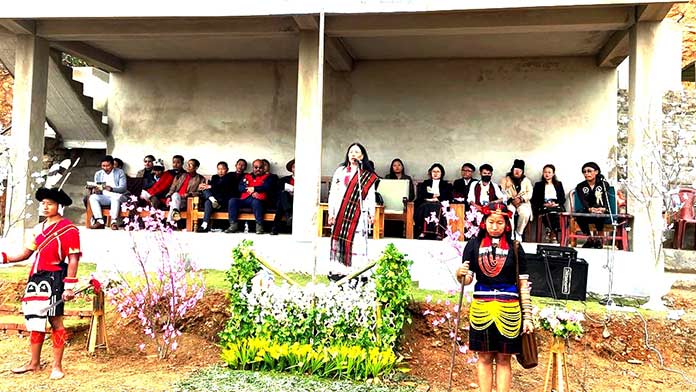 SNSU: Shena New Students Union (SNSU) 64th session held under the motto, "Unity is Strength" was graced by Nagaland Public Works Department engineer-in-chief, Er. Kahuli Sema on December 27 as the special guest. A press release by SNSU stated that in her speech, Er. Sema underscored the importance of local student bodies for the student community. She asserted that through this platform the students are trained and moulded to attain higher goals in life.
The special guest then encouraged the leaders of the student bodies to be committed and set good examples for fellow members and citizens. Deliberating on the unemployment issue in Nagaland, Er. Sema encouraged the educated unemployed to venture into different fields rather than vying only for government jobs. She also motivated the students not to lose hope but to work hard so that they would lead a contended life.
Speaking on role of teachers in imparting quality education, Er. Sema said teachers should fully commit to their work and endeavour to provide quality education to the students.
Underlining the need for development in the region, she said there was an urgent need for improvement on infrastructural development in the region. Er. Sema then urged everyone as responsible citizens should work collectively to unite and achieve the higher goals in the region. The programme began with an invocation by Shena New associate pastor (women), Kitoshi Achumi.
TSU 75th anniversary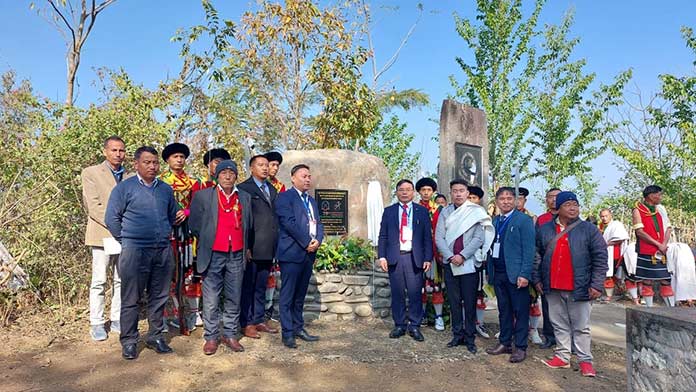 TSU 75th anniversary: Thipüzumi Students Union (TSU) celebrated its 75th anniversary under the theme "Transcending limitation, catalysing transformation" at Thipüzumi village under Phek district.
Commissioner and Secretary, department of Rural Development Neposo Thelü-o, graced the occasion as guest of honour. In his address, Theluo said 75 years was a momentous ocassion and recounted contributions of pioneers and leaders of Thipüzumi Students Union.
He asked the students to contribute towards the transformation of the society while expounding their boundaries to achieve great things. He also exhorted the students not to bask on the past glory but to compete with others, while also recognise their limitations and focus on their strength to excel. On the occasion, greetings were delivered Chakhesang Students Union (CSU) president, by Avezo Kevin Kapu and Thipüzumi Village Council, chairman, Zhoveyi Rose.
Presidential address was delivered by Kevezo Zango Chuzho while welcome address was delivered by Vevosayi Tetseo, Vezahü Thelü-o first TSU president offered a prayer of blessing (Reli Phri) for the students, Thipüzumi Baptist Youth Fellowship Kohima (TBYFK) and Diethozo Medeo presented special songs.
Earlier, Neposo Theluo released the souvenir and unveiled the 75th anniversary monolith and also inaugurated the Thipuzumi anniversary building in the presence of officers from the village and village leaders.
MTSSU 26th annual session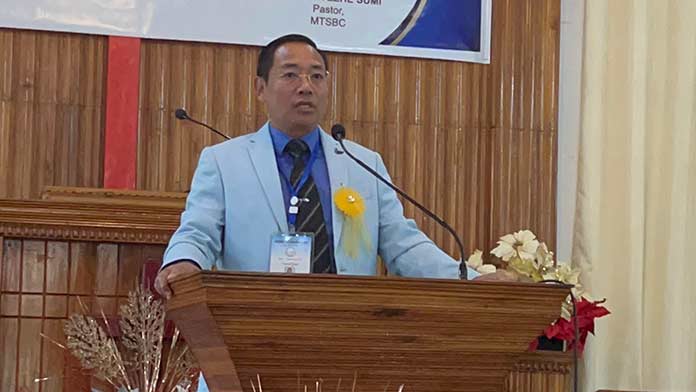 MTSSU: Medziphema Town Sümi Students Union (MTSSU) held its 26th annual session at Medziphema Town Sümi Baptist Church (MTSBC) under the theme, "Together we grow", Wednesday.
A press release by MTSSU informed that special guest, JDU Nagaland secretary general, Kitoho S Rotokha encouraged the students to be advocates of honesty and integrity. Rotokha also emphasised on educating young minds to strive for cultivating the spirit of hard work and sincerity. He also highlighted the importance of skilled labour.
At the programme, invocation was said by MTSBC women pastor, Salomi Zhimo, presidential address was delivered by MTSSU president, Tonato Mulumi and vote of thanks by MTSSU general secretary, Alopu Swu.
Zhavame Students' Union observes 63rd general session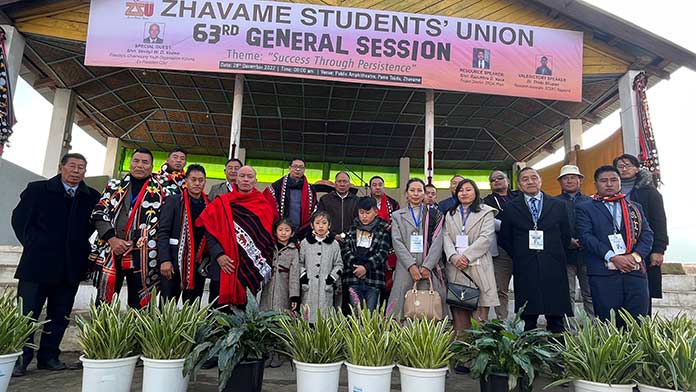 ZSU: Zhavame Students' Union (ZSU) observed its 63rd general session under theme "Success through Persistence" at Public Amphitheatre, Zhavame village in Phek district, Wednesday.
The session was graced by Chakhesang Youth Organization Kohima (CYOK), president, Vevoyi W D Vadeo. In his speech, Vadeo reminded the students that nothing great can be achieved without persistence as nothing great comes to those who quit when things get hard.
He advocated on the need to have "will to persist" through challenges and the strength to persevere in hard times. He also exhorted the students to stay away from naysayers or worrywarts but continued to work hard as success will come to those who have the courage to want it.
Resource person of the session was Razukhru D Vasa, Project Director, DRDA, Phek while VCC Zhavame, Zao Krocha delivered a speech, presidential address was delivered by Rokovi Movi, general secretary report was presented by Visalu Shupao and the programme was chaired by Thorhu Movi.