Nagaland joined the nation in celebrating Teachers' Day by honouring the teachers for their dedicated and sincere service in molding the students.
Dimapur
In Dimapur, the common Teachers' Day celebration was at held Don Bosco Higher Secondary School Dimapur (DBHSSD) auditorium where four teachers under DEO Dimapur district were conferred with a certificate for their contribution towards education sector.

The awardees were Government Higher Secondary School (GHSS) Post Graduate teacher (Economics) Zasekhoyi Ringa, Government Primary School, Lingrijan primary teacher Bendangsangla, Livingstone Foundation International PGT Loli Heni and St Stephens Higher Secondary School, assistant teacher Suingau Poireng.
Gracing the event as special guest Deputy Commissioner (DC) Dimapur, Sachin Jaiswal commended and lauded the unwavering dedication and unique contributions of teachers.
He highlighted the increasing generation gap, exacerbated by rapid technological advancements, making the role of educators even more pivotal.

He suggested the need for educators to tackle subjects that were once considered taboo, like sex education and drug awareness.
On the increasing uses of tobacco and drug consumption among the youths, he urged educational institutions to take proactive steps in raising awareness and countering the harmful effects, especially in areas surrounding learning institutes.

Referring to the National Education Policy (NEP) 2020, the DC encouraged teachers to be adaptable, emphasizing the importance of skill enhancement in this ever-evolving educational environment. Jaiswal also spoke on the newly introduced TAMS system and lauded the government's initiative to address proxy teaching to elevate the quality of education.

Significance of the day was delivered by GHSS Dimapur, vice principal Viliholi Achumi.
At the programme opening song was presented by DBHSS, invocation proposed by Christian Forum Dimapur president Rev. Moses Murry and special presentation by GMS Dimapur town Rohit Mandai.

Ode to the teachers was presented by students of St Stephens Higher Secondary School and speech on behalf of the awardees was delivered by Livingstone Foundation International PGT Loli Heni. Special number was also presented by GHS Lingrijan Dimapur and vote of thanks by GHSS Purana Bazar principal Pipi Gloria Chishi. (Staff Reporter)
NSUI Dimapur District: National Students' Union of India (NSUI) Dimapur District organized Teacher's Day Art and Literary Competition programme under the theme "A Teacher Awakens Joy and Sparks Interests in the Young Minds", at Conference Hall, Tourist Lodge, Dimapur on September 4.

Addressing the gathering as guest speaker, vice president, Nagaland Pradesh Congress Committee (NPCC), Capt. GK Zhimomi, described teacher as an inspirational person of the students and encouraged students to appreciate the sacrifices of the teachers.

The release added that more than 70 students from 13 schools and 17 colleges participated in the essay, speech, poem, art, and singing competition set under two categories: College Level and School Level. Winners were awarded prize money along with certificates.
PVHSS: Pranab Vidyapith Higher Secondary School (PVHSS) celebrated Teachers' Day celebration at its School Auditorium on September 5, with i/c secretary, Suri Bharat Sevashram Sangha and member of BSS, Governing Body Kolkata, Srimat Swami Subhanandaji Maharaj, as the guest of honour, while principal, PVHSS, Monoj Bhattacharjee, delivered the welcome speech. Highlights of the celebration included group dance, songs etc.
Kohima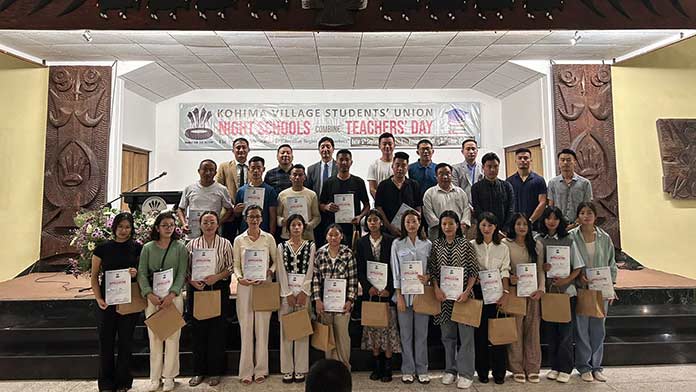 KOHIMA: Kohima Village Students' Organisation (KVSU) organised a combined Teachers' Day of Night Schools at Kohima Village Council Hall.
Speaking on the occasion administrator, Mewi Higher Secondary School Kohima, Vilhoubeilie Solo said teachers should see teaching as a mission and the students as their mission field.
Noting that teachers play a big role in the life of students, Solo called upon the teachers to play the role of counsellors as counselling was also part of teaching job.

During the programme "Best Teachers Award" was conferred to Kikrulhoutuonuo Dzüvichü,
Khriezovonuo Mechülho, Vitseituolie Yiese and Medosenuo Belho.
There are four Night Schools in the village which provide free tuition to students from class nursery to class 10.
KCK: Kohima College Kohima (KCK) celebrated Teachers Day in the college premises, with guest speaker as principal, KCK, Dr Vitsosie Vüprü, who exalted teachers by stating that teaching was not a profession, but a way of life.

He encouraged teachers to pay heed to the noble calling and rededicated all teachers on the noble calling.
He also reminded students that the greatest way to express gratitude to the teachers was by excelling in their life and doing the best of their ability.
Associate professor, Dr Pricilla Lotha, encouraged the students and teaching faculty with her experiences of choosing academic career and advised students to take decisions that helped develop good habits and live Godly lives by aligning to God.
Tuensang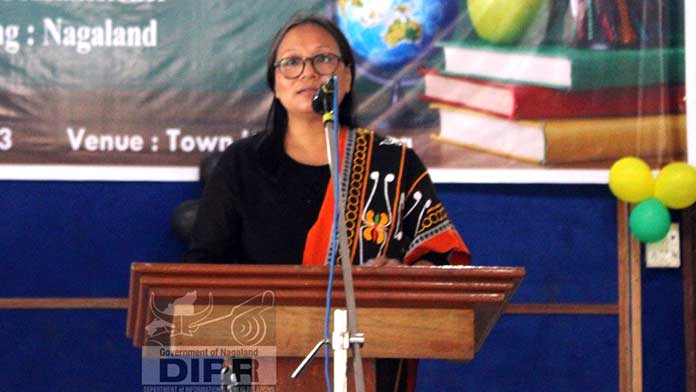 TUENSANG: Department of School Education Tuensang celebrated Teachers' Day at the Town Hall Tuensang.
The programme was graced by Deputy Commissioner of Tuensang, Lithrongla Tongpi Rutsa as esteemed special guest.

In her address, DC expressed gratitude to the teachers for their unwavering dedication and hard work in shaping the future of students.

She also encouraged teachers to serve as role models for their students by exemplifying good behavior.
She also spoke on the issue of proxy attendance, noting that it not only set negative example but hampers the students' future prospects. She therefore called upon teachers to fulfill their duties when assigned with responsibilities.

As part of the celebration, the following teachers were honored with District Awards: Toshienla A/T from Holy Angel School. Wongto Lamchi Chang, Hindi Teacher at GHS Sangsangnyu. Chubalemla Chang, G/T at GHS Longtang and Zuthunglo Ovung, G/T at GHS Hakushang.

The program was chaired by Behola Sangtam, District Project Assistant at NECTAR, and invocation by Achungla Chang, associate pastor TTBL. Welcome speech was delivered by assistant District Education Officer Tuensang, Tali Jamir.
MOKOKCHUNG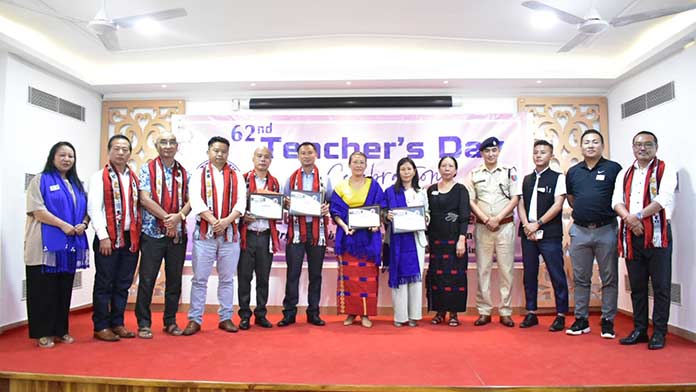 MOKOKCHUNG: Ao Students Conference (AKM) celebrated the 62nd Teacher's Day and felicitation of awardees at the conference hall of Whispering Winds.
On the occasion, short speeches were delivered by DC Mokokchung,Thsuvisie Phoji; District Education Officer, Sentinenla and ANPSA Mokokchung unit, Anungla Aier.

In his speech, DC expressed gratitude to the AKM for organizing the program and acknowledged the role played by the teachers in educating and showing the right path to the students. On the occasion, AKM also felicitated recipients for the district teacher award. Four persons received the award namely, Imkongyabang PT, GHS Saring, Imojungla GT, GHS Sumi, Bendangakum HT GMS Changtongya 'A' and S. Bendangla Ao AT, Children School Mokokchung. (Correspondent)
Phek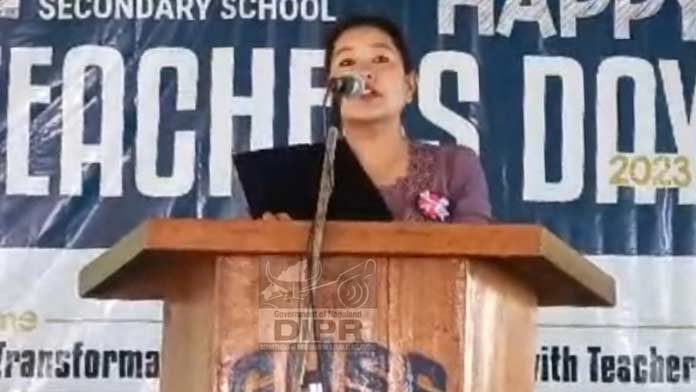 PHEK: Government Higher Secondary School (GHSS) Phek honoured the teachers by organizing a programme at the School Auditorium.
The event commenced with a speech delivered by the vice principal, Kote-u Sekhamo.

The theme of the celebration was "The Transformation of Education Begins with Teachers," underscoring the pivotal role educators play in shaping the future.
Mutunuzu Chizo extended Teachers' Day greetings and shared words of appreciation to the dedicated teaching staff. Invocation was offered by Ravo Rakho and a benediction and blessing prayer by Surholu Kezo.
ZUNHEBOTO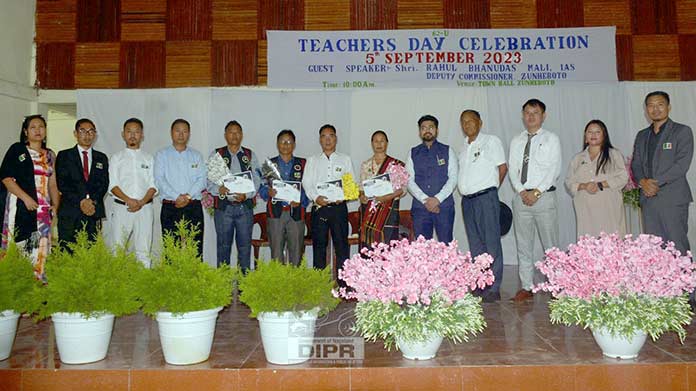 ZUNHEBOTO: Zunheboto district too joined the rest of the nation in celebrating Teachers' Day at an event held at Zunheboto Town Hall. The occasion was graced by DC Zunheboto, Rahul Bhanudas Mali.

In his brief address, the DC highlighted the significance of Teachers' Day, a day dedicated to honor Dr. Sarvepalli Radhakrishnan, a renowned scholar and teacher. He underscored the invaluable role teachers play in the lives of students, emphasizing that educators not only impart textbook knowledge but also teach students important life values, communication skills, and discipline, both within the classroom and at home.

He advised teachers to be present at their designated places of work to earn respect and urged them to perform their duties with dedication.
He also directed them to eliminate the practice of proxy teaching and ensured delivery of quality education.
The programme was chaired by Hiloto and invocation by pastor Lotha Baptist Church Phyodemo W. Tungoe.

Highlights of the programme included welcome song by GMS New Colony; welcome speech by Vincent Sukhalu, president of ANPSA; special presentation by Cornerstone Higher Secondary School Zunheboto; special prayer by Inoto Yeptho, Associate Pastor SBCZ; vote of thanks by Hokheto Yeptho, DEO Zunheboto and benediction by Bokali Aye, Associate Pastor ZTSBC.
Tseminyu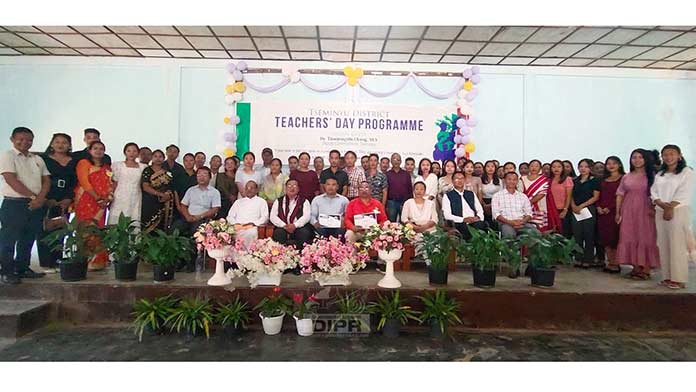 Tseminyu: Teachers' Day was celebrated at Tseminyu Town Hall with, Deputy Commissioner Tseminyu, Dr Tinojongshi Chang, as the special guest.
In his speech, Dr Chang congratulated PT of GMS, Rengmapani, Noyalo Kath and Math teacher of DBS Tseminyu, Shankar Sarkar, on receiving District Teachers Award 2023 for their notable services.

He expressed regret for not being able to award all deserving teachers as the district was allotted only two quotas. He however reiterated that all teachers were qualified under the category of awards and assured that the district would have a grand celebration of teachers day in the near future through proper planning and coordination with stakeholders.

Sharing personal experiences how his teachers shaped students, Dr Chang attributed his success to his teachers and urged the gathered students to honor and appreciate teachers not only on Teachers Day, but every day as they shape their future. The function was chaired by principal, BHSS Tseminyu, Wasenmo Apon and principal, DBS Tseminyu, Rev Fr Jose Lukose, offered invocation, while vice principal, GHSS Tseminyu, Liyalo Apon delivered the welcome address.

Highlights of the programme included special song by students of DBS Tseminyu, tribute to my teacher by Shasin Kent of GHS Tseminyu New Town, special item by students of AG School Tseminyu, and choreography by students of GMS Tesophenyu Chegeseng Kath.
Wokha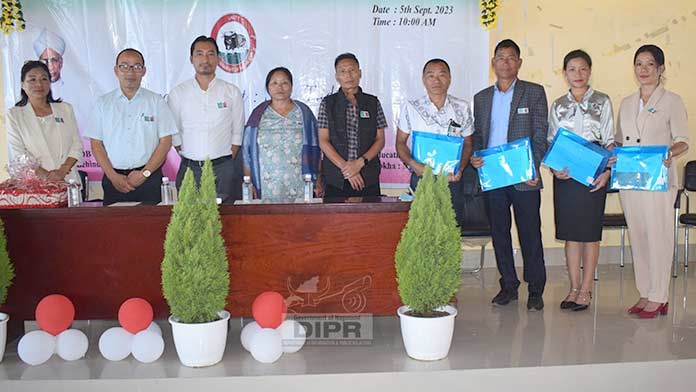 WOKHA: District Education Office in Wokha celebrated Teachers' Day at VDB Hall, Wokha, with SDO (C) Tsidi as special guest.

SDO (C), in his address, highlighted the significance of Teacher's Day as an occasion to recognize and appreciate the pivotal role of teachers in the society. He emphasized that the day was to pay tribute to educators who have consistently guided and inspired students on their path to becoming well-rounded and knowledgeable individuals.
On the occasion, four teachers (two from private schools and two from government schools) were honored for their outstanding service: K. Yanpemo Odyuo from GHS Sungro, T. Merio Ezung from GHS Longsa, Wonchano Khuvung from Fernbrook School and Arhoni Ovung from Mt. Sinai School.

A special prayer for the teachers was offered by Pastor Ao Baptist Church, Wokha, Rev Ngangnen Longkumer. The significance of Teacher's Day was explained by Loreni Ngullie, AHM Wokha village.
The program also featured special musical presentation by Fernbrook School, a heartfelt ode to teachers by Emme Z. Kikon from Santsuo School, Wokha, and a delightful musical number by GMS Wokha Town Sector D.
AHTHIBUNG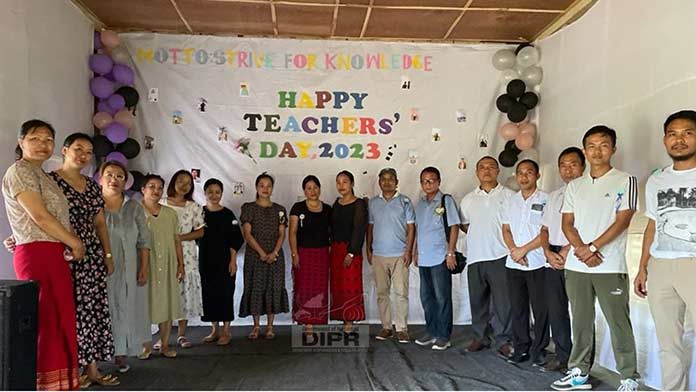 AHTHIBUNG: Government Higher Secondary School, Ahthibung Town under Peren district celebrated Teacher's Day on September 5 with SDEO (Retd.), L. Gangte as special guest.

The special guest shared a brief history about Dr. S. Radhakrishnan and also expressed gratitude and appreciation the teachers for their contribution towards the student community.
On the occasion, the teachers were felicitated by the students. Other highlights of the programme included presentations of songs and dances by the students.