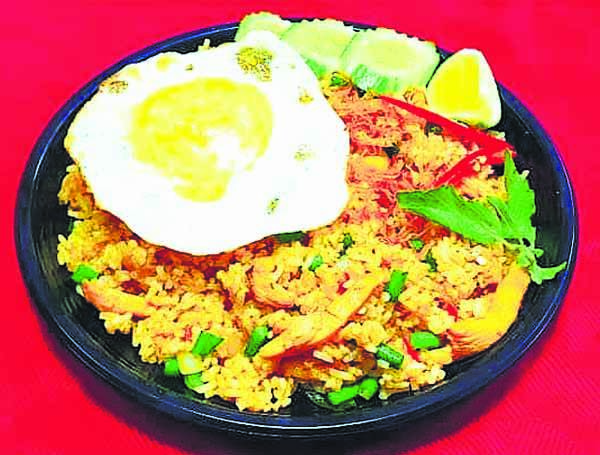 Ingredients
3 cups basmati rice (cooked)
150gm chicken breast
2 tbsp vegetable oil
2 large garlic cloves
1 onion
1 spring onion
2 eggs, lightly beaten
2 tbsp light soy sauce
Salt to taste
1 tomato
1 cucumber
Method
1. Chop the onion and garlic, cut the spring onion. Thinly slice the chicken.
2. Heat oil in a large wok or a large skillet over medium high heat.
3. Add garlic and stir fry. Add onion and stir fry for 1 minute.
4. Add chicken and spring onion and stir fry until the chicken is cooked.
5. Push the chicken to the side and pour the egg into the middle. Scramble it quickly.
6. Add the rice and Sauce. Stir fry for 2 minutes so as to heat the rice and coat all the rice with the Sauce.
7. Check for seasoning and serve immediately, garnished with sunny side up egg and sliced cucumbers on the side.