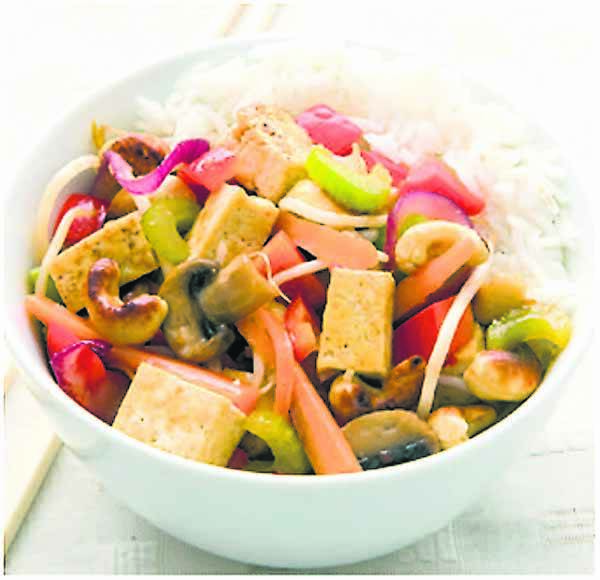 Ingredients
300gm tofu
1 onion
2 carrots
1 red bell pepper
1 celery stalk
100gm mushrooms
80gm bean sprouts
2 tbsp soy sauce
2 tsp chilli-garlic sauce
100gm cashew nut
2tbsp refined oil
1 tsp cornstarch
Salt to taste
Method
1. Cut the tofu into cubes, slice the mushroom, carrot, bell pepper, celery stalk and onion.
2. Heat the oil in a pan over high heat. Add the cashews and stir-fry until lightly browned. Remove and keep aside.
3. Add the tofu and stir-fry about 2 minutes. Transfer to the paper towels.
4. Add the onion and fry, add carrot, red pepper, celery, and mushrooms and stir-fry. Finally add the bean sprouts and stir-fry for 2 minutes.
5. Add soy sauce and chilli-garlic sauce. Stir well to combine.
6. Dissolve the corn flour in few tablespoon of water. Add to the vegetables.
7. Return the cashews and tofu to the pan. Stir until the sauce is bubbling and lightly thickened.
8. Check for seasoning and serve hot.