Nagaland joined the world in observing "World No Tobacco Day" under 2023 theme, "We Need Food, Not Tobacco" by organising various programmes to raise awareness on the harmful and deadly effects of tobacco use on May 31. The day also highlighted the "Tobacco Free Home" campaign.
Citizens encouraged to make Wokha 'Tobacco Free'
Deputy Commissioner (DC) Wokha, Ajit Kumar Ranjan has called upon the people of Wokha district to come together and create awareness on harmful effects of tobacco to make Wokha district free from tobacco. He also urged the people to take a pledge to take action against all forms of danger associated with tobacco.

According to a DIPR report, the DC was speaking as special guest at the "World No Tobacco Day" programme organised by the District Tobacco Control Cell, National Tobacco Control Programme Wokha at the Conference Hall of Lotha Hoho building.
On making educational institutions tobacco free zone, Ranjan sought cooperation and support from Wokha school education department to ensure that all schools in Wokha district were 100% free tobacco zone.
Highlighting the harmful effects of tobacco on health and environment, the DC said sensitising the people and spreading awareness about the harmful effects and use of tobacco products was very important as it was the only way to make them understand the ill effects of tobacco.
Speaking as the guest of honour, joint director H& FW, Nagaland, Dr. Merebeni Odyuo gave a brief highlight about the launching of the "Tobacco Free Home" campaign, he said the objective was to take anti-tobacco campaign from schools to homes creating awareness about the danger of tobacco use including smoking, smokeless tobacco products, and indiscriminate spiting.

Dr. Odyuo said the aim was to improve compliance with tobacco control laws and reduce tobacco use in Nagaland, to engage students in raising anti-tobacco awareness within their homes and ultimately bring about significant impact on the overall behaviour of the student.
Dr. Odyuo also urged all to come together and work towards creating tobacco-free homes by educating families and communities, extending support for tobacco users who wants to quit and thereby create a healthier and safer environment for everyone.
On the occasion the DC, felicitated Yikhum Village with the best performing tobacco free village, while Dr. Odyuo handed over Tobacco Free Home Campaign certificates to parents of Fernbrook School Wokha.
Six schools in Longleng declared tobacco-free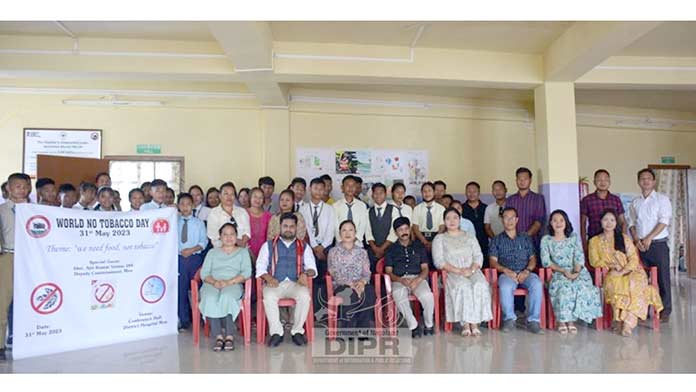 Longleng district NTCP observed "World No Tobacco Day" at Bautung Government Higher Secondary School Auditorium Longleng.
According to a DIPR report, special guest Superintendent of Police (SP) Longleng, Dr. Pritpal Kaur Batra challenged all the participants to embody the spirit of Naga warriors, who were unconquered by the British. She urged everyone to fight against the menace of tobacco.
In a short speech, Chief Medical Officer (CMO) Longleng, Dr. Tiasunep urged the parents to set good example for their children because children learn directly from parent's actions.
SDO (C), Trongdiba Sangtam encouraged the gathering to quit tobacco and suggested a strategy to gradually reduce and quit within a month. To inculcate a habit not to litter tobacco product waste.
EAC, Dr. Samuel Akho Konyak P sought cooperation from sections of the society, and requested their support and compassion towards tobacco control measures, emphasizing that apathy would hinders society's progress.
District Nodal Officer (NTCP) Longleng, Dr.Bongau, Phom spoke on the theme, chronic diseases and cancer cause by tobacco use through a powerpoint. Six schools were declared tobacco free schools.
'Creating tobacco-free society a collective responsibility'
Underscoring the importance of a "tobacco-free society", Deputy Commissioner (DC) Mon, Ajit Kumar Verma said it was the responsibility of all sections of the society to create a "tobacco-free society" and requested the cooperation of all responsible citizens towards this initiative.
According to a DIPR report, the DC was speaking as the special guest at "World No Tobacco Day" programme organised by the District Tobacco Control Cell Mon at Conference Hall, District Hospital Mon.
As part of the programme, the DC also launched "Tobacco Free Youth" campaign.
Theme speaker, MO (F.I.A.R.T.C) Mon, Dr. Imlienla briefed the participants on how the harmful effects of Tobacco. She said the 2023 global campaign aims to raise awareness about alternative crop production and marketing opportunities for tobacco farmers.
Dr. Imlienla said the state does not cultivate tobacco but directly or indirectly people are encouraging tobacco cultivation by buying tobacco products. Therefore, she urged all to cooperate to stop the use of tobacco products and discourage tobacco cultivation so that more food cultivation would be encouraged to have a healthy universe.
District consultant, DTCC Mon, E. Nyeamying Konyak informed that five more schools have been declared "Tobacco Free Schools" taking the total to 23 schools. The result of the poster competition on account of "World Tobacco Free Day" was declared on the day.
Students encouraged to be ambassadors against tobacco
Acknowledging the importance of students' role in disseminating information, creating awareness, sensitising, and implementing campaigns against tobacco usage, Superintendent of Police (SP) Zunheboto, Vishal Chauhan encouraged the students to be ambassador of change and be the "star" in creating a tobacco free society.
A press release by medical department informed that the SP was speaking as guest of honour during "World No Tobacco Day" observation organised by the District Tobacco Control Cell, Zunheboto at Zunheboto Government College. Asserting that it was a collective responsibility to eradicate this "evil" from the society, Chauhan asked the students to coordinate with the medical department and administration in creating awareness and shedding light on the issue. He also appreciated the NTCP for their efforts in their fight against tobacco. He stated such important awareness programme could be implemented but it requires the efforts and contribution from the students as well to make it a success.
The SP also launched the 60-day tobacco free camp and requested the participants to come forward and support the campaign for a better cause.
Theme speaker, deputy CMO Zunheboto, Dr. K. Akaho Sema talked about the major concerns and diseases caused by tobacco. He lamented that students spend more money on tobacco products instead of consuming and buying good nutritious food.
A detailed presentation on COPTA 2003 was given by retainer lawyer, ZDLSA, Easter H. Yepthomi. It may be noted that so far 40 schools in Zunheboto have been declared "tobacco free". Certificates and prizes were presented and handed out to the tobacco free schools and institutions.
Zunheboto
Zunheboto district Bharat Scouts and Guides observed World No Tobacco Day on May 31. On the occasion, Scouts and Guides spread the awareness of bad uses of tobacco and their causes.
Greenwood Higher Secondary School
The "World No Tobacco Day" cum launching programme of "Tobacco-free Schools to Tobacco-free Homes" initiative was held at Greenwood Higher Secondary School Auditorium, Dimapur
According to a DIPR report, speaking on the theme, district nodal officer, NTCP Dimapur, Dr. Reyosalu Lase Vizo said that all educational institutions in Nagaland had been declared as "Tobacco Free" to strengthen tobacco control laws; to reduce easy accessibility of tobacco products to children; to protect the future generation from the full impact of tobacco epidemic.
To strengthen the enforcement, she said the state government has authorized police personnel and teachers of all educational institutions to act as Enforcement Officers to implement Sec 6 (b) of COTPA 2003 within their Jurisdiction COTPA 2003 Section 6(b) Ban on sale of tobacco and tobacco-related products within 100 yards of educational Institutions.
Dr. Vizo informed that "Tobacco-Free Schools to Tobacco-Free Homes" was an initiative of the State Tobacco Control Cell Nagaland so that educational institution becomes tobacco-free.
She said the campaign would sensitise the students on the dangers of tobacco, the health and environmental hazards it causes and basic provisions of the COTPA 2003. Though the campaign, Dr. Vizo said students would have the required knowledge to create anti-tobacco awareness in their homes and reach out to the unreached with an anti-tobacco campaign.
Emphasizing the scenario of Nagaland, she mentioned that though the farmers do not cultivate tobacco, state face environmental, economic, and health issues.
Dr. Vizo also informed the participants about the 60-day "Tobacco Free Youth" campaign (May 31 to July 31), which aims to focus on youth by creating awareness, preventing initiation of tobacco use, and assisting users to quit. Altogether 20 students were awarded "Tobacco Free Home" certificates.
Mokokchung
Mokokchung observed "World No Tobacco Day" and launched "Tobacco Free Youth", "Tobacco Free School" and "Tobacco Free Home" campaigns at Senayangba Government Higher Secondary School Mokokchung.
According to a DIPR report, speaking at the programme organised by District Tobacco Control Cell, Mokokchung, junior dental surgeon, IMDH, Dr. Sentirenla Jamir educated the students and staff of the school on the effects of tobacco use and its consequences with the aid of an audio-visual presentation. She highlighted on the life-threatening diseases connected with tobacco use and encouraged the gathering to maintain a healthy lifestyle.
A presentation on the legal aspects of COPTA Act 2003 was presented by district consultant, NTCP, Nukshiwati Longchar; in connection to the observance an essay and video making competition was conducted and certificates with prizes awarded. The students and staff also took a pledge.
GMS Bayavü
GMS Bayavü observed the day in the school premises.
The objective of the day was highlighted by head teacher GMS Bayavü, Kikruneinuo Liezietsu.
Resource person, Teisovilie from SCERT shared about the ill- effects of the tobacco usage and encouraged the students to build willpower to fight against substance abuse.
Students also took the pledge to not chew or smoke tobacco products and also motivated others to do the same, and to make the school campus free tobacco zone.
Phek
Phek District Tobacco Control Cell (DTCC) NTCP has observed "World No Tobacco Day" Dr. Wethselo T. Mero Memorial Hall District Hospital with Deputy Commissioner (DC) Phek, Kumar Ramnikant as the special guest.
According to a DIPR report, the DC called upon the civil societies, teachers and community leaders to create awareness on the harmful effects of tobacco in a larger way by creating innovative ideas in their respective community.
Speaking on the theme, DNO, NTCP, Dr. Nichukholie Vupru highlighted the gathering on the 2023 global campaign which aims to raise awareness about alternative crop production and marketing opportunities for tobacco farmers, and to encourage the tobacco farmers to grow sustainable, nutritious crops.
During the programme, the gathering was also sensitized on the ill effects of tobacco; ten schools were awarded with certificate for declaring tobacco free school.
Charity Residential School
Charity Residential School, 5th mile Unity Village, Chumoukedima observed "World No Tobacco Day" by organising poster making competition for the students of class 8-10, memes (two minutes act) competition for class 5,6,7 and drawing competition for class 1 to 4 based on 2023 theme. Anti-tobacco pledge was also taken by all teachers and students on the day.
Tuensang
District Legal Services Authority in collaboration with District Tobacco Control Cell and Assam Rifles observed "World No Tobacco Day" at Town Hall Tuensang with deputy superintendent of police, K. Yapang Longchar.
According to a DIPR report, sharing his personal experience, Yapang said one must have the willpower to quit tobacco, and encouraged the students to do away with chewing tobacco.
The programme was chaired by retainer lawyer TDLSA, Antimangyang Chang; welcome address was delivered by VP GHSS Thangjam, Antitola Chang; legal aspects of COTPA Act 2003 was delivered by panel lawyer TDLSA, B. Yemlong Chaba; effects of tobacco and its consequences by Jr. Dental Surgeon DH Tuensang, Dr. Aoyanger, and how to quit tobacco by Dr. Firdous Ahmed from 7 Dental Unit AR.