With an objective to raise awareness about Tuberculosis (TB) and to end the global TB epidemic, Nagaland Friday joined the world in observing "World TB Day" under 2023 theme, "Yes! We can end TB."
Dimapur
In Dimapur, National Tuberculosis Elimination Program (NTEP) Dimapur in collaboration with Red Ribbon Club (RRC), Immanuel College Dimapur observed "World TB Day" at Immanuel College. The programme was organised to sensitise the students and teaching staffs on Tuberculosis, HIV and AIDS, and blood donation.
At the programme, District TB Officer Dimapur, Dr. Benchilo Ngullie highlighted the prevalence of TB in Dimapur district, and informed that 1738 TB patients were availing free treatment in 2022.
She also sensitised the participants on the common signs and symptoms, diagnosis and treatment of tuberculosis.
Stating that TB was 100% curable with early diagnosis and treatment, Dr. Ngullie informed that all diagnosis and treatment of TB was free of cost in all government health facilities.
She further urged the participants to support and take part in the TB "Mukt Bharat Abhiyaan" campaign and spread awareness on TB so as to remove the stigmas and discrimination attached to TB patients from the mindset of the community.
Dr. Ngullie also stated that the vision of NLEP was to eliminate TB from India by 2025, which could be possible only with the active involvement of the community in the TB Free India movement.
DAPCU Dimapur, programme assistant, Ketou also highlighted on the routes of HIV and AIDS transmission and measures to prevent infection and further spread of the disease. He also sensitized the participants on the importance of blood donation.
During the programme, a TB champion also shared testimony on the fight against TB and urged the participants to be supportive to TB patients and not stigmatize or discriminate them.
The programme was chaired by assistant professor, department of EVS, Serfudin Ali; welcome address was delivered by principal Immanuel College, Th. Saratchandra Singh; invocation by assistant professor department of Botany, Lanusangla while the vote of thanks was delivered by convener, RRC Immanuel College, Nurhebei.
Kohima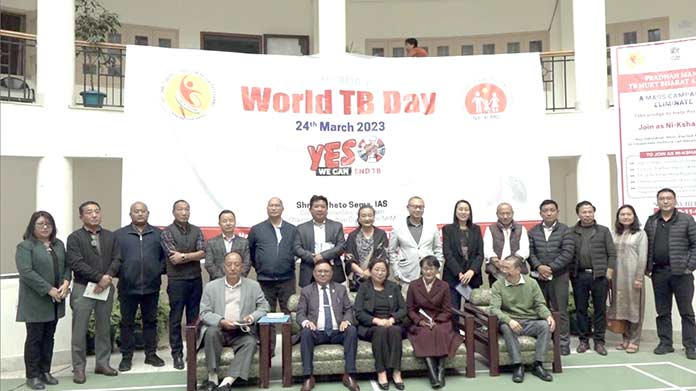 The "World TB Day" was observed at the Directorate of Health & Family Welfare Kohima with commissioner and secretary-cum-chairman, executive committee National Health Mission (NHM), Kikheto Sema as the special guest.
Exhorting the gathering, Kikheto said each year "World TB Day" was commemorated to raise public awareness about the devastating health, social and economic consequences and to step up efforts to end the global TB epidemic. He urged the people to renew their commitment and rededicate themselves in the fight against TB.
Pointing out that TB remains one of the world's deadliest infectious killers, he said the global efforts to combat TB have saved an estimated 66 million lives since the year 2000. However, Kikheto said the Covid-19 pandemic reversed years of progress made in the fight and TB deaths increased in 2020 and 2021.
Aligning with the National Strategic Plan, he said the State Strategic Plan to eliminate TB in Nagaland by 2025 has been drafted. He further added that with the involvement and support of line departments and with cooperation of churches, NGOs, private practitioners, families, and individuals, the goal to eradicate TB by 2025 could be achieved.
Mission Director NHM, Dr. Ritu Thurr said a strong political and administrative commitment was required, an uninterrupted supply of TB drugs, and a better sensitization to achieve the goal of eradicating the disease. A TB champion also shared testimony.
The programme was chaired by state TB Officer NTEP, Dr. Tiasunep Pongener and medical consultant, WHO, Dr. Collins Z Sono briefed on NTEP.
Phek
Phek district observed "World TB Day" at Dr. Wethselo T.Mero Memorial Hall, District Hospital Phek with Deputy Commissioner (DC) Phek, Kumar Ramnikant as the special guest.
In his speech, the DC said that Tuberculosis could be eliminated from the society through the collective efforts of the society, village and district. He also spoke on the importance of awareness and sensitizing the public, and appealed the participants to extend support to the TB patients psychologically, financially.
Exhorting the gathering, additional SP, Hongkin Chang said TB was treatable and curable, and urged the people to stop discriminating and stigmatizing the patients.
During the programme, DTO Phek, Dr.Chukhusie shared the district statistic of TB patients and highlighted the importance of monitoring TB patients; CMO Phek, Dr.Khriezotuo Paphino also felicitated best CHO, ASHA, student winners of various competitions; classical Recital Romanzo by Velato and special appearance from The Anchored Choir. The programme was chaired by Dr. Wemeri Khutsoh; invocation by Phek Town Baptist Church Pastor Rev. Dr. Thupucuyi Khesoh; welcome address was delivered by DPO DAPCU, Kuduvo Kezo and vote of thanks was given by Sr. Specialist SMO DH, Phek, Dr.Visietsolie.
Peren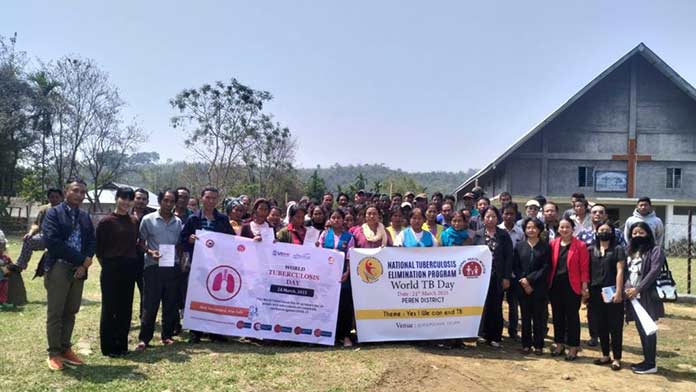 The "World TB Day" was observed across Peren district in all the 18 Health and Wellness Centres and three Microscopic Centres, Tening CHC, Ahthibung PHC and Heningkunglwa PHC.
The main function was held at Bongkolong village in collaboration with ISRN Peren Unit, wherein DTO Peren, Dr. Keholi Sema, in a keynote address, spoke on the significance of the day.
She highlighted the gathering on the early warnings, early detection, signs and symptoms of TB. Dr. Sema called upon the people to create awareness on the disease and encouraged them to maintain a healthy lifestyle.
Awareness campaign and screening of symptomatic patients were conducted during the day at all the 18 HWC's centres; awareness campaign was also held at Bongkolong Government High School.
Wokha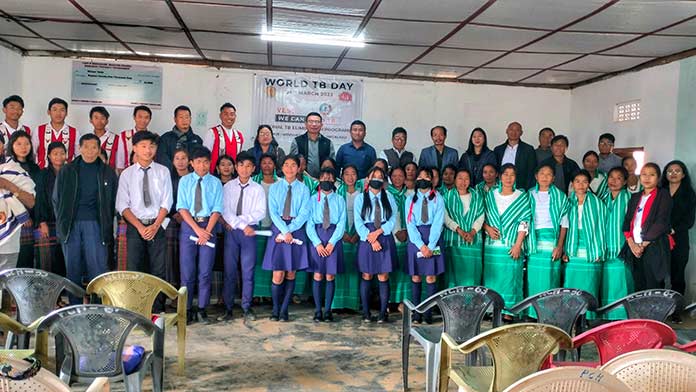 National Tuberculosis Elimination Programme (NTEP) Wokha organised a programme to commemorate "World TB Day" at Community Hall, Wozhuro under Wokha district.
Speaking on the significance of the day, district TB officer, District TB Centre Wokha, Dr.Akum Jamir explained the impact of TB on an individual and availability of free treatment and nutritional support for TB patients provided by the medical department.
During the programme, a cured TB patient from Phiro Village shared personal experience on overcoming the disease; psychologist from National Tobacco Elimination Programme Wokha, Tshopeu, spoke on the harmful effects of tobacco; staffs of NTEP Wokha who had contributed in eliminating TB were facilitated by the medical department. The programme was chaired by Thera Women Society Wozhuro president, Therali Tungoe; invocation by Shaki Baptist Church Pastor Libenthung Khuvung; songs were presented by Hungchanta Ren Eloe Okho, Phiro and Phiro Baptist Church Choir; short speech was delivered by Wozhuro Range Union chairman, Yanbemo Tungoe; vote of thanks was delivered by senior treatment supervisor Bhandari, Renbeni Tsanglao and Sankiton Baptist Church Pastor Zuchamo Murry pronounced the benediction.
Mokokchung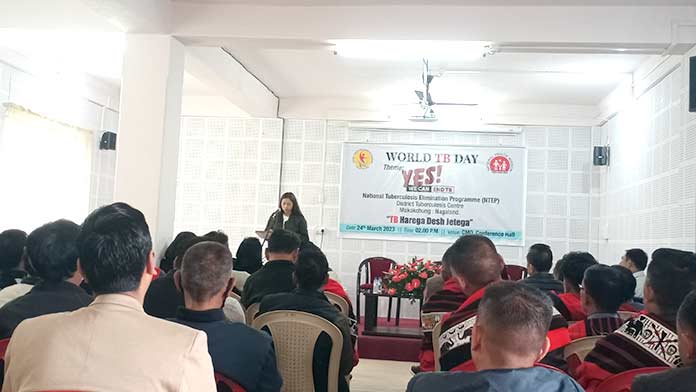 A programme commemorating "World TB Day" was organised by National TB Elimination Programme (NTEP) DTC Mokokchung at Conference Hall, Chief Medical Officer (CMO) Mokokchung office. Speaking at the programme, Sub Divisional Officer (SDO, Civil), Mokokchung, Longtiba L Sangtam said the government and department alone cannot achieve the aim to eliminate TB and that community participation through NGOs, church, individuals and civil societies were essential to fill the gaps.
Speaking on the significance of the day, DTO Mokokchung Dr. Toshila Jamir said in India more than 41% population was infected with TB and that it kills approximately 4 lakh people in India every year.
Dr. Jamir said government of India was committed to end TB by 2025 and termed India's achievement in TB control over the past decade as remarkable.
She informed that more than 90 million people have been tested, more than 19 million TB patients detected and treated, and millions of lives were saved by the RNTCP's efforts. She further brought to light the urgency of reducing stigma in relation to TB, generate more efficient awareness to reach the community and called for community participation to end TB.
The programme was chaired by SMO(DRTB), Dr. P. Medemmayang; invocation by MTBA Mokokchung, Associate Pastor Yanglu Pongen; welcome address was delivered by CMO Mokokchung, Dr.Limatula Aier and TB champions shared their testimony.
Longleng
Longleng observed the "World TB Day" Yongyah Village, Longleng, wherein district TB officer, Longleng, Dr. Temsusashi, in a keynote address, briefed the participants on the significance of the day. He also called for collective effort to make Longleng district TB free by 2025, in line with government of India's vision. Awards were also presented for exceptional performances. The programme was chaired by medical officer Yongyah CHC, Dr. Banglau Phom; awareness on TB was presented by STS, Tongang Phom; short speeches were also given by chairman Yongyah Village Council, Phonshing Phom and chairman Shamshang Village Council, Ongngan Phom and vote of thanks was delivered by TB visitor, Henmei Phom.